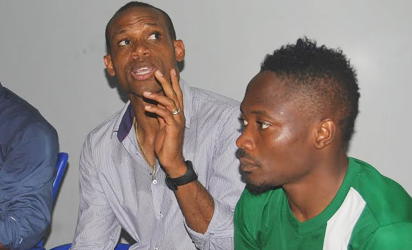 .SUPER EAGLES CAPTAIN, AHMED MUSA (M) DRIBBLES THE NIGER REPUBLIC PLAYER, DURING THE FIFA INTERNATIONAL FRIENDLY MATCH BETWEEN SUPER EAGLES OF NIGERIA AND NIGER REPUBLIC IN PORT HARCOURT ON TUESDAY (08/08/15). NIGERIA WON 2-0
By Jude Opara, Abuja
Super Eagles Chief Coach, Sunday Oliseh says he does not see the reason for the Nigeria Football Federation (NFF) to introduce the Code of Conduct for members of the senior national team.
Addressing the sporting media in Abuja yesterday, Oliseh he believes that as professional players the boys know how to behave while in the national team's camp and do not need to   be forced into writing an undertaking like school children.
"These players are men and some of them are even married and so deserve some respect. As professionals, they know how to behave in camp. If you want respect as a coach you give it. If you want respect as a player you should also give it''.
The former player of the defunct Julius Berger FC of Lagos also said he was not responsible for the recent poor ranking of the Super Eagles on the monthly ranking by FIFA because he had barely taken over the national team. Nigeria dropped to 59 in the latest ranking released earlier this month.
The four matches he prosecuted, the team lost to Congo 2-0, defeated Guinea 2-0, drew 1-1 with Tanzania and defeated the Indomitable Lions of Cameroon 3-0.
He however said he was not bothered about the FIFA ranking ahead of the World Cup qualifier against Swaziland because his boys are focused in getting the maximum result from the game.