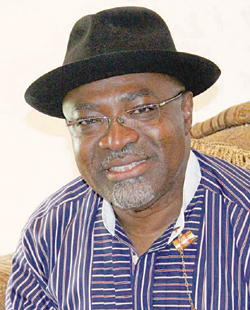 Abiye Sekibo
By Charles Kumolu & Gbenga Oke
LOOKING back on the lessons learned in the past 57 years of his life, former Minister of Transport, Dr. Abiye Sekibo, in this interview, wants Nigerians to live their lives without malice against anyone. He is also emphatic on the need for Nigeria to review its value system in order to achieve a better society for everyone.
Congratulations for clocking 57. You look refreshingly younger in a country where life expectancy has not been impressive. How does it feel?
I must confess that I feel older than 57. But we can't thank God enough. At every point in my life, God has looked so favourably on me despite my sins. He has been so wonderful to me by giving me a wonderful wife, wonderful children and great friends and associates. All I have is appreciation because I have cheated death several times right from when I was young.
But God has been there for me.  I have had several near-death experiences and somehow God rescued me from them. And the most recent is that exactly one year ago, I was diagnosed of a cancer of the white blood cells. And precisely on September 29, 2015, my doctors in London confirmed to me that there is no longer a single sign of cancer. I asked myself what qualified me for these miracles that keep happening. That is why I am saying that I have so much to thank God for. I can't ask for anything else but to thank God.
We know that as a medical doctor, you should know much about healthy living, can you avail us the secret of looking this fresh because it is amazing?
People should take life easy. Whatever I set out to do, I put it before God and beg that His will be done at all times.
If what I want comes through, I thank God. If it does not come through, I also thank God because I believe that for everything that happens to anyone, God is aware. I took that from my parents and it has been working for me.
I never take things too seriously at the expense of my health. For instance, in politics you can be stabbed at the back and the right thing is to take it lightly. You have to accept anything that happens without bothering too much. Life should be accepted as it comes, but everything should be committed to God always.
I don't bear grudge against any human being neither do I see people and feel bad that they are breathing the same air with me. When you don't allow yourself to be burdened by the things you can't control, you will be fine. You have no control over what anyone thinks about you. So the best thing is to border less. Changing peoples' mindset about you should be left to God.  I am always at peace with myself.  That is how I live my life. I don't have too much to worry about.
Do you have eating habits?
I eat everything human beings eat. It is very interesting. There was a time I went to China and my host took me to a restaurant and I saw things like scorpions being eaten. I saw people eating it and felt I should try it.
Medically, we are advised to eat with moderation because volumes matter. There are people, who eat a lot of food at a time but that can be overloading the system because that will deposit carbohydrate in the wrong places in the body. I eat with moderation and that is all I do.
You had a thriving medical practice before venturing into politics, how did you find yourself in politics?
I always see myself as a medical doctor, who graduated from the famous University of Lagos. I graduated in 1983 and came back to Port Hacourt in 1984 to do my housemanship at the University of Port Hacourt. I proceeded for my National Youth Service Corps, NYSC,  at Ede in Osun State which was then Oyo State.
After that, I joined my uncle, the late Senator Tari Sekibo in his private clinic, Saint Michaels Clinic. We had a lot of oil service companies as our clientele. I used to be the site doctor when the petrochemical plant was being built. I also got into the politics of the Nigeria Medical Association,NMA. In 1991, I was a Special Adviser to Chief Rufus Ada-George, who was elected governor on the platform of National Republican Convention, NRC.
Under the Interim National Government of Chief Ernest Shonekan, I became the Special Adviser of the then Minister of Industries until the Abacha coup. I went back to my medical practice by establishing my private clinic, the Precious Life Medical Centre. I was there until politics came knocking on the door again. I joined the PDP from inception. When the party won the election in 1999, I became the Secretary to Rivers State Government under Dr. Peter Odili for four years. We tried our best for our people. I was nominated to represent the state as a minster in Abuja.
After serving as a minister for four years, I went back to my medical practice and again set up Precious Medical Centre in Abuja. Somehow, the fact that I have a profession made me always fall back on my profession after every national or state assignment.  Being a medical doctor is my first love.
Looking at your prominence and age, would you consider yourself a fulfilled man at 57?
I think at 57, I can almost say that I have seen it all. By the time I was the Special Assistant to the Rivers State governor, I was in my 30s. I graduated from the medical school at the age of 25. Not long after I entered politics, I moved to the federal level as a Special Adviser to a minster. Before the age of 40, I was operating at that level. And by the time I came back as secretary to Rivers State government, I was in my 40s.
I feel that God gave me opportunities at a very young age and I feel fulfilled, because for every political assignment I was given, I brought my best to it. I feel fulfilled when I come across the people I have impacted positively on, especially those our paths crossed while practicing my profession. When I was a minister, a lady walked up to me with a big girl. She said I was the one that delivered the big girl at Precious Life Medical Centre. It gave me joy. Things like that make me feel fulfilled. I really thank God for giving the opportunity to be part of peoples' stories.
In retrospect, what where the defining moments in your life and what lessons did you learn from them?
They are many, but the recent one was when I was in the hospital  as a patient and not as a medical doctor. I looked backed and knew that the treatment I was going to undertake would either heal or kill me. I was not sure of what the outcome will look like. And I turned around and looked at my wife and children with the thoughts of appreciation to God. I thanked God for blessing me with my wife and children and felt that even if I don't make it they will be there to carry on.
I realised that there was no single thought of worldly possessions on my mind. All that mattered to me was my family. At that stage, I realised how ephemeral worldly possessions are. There was no thought about political position.
The thought was about the human beings, who I felt will miss me most if I don't make. At such moments, no matter who you are, you will realise that the people around you matter a lot. Going through life these 57 years, I realised that no matter what someone has, at such critical time, what matters is those in your life. I considered all, who look up to me and thanked God for making them part of my life. Interestingly, when I realised that I have cancer, since I am not an Oncologist I bought some books on cancer.
One of the books I bought was titled: Cancer: The Emperor of All Maladies. I read the history of cancer and saw how cancer have destroyed societies and human lives. I told myself that if I survive cancer, I was going to devote part of my time to enlightening the society about cancer. On my birthday, which is exactly one year after I started my chemotherapy for cancer, I will be launching the Sekibo Cancer Foundation. The idea is to start  with cancer education.
As a medical doctor I know that a lot of the illnesses for which people die in our villages without explanation which we attribute to witchcraft, may have been cancers. But because there is no enlightenment and as well facilities in those locations, we blame it on native doctors. There is need to start a robust enlighten campaign starting with the rural areas. The Sekibo Cancer Foundation, will be penetrating the rural areas. We will be starting with Rivers State.
We will educate them and start a screening process in the rural areas. After then, we will see how much we can bring people to centres where they can get proper treatment. We are hoping that we will get to a point where we can establish a world class cancer centre. And hopefully we will spread around the country.  I think that the kind of treatment I received can be replicated here with a world class cancer centre.
Cancer  seems to be on the loose in Nigeria, as a medical doctor, can we know what provoked the situation and possibly how can it be brought under control?
Essentially, cancer is the uncontrolled division of cells in the human body. And that can happen to any part of the body. The way God created the human body, everything starts with a cell and it is cell division that starts the development of human life.
Any process can go on along that way. Recently, it was discoverd that a lot of cancers are gene related. They discovered that there are certain kinds of genes that could dispose people to certain kind of cancers. I hope that with the way researchers are going, there will get to a time when every human being will have his DNA fully analysed.
Once that is achieved, we will be able to know what kind of cancers people are likely to have because as long as we live, our body cells will keep dividing. If we know from the beginning, that people have some genes that can dispose them to cancer, we can begin to target the person to make sure that he does not develop cancer.
There is more knowledge about cancer now, but more research should be encouraged. Also, the question of lifestyle is key and whether we like it or not, the human life has moved from the level of creativity to a higher level of civilization and with it comes a lot of lifestyle changes and some of those lifestyle changes will be disposed to triggering some kind of cell division in the body.
For example, if somebody abuses alcohol on a regular basis, the liver will be challenged and the liver will be struggling to cope with that. In that process, it could trigger cancer of the liver. So that is why we tell people to drink with moderation. So the awareness is going on but we need to further increase the awareness and that is what my foundation will be doing.
Many people do agree that one of Nigeria's biggest problems is that of leadership. As a politician, what can you say about that having played a role in the murky waters of Nigerian politics?
I must say that Nigeria's problem is 60 percent leadership and 40 percent followership. If we don't get the leadership right, we cannot get the followership right. Both of them complement each other and we must see where we are coming from.
During the colonial era, the British could not have sent us their first eleven to come and govern us, they basically kept the first eleven for themselves, those are the people that went to Oxford, Cambridge, Harvard and had first class, they kept those to themselves and maybe the third class were sent to us here.
Now, if you take a clue from that, you will see that our country today is being run 90 percent by our second or third eleven, those who are supposed to run this country seem to have been shipped out of the country. If you need to achieve something and you picked the ones that failed other than the ones that have first class, you will not get good results.
If you look at those who run our politics, at least 50 percent of them are those who got into politics because they don't have any other thing to do. Maybe they finished youth service, the only thing is to follow some political bigwigs around and be loyal and because they are loyal, he will eventually be rewarded.
So we have a problem in this nation and until we correct it, we will be doing ourselves a disservice. The same thing happens in the civil service.  Other countries groom people to run their civil service. In the  United States and United Kingdom, the best brains are pulled into their civil service automatically to come and start policy system that will enable institutions. You cannot build institutions using your second or third eleven, you must get the best and the brightest to run the institutions that matter.
Also, our followership is too hungry and that is why they do not worry whether somebody is coming in to rule them as an armed robber. All they care about is what enters their pocket. This kind of system that we are running breeds corruption.
Having said that, in  specific terms, how do we move this nation forward?
First, we need to be accountable in this country and I personally feel that the fourth estate of the realm needs to be up and doing because they are the ones who have constitutional right to hold everybody accountable. In other climes, that is what happens. The press takes the risk to hold the leaders accountable. When in England, the king was beginning to be over assertive and overreach his bound, the magna cater came about because the press said, yes you are the king but you cannot continue to kill us like this. The press in Nigeria must wake to its responsibilities. We have a situation where we are allowing people in authority to get away with anything.
A sitting government lost election in this country because the press aligned with the APC, that is the truth. So if the press knows it has this kind of power, they should be willing  and ready to use it for this nation. Also, Buhari is known for his anti corruption stance and the whole world is saying  he is the man who is going to fight corruption, let us agree that it is true. If there is a perception of corruption around him, he then cannot be said to be fighting corruption. Until we are able to call a spade a spade, we are not going to move forward in this nation. Whether we like it or not, corruption will either kill this country or we destroy the corruption.
Being a former Minister and someone who passed through the process of ministerial, many people have argued that sending a list of ministerial nominees to the National Assembly without portfolio by President Buhari is wrong. What is your reaction to that?
The truth is that our system is flawed. I have passed through the system and I can tell you that the system is flawed. Having borrowed that system from Americans, we tactically didn't say that the names that are being sent to the Senate for screening should go with their portfolios, we didn't. So that lacuna has been seized upon by Presidents.
First, it makes it easier for the President to send whoever he wants and get cleared in an easy process because you don't know the ministry you will be posted to. It also makes it easy for the President to move his ministers around, if you are appointed Minister of Transport today, the President can ask you to move to health tomorrow because you are just made minister, there is no specific ministry attached to it. So that could be seen as making it easier for the President.
If you ask me as somebody who has benefited from this system, what would have been the best for this country, I will say that it is attaching a portfolio to the names on the list sent. That would have been better.
During my screening, I went to see the President, sat with him and we talked generally even though he never told me the ministry I will be heading, we just met because I was going to be a minister. We discussed and Obasanjo told me best of luck, I am sure they will clear you.
On Obasanjo, Odili others
I want to use this opportunity to thank all those God used in various ways to make me whom I have become today. Right from my parents, my family, my wife and children, my friends, my political associates and my political leaders particularly my late Uncle, Senator Tari Sekibo, who encouraged me to go into politics, former Governor of Rivers state, Chief Ada George whom I worked under, Chief Ignatius Kogbara, the then Minister of Industry whom I also worked with, Dr. Peter Odili and our father, Chief Olusegun Obasanjo under whom I was Minister. Each of these people had a huge positive influence on me.