By Anozie Egole
FAST rising rapper, Nnamezie Obinna, a.k.a SL says his new single, "Alibaba" is inspired by the challenges he faced, while trying to hit the limelight in his chosen career.
He adds that his music tells his life story and it is like going through pages of his diary.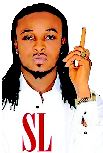 "I decided to sing about Alibaba because I don't want to sing about women, money and things like that which has become a trend in the industry," he said.
SL's journey into the world of music dated back to his university days. "Back then, I was a member of A-four man singing group, called, " Archi-Zone", which was made up of my departmental friends and we performed in so many places around the school.
Everyday hustle inspired my music. Though I am an average child, my parents are not very rich and they are not very poor, but I was born and brought up in the street so most times, the streets motivates me."
From Anambra State, SL studied Architecture and has been in the industry for many years. He said, he working on another single, "Change", which he hopes to release before the end of the first quarter of next year.