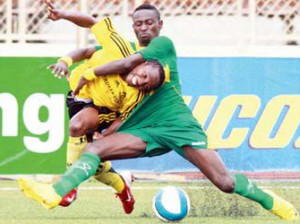 DO OR DIE AFFAIR: A typical scene from the Nigerian league.
Nigeria league Week 34 matches will now be played on Wednesday, October 21, because of this weekend's CHAN qualifier involving the home-based Eagles and Burkina Faso.
Officials informed that the league clubs will be missing their top stars who will be in action for the home-based Eagles.
"We have just been informed league matches slated for this weekend will now be played on Wednesday because of the CHAN qualifier against Burkina Faso on Sunday," a top club official said.
Nigeria welcome Burkina Faso to Port Harcourt on Sunday with the return leg in Ouagadougou a week later.
The overall winners of this match-up will advance to next year's CHAN in Rwanda.
The competition is for players who ply their trade in their home countries.