Despite what Jonathan was doing for the North, their interest was power and they got it
By Soni Daniel, Northern Region Editor
In his days as the governor of Bayelsa State, Diepreye Solomon Peter Alamieyeseigha, otherwise known as DSP, was fondly referred to as the Governor-General of Izon Nation, because he presided over the only state with entirely Ijaw extraction and was seen as the leader of the struggle for the proverbial Resource Control in the Niger Delta. But his popularity and political career was cut short when he was impeached towards the end of December 2005 and replaced by his then Deputy Governor, Goodluck Ebele Jonathan, who later became Nigeria's President following the death of President Umaru Musa Yar'Adua in 2010.
DSP landed in prison and he was in a sordid state until his godson, Jonathan granted him state pardon, lifting him out of the political doldrums.
Today, Alamieyeseigha still respected in Bayelsa, speaks on Jonathan, Obasanjo , Governor Seriake and Bayelsa State.
Excerpts:
Let's start by asking what informed your choice of former President Jonathan as your deputy Governor in 1999?
One is that I came from Southern Ijaw Local Government, the largest in the Bayelsa State and may be in the whole country. My political calculation was to pick somebody from the Ogbia axis, that is the Eastern part of the state to balance the political equation. So, I needed Ogbia votes. Number two, I wanted a deputy governor    who had high level of intelligence and stable character like Jonathan.
I also needed an establishment person and somebody who was not too ambitious that if I was out, he could stand in for me and could run the state. I needed somebody, who would not attempt to cause trouble if I traveled out of the state so that I could sleep well.   It was a combination of these factors that made me to choose Jonathan as my deputy then. I set out an objective criteria on the qualities I needed and when the late Chief judge of Bayelsa State recommended him, (I did not know him before), I readily accepted him. In fact, I had to drive in my car to his residence and asked him to resign from the then OMPADEC, where he was working at the time.
Within the period Jonathan worked under you, did you at any point imagine that he would one day become a vice president or president and what were those leadership qualities you identified in him?
Leadership comes from above. No matter how you try, if God almighty does not destine you to lead, you will not be a leader. For Goodluck, I knew that he    was going to be vice president of Nigeria as far back as August 25, 2005.   Former President   Olusegun Obasanjo had once told me that since his former vice, Atiku Abubakar and I wanted to take his job that it would be over his dead body and that unless he died, Atiku would not be president of Nigeria. He told me that since Atiku had picked me as his running mate, he would    disgrace us. He said that he was going to use my deputy to rubbish me before everybody. So, I knew.
But some say, like Balarabe Musa observed recently, that Jonathan was not prepared for leadership and that accounted for the loss of power by the South.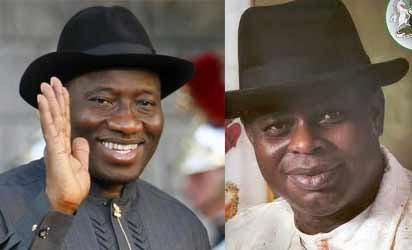 It is not right because Jonathan is more experienced than any president that has ruled this country in the past. How can you say that somebody who has been in office for 16 years is not qualified? If I may ask, which former president of this country was in power for 16 years? He was in office as deputy governor and was overseeing administration of local governments and was very conversant with the administration of local governments at that level. He was also performing the role of a deputy governor. He became a governor and is also familiar with governance at that level. He became a vice president and later acting president and a president. Which Nigerian has that pedigree? None. So, Balarabe Musa goofed. I am not aware of any special school that people go to become president. Academically, he is more qualified than any of them, and in our local environment at the University of Port Harcourt, he has street knowledge because he is locally bred.
Not everybody will like his style but I can tell you that if you sit down and catalogue what he has done for this country, no other president has done that. But it is his life style; he is a very quiet man, unassuming but with very high intellectual content. If Goodluck believes in something, the house can collapse but he will do what he believes in. He has a very strong character.   It depends on who is looking at him and from which angle. From the beginning, people's mindset were fixed for him to fail and to manage that perception was another problem. But he did well. All these things that the APC is claiming to have done in 100 days are just claims;   you cannot fix the refinery in three months. Somebody must have done very serious work before. To do turnaround maintenance takes 18 months and not three months.
Some argue that Jonathan's defeat in the election and the role played by the elite may create bad blood in Nigerian politics. Do you agree and what do you see in the future for Nigeria?
I have very radical views about that and I do not want to share them now. We are watching out what will play out at the national level. Will Nigeria or the ruling party still take us as part of Nigeria? Of course, they know that we are still feeding this nation. So, I think that they are conscious of that and they should also know that even the British could not conquer the Ijaw people.
We have the capacity to defend what belongs to us.  So far, so good, the appointments that they have made, none has come to Bayelsa. The Special Adviser to the president on the Amnesty Programme, Brig-Gen. Boroh, is   just coordinating the programme and I do not consider that as an appointment. Is that what we deserve? The Amnesty programme, we do not know whether it will end in December. We are watching.
The present administration has just completed 100 days in office, what are your reflections?
I have been a governor before and this question keeps coming. One hundred days in the life of a government with a mandate of four years is insignificant. There is always a learning period. You may say he was a military Head of State before but it is different. In military dictatorship there is nothing like the National Assembly; you give orders and nobody will question your orders. But the situation is quite different from a civilian government where you have to lobby. So, I do not want to use 100 days to assess a sitting president. But so far, so good! What is going for Buhari is the perception of Nigerians that he is an incorruptible leader.
The integrity and what he came with to government is what is helping him. If you go to the North and you mention Buhari's name, ''Sai Buhari'', they come like bees. Some of them do not even know who he is. You can spend money and Buhari will not spend and people will trek 15 kilometers to support him. That is the mystery he has built for himself over the years because people see him as incorruptible and straightforward. With this change mantra that they floated and anti-corruption as the vessel, people seem to believe what he is doing.
And once they say you are corrupt, they first finish you on the pages of newspapers before they start looking for evidence. It is a terrible country that we are in.
You will recall that Buhari had said from the outset that he belonged to nobody but to everybody. But his recent appointments have attracted some criticisms, making some Nigerians to refer to him as the president of the North. What is your reaction to this?
According to former Governor of Anambra State, Chukwuemeka Ezeife, President Buhari is the president of the North.
Some have argued that there are still a lot of appointments to be made. I may not be morally right to comment on this because my brother just left office as president. People may ask what did your brother do?   During President Jonathan's administration, all the appointments, all the security architecture and all the revenue-generating sectors and almost everything went to the North West. A deity asked for blood and you give him oil, it is blood he wants and not oil. So my brother was giving them oil but the North was interested in taking power.  Jonathan did everything for the north. Despite what Jonathan was doing for the north, their interest was power and they got it.
You were at the stadium where Governor Dickson declared for a second term and former President Goodluck Jonathan openly endorsed him despite the fact that many other aspirants close to him are in the race. Do you think Jonathan was tactful?
At certain stage in life, if you have leadership qualities, your followers should be able to predict you and know where you stand. In politics, there is no neutrality. There is no need romancing with your subjects, quarreling with one another, wasting precious time and resources when you can come out straight as Jonathan did the other day. This would have been done long ago so that people would not waste time and resources by going to pick forms. Jonathan has been here for six and half years as Deputy Governor, governor for one and half years before he went to the federal level. So, this is a familiar terrain. All of us know the players by their first names and without going to the field, you will know who will win election and who will not win election. So, I am glad that at last, he came out openly. It is possible he would have been doing that privately but recently and on the declaration day, he impressed me because he came out openly in support of Governor Dickson. For so many reasons which we know as politicians in the state, having lost at the centre, you cannot protect your house for people to invade your privacy; it is not done.
But with the caliber of people who have indicated interest in the seat from the main opposition party, the All Progressives Congress (APC), are you not afraid that winning the election might be difficult for Dickson?
Yes, some people use the media to promote themselves as leaders but I know that most of them that have picked forms cannot win in their pooling booths without help. We are also aware that some of them were given positions of responsibility in the past and we know what they did with them; we know their pedigree because by their fruits you know them. If they have made so much money and they want to use the opportunity of the election to spread it, or bring out some money for the electorate, so be it. But I can assure you that such will not win any election. These are people that were in the PDP and they did not take part in the last presidential election. They worked for the PDP against the APC. In the National Assembly elections, they were in PDP and in the state Houses of Assembly, they were also in the PDP. But in the case of the governorship, they want to be governor. So far, about 18 of them have collected forms in the APC and only one of them will become a candidate and these names, some of them are not even known by the APC at the national level. Of course, they know they would fail but the hope is that the APC government at the centre would give them appointments. It is a joke because the party has not been able to satisfy the original APC members not to talk of those opportunists, greedy and ambitious human beings. I do not think they have the interests of the Ijaw nation and Bayelsans at heart. We cannot be deceived because we know them.
 But do you think the average Bayelsa man will support Dickson given their accusation that he does not give them money like typical politicians do?
The election is already won by Dickson, given what he has been able to do in the state. His only offence is that he is not sharing money to people. State money should not be shared but directed to projects that will benefit the generality of the people. Dickson has tried to pay salaries and carry out infrastructural development since he came on board. So, I think that those who want to pull him down don't even have the strength to do so. They are selfish people who have been enjoying government since 1999 yet they don't want the younger ones to grow like they have done.
Let's take you to former President Obasanjo under whose leadership you ran into a murky water. Have you have forgiven him?
Let me make it clear here that I have forgiven all the people who worked against me. It is not only Obasanjo but everybody. This is because everything that happened, who did what, I know? I cannot be living in the past because it does not help. It pains quite well but again, if it was not permitted by God, it would not have happened. And for me to be alive, I thank God. Sometimes when I reflect on where I am coming from, I even at times ask why I am still alive, having passed through what I have passed through. It reminds me of Psalm 23, somebody passing through the valley of the shadow of death. I passed through it several times. For me to be alive, I do not need to have anything in mind.
Have you interacted with Obasanjo since that saga and what was the closest you have been with him since then?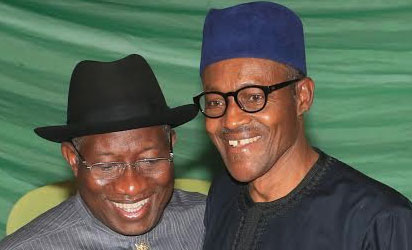 I have been at a very close quarters with Obasanjo twice. The first encounter was at the Katsina Airport during the wedding of the daughter of late President Yar'Adua. I did not even know that he was in the VIP lounge.    I wanted to use the rest room and here was Obasanjo directly sitting inside. I was even scared because he almost passed out.
I held his hand and he said DSP what have I done to deserve a handshake from you? There were other people; Kenny Martins and one of his political friends present. I said I was shaking him for two reasons. One was because of the Almighty God who created us. Number two is that tradition demands that we should welcome our visitors. Then Kenny got up and said, great leader, great leader and he came to hug me. The second encounter was when I was going to Dubai and if Obasanjo had known that I was in that aircraft, he would not have entered but I was already seated. We were very few in the aircraft. Because of fear, Obasanjo saw me and hysterically called me Fayose, Fayose and I told him that I was not Fayose. I said former president, Olusegun Matheew Kikiola Aremu Obasanjo, you are a devil incarnate. I said when we were small, our lesson teachers always talked about this devil and this devil and I never knew that the devil is a human being. I told him that you are a direct descendant of the devil. I told him that if you talk, I will throw you out of this aircraft.
I knew of truth that he did not sleep throughout the flight. The only thing he said was DSP, is it only you that entered prison. I too entered prison. He said you entered prison and I entered prison.    He kept quiet and I left. But I have forgiven him and I can even go to Otta. He is an elder. One thing I know of Obasanjo is that you can say anything against Obasanjo but he is a leader. If he says he is going to do this, he will do it. You can call Obasanjo any time of the day or night and he will pick the phone himself. He will be ready to sit down with you to solve any problem even though he will not allow you to talk. He has invited you to seek your opinion on how to solve the problem but he would not allow you to talk and at the end of the day, you begin to wonder why he called you when he already had the solution to the issue. That is the type of character that he is.
I know him. For me to say he is devil incarnate, he is.
What do you think that Jonathan did well and did not do well?
Well, I was not in government and cannot say what he did well and didn't do well. As far as I am concerned I didn't lift oil, I did not have oil wells and I didn't get any contract from anybody.
But you must have received some presidential gifts like cash and other tangible things more valuable than contracts and oil blocks?
Yes, I had unlimited access to Jonathan and I used to have free access to his home. If I met him eating, I would join him and so on. Jonathan has no money. So, if Buhari is looking to extract money from him, he won't find.
What if the money is hidden somewhere offshore?
That cannot happen anymore in this world.
Are you saying he is a poor man?
No, he is a quiet and highly contented Nigerian but not a rich man