By Ebele Orakpo
Oh, I like President Muhammadu Buhari's leadership style, leading by example, walking the talk," said Paul, a commuter in an Apapa-bound bus.
"Yes oo Bros, shame to all the naysayers, the bad belle people. At least the man and his vice have publicly declared their assets. I wish others will follow suit," said Jimoh.
Replied Paul: "Senator Shehu Sani has also declared his assets."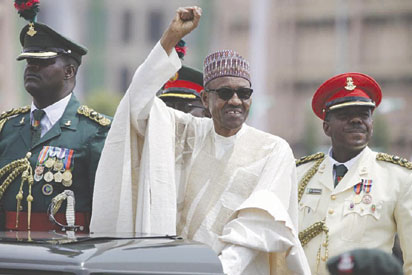 "Story, story, story! Once upon a time! Why do we behave like a bunch of illiterates? You will not cease to amuse me. Declare assets ko, declare assets ni! Abegi, make we talk beta thing," said Tony.
"Which past leader has done that? For God's sake, give credit where it is due and criticise where necessary. The man has done well," said Jimoh.
"Ok oo, I am not going to argue with you but it is laughable that a man that told us a few months ago that he was so poor that he had to borrow money from the bank to purchase his party's nomination form, suddenly has about N30 million in his account. How much is his monthly salary and allowances to get him N30m within three months?" asked Tony.
Said Pat: "Hmm, abeg help me ask them. The truth is that they did not do proper declaration – a number of cars and seven houses say nothing. A proper declaration will give details of the houses, locations and worth; the same goes for the cars and the farm. Shehu said he has many cars too."
"The senator should be investigated. He was a rights activist, so how come he has so much money?" asked Peju.
Replied Pat: "Have you forgotten he was the one facilitating the meeting between Boko Haram and the Federal Government?"
"Socio-Economic Rights and Accountability Project, SERAP, has asked PMB to probe World Bank's role in the repatriated Abacha loot and also Halliburton compensation," informed Nike.
"Probe? It is impossible; he cannot do it," said Tony.
"He should go ahead and probe. We need to know what happened to the loot. So what is impossible in that?" asked Paul.
"It is impossible because there is nothing like Abacha loot. You cannot probe what does not exist except of course you are a magician. As for Halliburton, it is a no-go area and he knows it. The people involved are powerful and have a dossier on him; so if he exposes them, they will expose him too," said Tony.
"Are you kidding? The whole world knows about Abacha loot," said Jimoh.
Said Tony: "Really? Shebi Buhari told us Abacha did not steal anything, that he was the most righteous Nigerian leader, just as they said there was nothing like fuel subsidy and now they are talking about removing fuel subsidy?"
"What did you expect? After all, he was part and parcel of that government, so as a saint, there is no way that government could have looted public treasury. From what I read, the loot included: $1,000,000,000– Swiss government; $800,000,000 – General Abubakar-led domestic recovery; $233,795,000 – Principality of Liechtenstein; $198,484,000 – Ajaokuta Steel Plant debt buy-back case; $160,000,000– Jersey's global asset recovery for Nigeria; and $36,016,200 –Jersey's recovered funds from Mr. Bhojwani," said Pat.
"When did he say that? Why do you like peddling rumours? You just keep putting words in the man's mouth. That was how they said he promised to make N1 equal to one dollar, pay unemployed graduates monthly stipends, feed school children one balanced meal a day, bring down oil prices, end insurgency within a month and go to the war front if need be. When did he make those promises? Please, don't let your unwarranted hatred for our president becloud your reasoning," said Jimoh.
You complain about everything. Please wish our president and nation well and it will be well with you
"So people just made all those up eh?  A few days after Lai Mohammed told the whole world that they never made such promises, the Vice-President came out to reaffirm that they will keep their promise of feeding school children. So who is deceiving who?" asked Tony.
"You complain about everything. Please wish our president and nation well and it will be well with you," counselled Paul.