By Gbenga Olarinoye, Osogbo
In what appears to be a preparation for the formal announcement of the demise of Ooni of Ife, Oba Okunade Sijuade, there were fears Friday in the ancient town that traditional rites have begun with imposition of Oro festival which will last for seven days.
During this festival period which is from dusk to dawn, all females are not allowed to come out in the town untill the festival is over.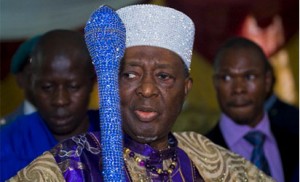 Saturday Vanguard reliably gathered that Oro Festival is already on in the town, the development many people termed as a prelude to the formal announcement of Ooni's death.
A palace source however dismissed this claim, saying there are certain rites that must have been performed, before the ongoing Oro Festival, before the news will be broken.
The source specifically added that  one of the conditions will be to shut down all markets in Ile Ife to public, symbolic jingling of royal gong across town and appearance of dreaded "Isogun", a chief that only makes appearance at Ile Oodua at the demise of Ooni.
It was also learnt that a particular door at the backyard of Ooni's palace that had been permanently closed since December1980, when Ooni Sijuade ascended the throne, would be opened to indicate that the throne is vacant.
"Until all these conditions manifest, it cannot be concluded that Ooni has joined  his ancestors. I live here in the palace and we believe baba (Ooni) is still alive in the United Kingdom.
"Preparation is in top gear for the marriage of his son in Victoria Island in Lagos on Sunday. I can't confirm if he will appear in person at the event but that marriage is what is engaging all of us now," the source said.
Another very close family source said the final rites must have begun but on a very light note so as not to scare people, stressing that the manner the passage of the monarch happened did not allow for strict adherence to traditions.
He said " some of the rites to be performed before the declaration are on. The chiefs are only being careful so as not to create panic in the town. Those rites that cannot be done secretly will be done when other arrangements have been concluded regarding moving him (Ooni) back home.
Asked whether Oro Festival is part of the final rites before declaration of Ooni death, he said: "the ongoing Oro just coincided with these controversies about Baba (Ooni) . It is usually held around this period every year."
Already, there are palpable apprehension in the ancient town following the announcement of Oro festival.
Specifically, residents of areas such as Moore, Enuwa and Isale Agbara said Oro adherents were sighted but added that before the controversy over Ooni's whereabouts started, the festival had been on.
But despite the festival being on, commercial activities were still active, though on relatively cautious  scale in Ife metropolis.
Subscribe for latest Videos