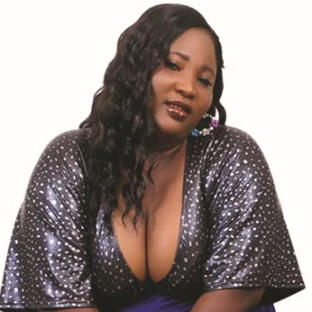 Enitan Odugbemi
By Ayo Onikoyi
Big, buxom and beautiful Enita Odugbemi is a star to watch out for in the Yoruba movie industry. Though still upcoming, Enitan has done many films that could pitch her shoulder to shoulder with some of the best talents in the industry.
Apart from her talent, which is never in doubt, the next thing that brings her attention are her big, voluptuous boobs which have caused her slight embarrassment in more than one occasion.
In a past chat with potpourri, the producer of a film, Rado Lomo, recounted her experience with fan who got out of turn with her and grabbed at her boobs.
"Yes, that was at Oxford Street in London. I was at Oxford street to do some shopping so this young man walked up to me and said my face looked familiar. Later, he said he could recall that I am an actress. I smiled and he requested to take a picture with me. I agreed. The next moment, I realized he was trying to touch my boobs. I slapped him immediately. I later realized slapping him isn't a good thing. I apologized and kissed him. He smiled and now we are good friends" she recounted.
In a recent chat she agreed that her boobs bring her unwanted attention but maintained she's hardly the one to blame for that.
"I don't expose my body in movies, it's just because I am busty. I love my boobs so much and I thank God because he gave them to me. I don't deliberate expose my body or boobs. People only tend to notice them because they are very big," she said.