By Evelyn Usman
A cursory glance at the three able-bodied youths whose ages range between 18 and 26, will easily pass them for malnourished and ailing individuals, judging by their fragile and seeming innocent and harmless looks. But how wrong that can be. The police in Lagos alleged that they are rather suspected members of a notorious seven-man robbery gang that had been terrorizing Iyana-Ipaja, Dopemu and other areas of the state, including neighbouring Sango-Ota in Ogun state.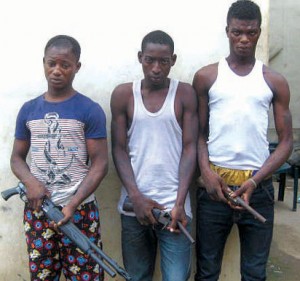 They were arrested by operatives of the Special Anti-Robbery Squad (SARS) last Monday, in Iyana-Ipaja area of Lagos. Detectives also alleged that the gang had been unleashing mayhem on residents of these areas.
Their method of operation, according to police sources, included, carrying out a house-to-house raid and subjecting their victims to severe beatings at the end of which they were dispossessed of cash and other valuables.
The suspects in an interview with Crime Guard disclosed that their victims' financial status were usually judged by the interior décor of their apartments, adding that any of them who out of sheer stubbornness refused to release cash befitting of the gang's estimation of them, risked being killed.
Mild drama
A mild drama, however, played out when this reporter wanted to interview the leader of their gang. The trio resorted to theatrics as they pointed fingers at one another. This degenerated into a verbal confrontation which was immediately brought to an abrupt halt by a more menacing member of the gang identified as Taiwo Amosu (19).
Responding to the question, Taiwo said: "The fact is that we are all robbers. Nobody wants to own up as the leader because we have been arrested. Then keep quite if you are not the leader. Well, if you address me as leader of the gang , I accept. I am your leader."
Background
Turning to this reporter, the Abeokuta, Ogun State-born youth continued in a low tone: " I am an orphan and I have a younger brother to take care of. I learnt aluminum work in order to fend for myself and my younger brother but due to power failure, I do not have work to do.
My workshop is at Sango-Otta. It was in my search for greener pasture that I joined this robbery. I had gone to Agege that fateful day to play game with my friends – Owolabi, Akeem, Yaro, Damilola, Sanjo and Sunday – unknown to me, they were planning a robbery operation that night.
Reluctant operator
I reluctantly followed them to a building at Agege where they carried out a room-to-room operation. At the end, we went back to Sango-Otta to share the loot. I was made the leader of the gang when our leader, Damilola, left the gang, but he was still controlling us from where he was and we sent him returns. We usually tortured victims who claim not to have money in their houses.
Such comments provoked us. We knew the financial status of our victims because we usually carried out an assessment of them before striking. So, we did not condone lie or pretense from them because robbery is a serious business. In one of the operations at New Garage, we disarmed security men of their arms. When we accost any security man during operation, we normally use him as a bait to gain entry into the apartments and at the end, we would lock our victims from outside.
Our target
"We only covered our faces in areas where we feel we could be recognized. But we hardly operate around our places of abode. Our targets during operation are phones, laptops and cash. We do not shoot our victims; we only beat them and threatened to shoot if they misbehaved. We usually share our loot at Agege Motor Park.
I get between N10,000 to N30,000 at the end of each operation depending on how much was realized," stated Taiwo who was also said to have been detained last year at the dreaded SARS over a case of cultism. He was reportedly the first to be apprehended by SARS operatives. His confessional statement led to the arrest of two other suspected members of the gang: Jamic Amsat (28) and Owolabi Aremu (22).
Gang's armourer speaks
The suspect who was identified as the amourer for the gang, and who is simply called Amsat, claimed he had never gone to any operation with the gang. He only admitted to being the gang's armourer.
According to him, "I have never gone to rob with them. I only keep their weapons at the end of which I got between N15,000 and N20,000. Several times, they tried to convince me to join them but I could not because I do not have the emotional stability to stand it and I do not want to kill anyone till I die."
Roaring like lion
However, the third suspect, Owolabi Aremu, boldly described himself as the gang's 'bad man', disclosing that during operation, he usually intimidated their victims with his deep voice that sounds like a roaring lion. Aremu who resides at Atubaje Street in Agege opened up: "Whenever we approached our victims and they refused to part with money befitting our assessment of them, I would shout in my baritone voice which usually put fear into them.
If, for instance, we assessed a victim for N500,00 and they brought N100,000, I would hit them hard in the face and shout, thereby forcing them to bring out the required amount. We usually take Indian hemp and alcholic drink before going for operation. That way, we would be able to do and undo."