By Chris Onuoha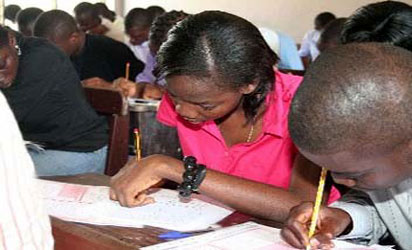 Awards were given to the successful pupils who participated in The Ultimate Mathematics Ambassador, TUMA, competition recently in Ota, Ogun State. The Ambassador College Ota which has set a standard in championing the cause to eliminate mathematics phobia militating against student's performance in schools feted dignitaries, parent and pupils to a memorable ceremony at the school's premises.
Nine year old Master Akinleye Akinfoluhan Akintobi of St Benerdatte School, Ipaja, Lagos emerging as the over-all best, winning the prestigious prize of N125,000 with a plaque He was followed by Sarah Busolami Akingbade of Frontliners School, Agbado, winning N100,000 and a plaque while Faridat Modesola Giwa of Tomobid School, Ikeja was third winning with N75, 000 and a plaque.
The chairman of the Ambassadors school, Mr. Samson Yomi Osewa in his opening speech said that the award ceremony was a way of sowing back to the society. "We are asking pupils of primary school to come together and do a competition that will make them learn mathematics and we call it
"The Ultimate Mathematics Ambassador" TUMA, because anybody who is expected to win will score a very good aggregate. This year, 228 schools with about 600 pupils participated and today's programme is to give award to all winners from each school. In the competition everybody is a winner, but special winners are the ten from different schools selected for high prizes."
According the Osewa, "We chose primary school pupils for now because we believe everybody can know mathematics if well exposed to it. The phobia starts from the parents. They should let the children know that they can achieve all things and that's why we are starting from them." Osewa said that they have recorded success in Lagos and Ogun State and from next year, the participation will go beyond this horizon until the entire nation is covered.
The TUMA competition meant for primary school pupils in its third year running is an initiative of the Ambassadors Schools, Ota, Ogun State and it is basically a contest for pupils as a way of bridging the gap the mathematics phobia has created in young talents who sees science courses as too difficult.