By Chidi Nkwopara & Chinonso Alozie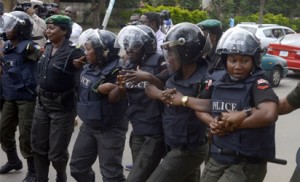 OWERRI—Some women, who barricaded the entrance into the secretariat of Imo State Council of Traditional Rulers, ahead of the visit of President Goodluck Jonathan to the place, were flushed out by the police Tuesday. The police used tear gas on the women, who were believed to be loyalists of All Progressives Congress, APC, after their passionate appeal for them to quietly leave the place was rebuffed by the women.
Addressing journalists later, the Director of Rochas Campaign Organization, Mr. Iheukwumere Alaribe, not only condemned the use of tear gas on the women, but also accused the police of brutalizing them. He also accused Peoples Democratic Party, PDP, of plotting to make Imo State ungovernable, stressing that "APC will not accept any form of intimidation from the PDP."
Alaribe advised the security agencies to "remain loyal to Nigeria and Nigerians and not to any particular political party." He appealed to Eze Ilomuanya to allow the status quo remain, that his case with the state government was still being addressed at the Supreme Court.
Reacting to this development, Ilomuanya's Chief Press Secretary, Mr. Kennedy Eweama, accused the state government of flouting court judgments. He said: "The Supreme Court had long taken a decision on the matter, but the state government is still parading Eze Sam Ohiri as its preferred chairman. No society can thrive without the rule of law."