By Chimdi Maduagwu
William    Shakespeare   popularized the legend of King Lear in a play of the same title. This play has a unique universal lesson on the concept of sin. Sin, in general terms, operates in the domain of religion. In Islam, it is Haram. It is some form of violation (of rules), wrongdoing, transgression or offence.
It is also something forbidden (as in the Islamic concept of Haram). Sin confronts everybody every day; not that we sin, but we are constantly threatened by it. The good book says we were conceived in sin. It is thus, ingrained in us. The context in which Shakespeare used it was similar to this Christian Biblical view: "all have sinned…" We know that in one way or another, human beings violate the status quo, that is if they are not already a violation, some form of polution. Some do so intentionally and others do so inadvertently. Whichever way, sin remains sin.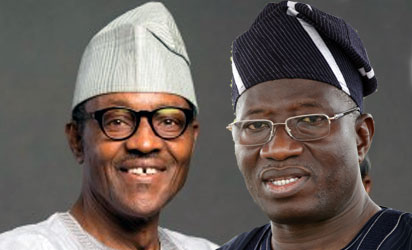 Shakespeare's King Lear abdicated the throne and released power and wealth to his daughters who pretended to be loyal to him, only to realize that two out of the three daughters had pretended with " glib and oily art" speaking what they purposed not to do. When they started dishing out doses of punishment to him, then the phrase, "a man more sinned against than sinning" became a popular statement in human philosophy.
In the current political campaigns, we have seen a lot of sins. The aspirants to the most coveted position in the country have been branded sinners. The two major players, President Goodluck Jonathan and General Mohammadu Buhari are human. They, like all humans have sinned. They have also been sinned against. They have sinned against the nation and the nation has also sinned against them.
What I cannot go into details of now is the nature – either quality or quantity – of sins they have committed. By the way what do I care about "perils past;" when I am looking forward to newness. I am particularly interested in the last sin, the postponement of the 2015 general elections.
For some people, this is a sin against the nation. But one issue that has remained unclear is the sinner. I have heard and read many people who have maintained that it is a sin by the president against the country. Others infer that it is a sin by the ruling party against Nigerians and yet another set of people boldly intone that it is a heinous sin committed by Independent National Electoral Commission, INEC, against the government and people of Nigeria.
The opposition has merged the three probable "culprits" and placed them under one umbrella, Jonathan. They maintain that the shift in the election timetable is all about Jonathan. Many reasons have been adduced for this, ranging from the allegations that Jonathanists want to destabilize APC (do not ask me how because I do not know) to the speculation that plots about rigging have not yet been perfected. I want to believe that the opposition is also a major partaker of the sin.
Before now, I was really uncomforted, indeed, angry with any suggestions about alteration of election timetable. After all, I argue, INEC published the time line one year ahead of the chosen election days, so what kind of preparation is it that could not be perfected within the period.
I also thought that INEC, as an existing institution, must have structures already in place, and need only to juggle few issues to arrive at a workable programme for the elections. But I was mistaken and this, I humbly accept.
Little did it occur to me that there are contingencies, or what all of us who reason refer to as unforeseen circumstances and that there are other important contributors to the successful conduct of elections like the security organizations. Contingencies bring to question two strong, sometimes complimentary and sometime opposing, issues: TIMELINESS and ACCURACY. It is good when we keep to time, but it is awesome if we are accurate. The exponents of timeliness are particular about ego constancy and image making and so do not care about whatever comes in between time schedules; but the proposers of accuracy who I suppose are more down to earth and also more forward looking are more interested in stability and strong legacy so are necessarily bothered about contingencies.
There are few things we need to look at here. What is the sin in this and who sinned? Accusing fingers point to Mr. President and I ask, how has he done this? True his government suggested the managers of INEC; true also his government saw the entire situation with the advantage of experience (in democratic processes) and suggested a shift so that few details could be tidied up and now we know these details. True also, his government funds INEC. Then the next truth, which is like the grand truth, is that his government guarantees security. Looking at these, one would begin to get a grasp of the sins.
Let us proceed slowly on these issues. Prof Atahiru Jega was appointed INEC chairman with a loud ovation; in fact, the appointment was received with wild enthusiasm. INEC has performed reasonably well in the past elections it conducted, but nobody has asked if INEC has a security outfit that kept law and order during those elections.
The truth is that Federal Government provided security and maintained law and order.
We hear that there are security reports which are not favourable to the conduct of the elections at the times originally fixed and the providers of security, those who maintain law and order, have stated in categorical terms that they will not guarantee optimal protection of lives and property. When asked the financial implications of the rescheduling of the elections, Prof. Jega made it clear that his commission is well funded and would not require adjustments in the existing budget.
Other matters arising include the much orchestrated distribution of permanent voters' cards (PVC). I am one of the numerous Nigerians who have not yet collected the PVC. I understand that card readers have arrived and each card must be subjected to computer recognition processes before the card holder is finally certified an eligible voter.
There is need to train the staff that would perform this and other responsibilities during the elections. Forgive me; I cannot give further information on the voting processes because I am clueless but I have an idea that INEC has not yet trained the people to handle this.
But before I move on to other issues, let me also say that I am aware of some suits waiting in the court of law that need to be vacated before elections so that judgments in those cases will not take the hands of the clock of our democracy backward. With these, I wonder how it was going to be possible for a credible election to be held of February 14.
These are all sins, committed by, and against people. My point is that some have sinned more and some have been sinned against more.
I want my readers to make their conclusion on who have been sinned against more: the gentleman, who means well for his country and who has insisted on what is right, though willfully misunderstood, or the bunch of humans who seem to be interested in grabbing an opportunity to atone for sins long committed without actually being sure that more sins may be committed.