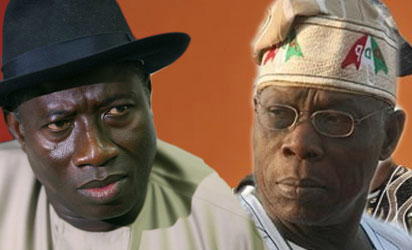 Jonathan and Obasanjo
By Daud Olatunji
ABEOKUTA—Irked by what he perceived as the frivolous expenditure of the Jonathan administration, former President Olusegun Obasanjo, yesterday, once again took a swipe at President Goodluck Jonathan, accusing him among other things of squandering $25billion crude oil savings left behind by his administration.
Obasanjo made the allegation while hosting the South-West women leaders at his residence in Abeokuta, describing the administration of President Jonathan as full of impunity. Obasanjo also said the failure of Jonathan's administration to save for the rainy day led Nigeria into the current economic mess where a dollar exchanges N195.
Obasanjo claimed that the more than $25billion inherited by his successor, Musa Yar'Adua, was raised to $35 billion but the Jonathan administration squandered all, including also the $40billion in Nigeria's foreign reserve account after paying the outstanding debt at the time.
According to him, former President Yar'adua also raised the reserves to $60billion, but under President Jonathan, the reserves plummeted.
These new claims followed series of public denunciation of Jonathan's government by the former president.
I'm not against Jonathan
Last year, Obasanjo repeatedly lambasted the current government, accusing the president of promoting and tolerating corruption, and failing to provide security for Nigerians. But Obasanjo, yesterday, said he was not fighting the President, nor was Jonathan fighting him. He said he was more concerned about the interest of the country, and, therefore, cared less about criticisms.
"I have no grudges against Jonathan and I think Jonathan equally has no grudges against me. I'm not quarrelling with Jonathan. All I know is that whatever is good for Nigeria, that I'm ready to die for.
"I emphasize that whatever is good for Nigeria is what I'm ready to defend with my life. Whoever I emphasize, whoever says he would not do anything good to Nigeria, even if he says he's ready to go 'konko below', I'm ready to square it up with such a person. I say again, whoever that person may be, I want you to get that correctly. If this country is going to change for the better, it would start from the top and if it's going to be otherwise, it would start from the top, too," the former president stressed.
 Economy in bad condition
The former president also lamented the poor condition of Nigeria's economy, saying it shouldn't have been this bad.
"Our economy should not have been this bad. When I was leaving office about eight years ago, I left a very huge reserve after we had paid all our debts. Almost $25billion was kept in what they called excess crude, including the excess from the budget we were saving as reserve for the rainy days. When we left in May, 2007, the reserve was said to have been raised to $35billion.
"But today, that reserve has been depleted! The reserve we left when we finished paying all our debts, our debts that was about $40billion, that is including debt forgiveness, the remaining debt was not more than $3billion. Our reserve after we had paid off this debt was about $45billion. As at the end of 2007, I heard that the reserve increased to almost $67billion before the end of that year. But our reserve now, I learnt is left with around only $30billion.
"That is why the Naira has been falling against the dollar. What would now happen? I learnt if you want to buy a dollar now, it's about N192 or N195. What it means is this, what you have been buying at N150 to a dollar, now you need N192 or N195 to buy it. That is the real situation. Is there any remedy? There is, but it does not come overnight because it means we have to give up all the bad things we have been doing," Obasanjo said.
He continued: "I know that God did not create Nigeria not to be rich or great. Is it that the people he created in Nigeria are not knowledgeable enough or not intelligent enough? Or is it that they don't know their rights? Our problems in Nigeria lie with the leadership. Let's look at the foundation of our leadership. In the profession I know very well, the military, what we normally say is that there are no bad soldiers but bad officers. If you see a situation where the soldiers are not doing well, we need to examine the officers in charge. So it is in the family, the community, the town and the country.
"Truly, the price of crude has fallen, but anyone who is wise enough should know that since we depend on just one resource and since we have no control over its pricing, we should be planning for this type of situation and the way out of it. Our inability to have a reserve has brought us into this economic quagmire.
"If we are going to solve unemployment problem, it is through agriculture and not through oil and gas. Now, we have no alternative. Agriculture is renewable because the land can be used over and over again, but, once a barrel of oil is gone, it's gone forever, "he said.
I'm not apprehensive about forthcoming elections
On the forthcoming election, Obasanjo said he's not apprehensive as being speculated. He also advised the electorate to vote for candidates with integrity and good records.
"I have had some little experience about this country. I was a military head of state and I was also a civilian president, so what is left? So, if I talk, I know what I'm saying. Whoever wants should listen to me and whoever feels otherwise, may turn a deaf ear. But when I'm talking, I'm talking with my understanding and intellect. I'm drawing from my experience and from what I've learnt with others and from other countries and fellow eminent citizens of the world that I relate with. I have no apprehension over this coming elections. I have no fears over the forthcoming elections.
"Good governance comes from voting, from selection of leaders. It is now left to you to decide who you cast your vote for because if you throw away your votes and tomorrow you are saying good governance, once you throw away your votes you have lost out. That is one. Find out the track records of achievements of those you want to vote for. What have they achieved in the past and not what they have said."
I'm still in PDP
Concerning his membership of the Peoples Democratic Party, PDP, Obasanjo said: "I am still in the Peoples Democratic Party, though not active. With the kind of people and behaviours I see in the party, I don't think I can stand before God and defend them.
"Nigeria does not deserve the position it finds itself today. Our nation is plagued with insecurity, corruption, economic downturn, and impunity in doing thing. If man cannot arrest you, God will arrest you. The position you are now, God puts you there. If you think lies can keep you there, continue. If you think bad people can keep you there, continue. If you think it's money, continue. But remember God does not sleep nor slumber. A leader must be forward looking and plan ahead.
"At the beginning of last year, the budget was based on $78 per barrel. That year, the government spent more on recurrent expenditure and a little on capital expenditure".
Nigeria cannot disintegrate
The former President, however, ruled out the possibility of Nigeria disintegrating after the election, saying, he had been told that he would be the last President when he was contesting the election in 2003.
He recalled that, "1964 election led to 'Wetie'. I saw people being slaughtered; there was 1966 coup, the 1966 pogrom and the civil war. We survived it. Then, Abacha came, we survived it. When I was about to contest in 1999, I was told that it was a deceit like IBB and Abacha did. They said that Abubakar Abdulsalami was also out to deceive us. Some people said after me, there would be no Nigeria again, but, after me, there had been two presidents. This God is God of Nigeria".
You are the repository of nationhood
—Lawson
The women who were led to the former president's house by the Iyalode of Yorubaland, Chief Alaba Lawson included the Iyaloja-General, Mrs, Folashade Tinubu-Ojo and Iyalode Ibadan, Alhaja Aminat Abiodun represented by Eketa Iyalode, Mrs. Adedeji among others.
Earlier in her speech, Chief Lawson noted that President Obasanjo has become a good repository of everything that makes nationhood.
"You are the hand and eye in all the nooks and crannies of Nigeria. You are the voice everybody is waiting to hear on any topical issue in the public domain. We believe we are in the right place to discuss with you some knotty issues bleeding our hearts as we have seen you as a beacon of hope and light for the nation", Lawson told Obasanjo.
On state of the nation, the women said they were concerned about current happenings in the country, going by the current atmosphere of fear and uncertainty.
She said the nation is plagued by insecurity, economic downturn, poverty, corruption, among other challenges.
"The unabated nefarious activities of the insurgents which have placed us as a people on the throes of war is worrisome to us, because womenfolk is the most affected. Countless Nigerian women have lost their lives, husbands, children, relatives and sources of livelihood as a result of the despicable acts of killing and wanton destruction by the Boko Haram insurgents," she said.
Obasanjo's response
Reacting to the speech, Obasanjo said the meeting had been politicised on the pages of newspapers, declaring that, he had no problem with President Jonathan, but, insisted that he would never associate with anyone that does not have either interest of the country at heart.
According to him, "God had put you in a position for a purpose, and if you fail, you will give account to God. It was prophet Samuel that God sent to anoint Saul to be king but when he misbehaved, it was the same God that sent Prophet Samuel to the house of Jesse to anoint another king.
"But when Samuel got to Jesse's house, he was attracted by the physical and outward appearance of Eliab. But God told him, he (Samuel) was looking at outward appearance whereas he was looking at the heart. We must not keep quiet concerning this nation."