Professor Yemi Osinbajo, Wednesday, emerged the running mate to the All Progressives Congress Presidential candidate, Gen. Muhammadu Buhari.
Here is a profile of the former Lagos State Attorney General and a Snr. Pastor in the Redeemed Christian Church of God(RCCG).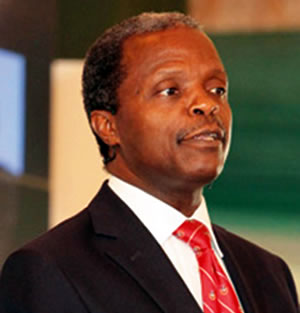 Yemi Osinbajo, 55, is a Senior Advocate of Nigeria and Senior Partner in the Law firm of Simmons Cooper Partners.
His tertiary education was at the University of Lagos and the London School of Economics where he obtained the LLB and LLM degrees respectively.
He was appointed the Lagos State Attorney General and Commissioner for Justice in 1999 and reappointed for a second term in 2003. During the period of his public service, he commenced the Lagos State justice reform project. A prominent feature of that project was the establishment of the Directorate for Citizens' Rights (DCR) which provides free legal services and legal representation to indigent citizens of the state. This initiative gave a voice to many who would otherwise not have a way to access their rights.
Prior to that appointment, Osinbajo, a Professor of Law, was the Head of Public Law at the Faculty of Law, University of Lagos.
Between 1988 and 1992, he was the Special Adviser to the Attorney-General and Minister of Justice of the Federal Republic of Nigeria. He also served as a staff member of the United Nations and Member of the United Nation's Secretary General's Committee of Experts on Conduct and Discipline of UN Peacekeeping personnel around the globe.
He is currently an Ethics Advisor to the Ethics Committee of the African Development Bank and is a non-executive Director of Citibank.
Prof. Osinbajo is Co-founder & Board Member Convention on Business Integrity and the Justice Research Institute Ltd. He has also authored several law books.
In 2007, Prof. and his wife Oludolapo founded "The Orderly Society Trust", a non- governmental organization that is dedicated to the promotion of Christian ethics and orderliness.
He is a resident pastor at the Olive Tree House of Prayer for All Nations, Banana Island, a parish of the RCCG.
He lives in Lagos with his wife,Dolapo Osinbajo, who is a grandchild of Obafemi Awolowo with three children.