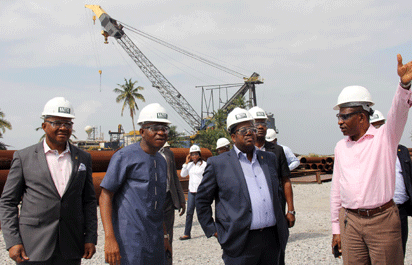 rom left: Group Head Energy, First Bank Plc, Mr. Olalekan Adelekan; Chief Finance Officer, Chrome Group, Mr. Nixon Alanza; Group Managing Director/Chief Executive Officer, First Bank, Mr. Olabisi Onasanya; and Project Manager Kaztec Engineering Ltd, a subsidiary of Chrome Group, Mr. Kingsley Nnodu, when the First Bank team visited Chrome's Fabrication Yard at the Snake Island, in Lagos.
By Clara Nwachukwu
First Bank Plc has expressed willingness to support the funding of a $1.3billion fabrication contract by Kaztec Engineering, a subsidiary of the Chrome Group, awarded by Addax Petroleum.
The contract, scheduled to commence next month is tied to the Addax' Ofrima/Udele development project.
First Bank's interest was fuelled after the visit of its Managing Director, Mr. Olabisi Onasanya, to Kaztec's Fabrication Yard in the Snake Island in Lagos, to inspect level of work on current projects.
Onasanya expressed satisfaction with fabrication work for Addax' Antan Development project valued at $136 million, which is also being part funded by the bank.
Speaking further on the projects financing, the Group Executive Director, Institutional Banking, Mrs Bashirat Odunewu, said, "Our visit was impressive because Kaztec is a 100 per cent Nigerian company. They made presentation to us, and we had a walk round the facility. I must say that all the things we saw were very encouraging that a Nigerian company can do such good technical work.
"They showed us what they were doing presently and even those that have been concluded; these are works that were normally given to foreign companies to do. Also, their client, Addax Petroleum, was satisfied with what they are doing."
She explained that the bank was interested in continuing to support Kaztec, based on what the team saw on ground. "It's a piecemeal project, which is being done in phases. It's a multi-billion dollar project, and there is a ratio that they have to bring in and some that we will fund.
"Sometimes, we invite some of our colleagues if we need to do syndication. Sometimes, we do on our own. You know that for the banks, there is a certain limit set by the regulators and you cannot go beyond that for any particular customer; and we have a good appetite."
Odunewu noted that the reason some Nigerian companies cannot access bank facilities is because of their lack of commitment to the project for which they seek the facilities.
She noted: "Nigerian companies need to know that first; they have to be competent, and be able to prove to the bank that they have already invested some of their own equity into the project. In the banking industry, we have what we call bankable projects, so someone wakes up today to say, 'I want to do a yard like what Kaztec has in the Snake Island,' and tells the bank to finance it.
"The idea is that when you start, you have to show that you can manage funds on your own, and when the banks see what you are doing and where you are going, then they will work along with you. But a lot of people don't want to do anything on their own first; they want the banks to finance everything. But you must show your own commitment before the banks can come in to assist you."
She said that this is the reason First Bank is throwing its weight behind Kaztec, because in its assessment, "Kaztec is really one of the top three companies in Nigeria today, and I am happy to say we are in the forefront of supporting them."
She added that such support covers both oil and gas and power activities, as it also helped the group in the purchase of the Enugu Electricity Distribution Company, EEDC.
Expatiating on the Snake Island projects, Chrome Group's spokesman, Dr Edwin Ndukwe, said the projects are in four phases, "Phase 1 is the fabrication yard, while Phase 2 is the pipe rolling and pipe coating yard. Phase 3 is the dry dock yard, where we are going to be doing the refurbishing and rehabilitation works for boats, tug boat, barges and stuff like that. Then Phase 4 is the logistics base. Right now, we are still in the Phase 1.
"We have said that by 2016, which is at the point we will see the culmination of the entire project up to Phase 4 that we are expecting a total workforce of about 20,000, both direct and non-direct. This is aside from the ancillary support companies that will emerge on account of this impressive development on the Snake Island. Overall, it is generating revenue for the economy."
He explained that with the Offirima/Udele project, Kaztec will execute all of Addax' fabrication processes, as it did for its OML 123 project. "Construction is going on right now, the installation and then commissioning will follow as soon as possible."