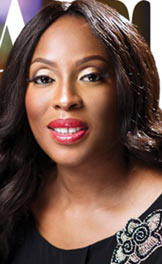 By Florence Amagiya
Mosunmol Abudu has no doubt carved a lasting niche for herself in a world where men are known to have called the shots. She is undeniably wealthy and is regarded by many as the "Oprah Winfrey of Africa" due to her Moment with Mo Talk show.
Her EbonyLife channel alone on DSTV is worth billions of naira. In this edition, we lead you into the world of a media guru who is living her dreams in splendor:
Mo Abudu as she is fondly called hails from Ondo Town in Ondo state of Nigeria. She was born in Hammersmith Hospital in London, United Kingdom in September 1964 to Mr. and Mrs. Lawrence Akintunde. She is the eldest of three sisters who lost her father at the age of 11.
Mo Abudu spent her childhood in United Kingdom where she worked her way through college. She attended the Ridgeway School, Mid Kent College and West Kent College. She got her Master's degree in Human Resources Development from the University of Westminster in London. The TV goddess started her professional career as a Recruitment Consultant in 1987 with the Atlas Recruitment Consultancy firm in the UK.
Mo rose to the position of a Branch Manager within a few years. She was headhunted by Starform Group in 1990; Starform is a very successful business information group in the UK. They manage the prestigious Corporate Credit Management Exhibition. Mo successfully managed the exhibition from 1990 through 1992. She assumed responsibility for the research, design and production of several conferences and seminars whilst at Starform.
She returned to Nigeria in 1993 and was also hunted by Arthur Andersen. She worked in the capacity of Head of Human Resources and Training for Esso Exploration & Production Nigeria Limited (Exxon). She successfully completed her responsibilities by the year 2000.
Mo saw in Nigeria, a growing need for a trained and highly motivated talent pool that would take Nigerian businesses into the 21st century. Taking advantage of her reputation, she resigned from a job at ExxonMobil after a decade to start Vic Lawrence & Associates Limited popularly known as VLA.
Her projects
Mo Abudu is arguably the first woman on the African continent to own a pan-African TV channel called EbonyLife TV. According to reports, "the channel is worth N2b." EbonyLife TV is a channel on DSTV which has over 15million viewers in 44 countries including United Kingdom and United States of America. It has strong backing by Cross Rivers State government.
This is in line with the state government's strategy for development. EbonyLife TV is helping to build a thriving Film, TV and Music industry through strong international partnerships that can develop local talent and empower the next generation by building an Entertainment and Media hub at Tinapa that would represent Nigeria as well as Africa.
Another powerful move which the channel has made is acquisition of the services of 13 independent producers to produce film content for TV, a project which a film expert estimates will cost about N2.5 million per production.
Award
In 2013, Forbes gave her an award as the first African woman to launch a Pan-African TV Channel. The honour came to Mo due to her consideration as an industrious and illustrious personality popular within and outside the industry. She was called "Africa's Queen of Talk." An enviable position, the award, no doubt, firmly affirms and establishes Mo Abudu as someone who has indeed treaded grounds that many may have considered an uphill task even for some of the highest flying African women.
According to reports, She is involved in a number of business activities. In addition, Mo is co-owner of the Protea Hotel, Oakwood Park, Lekki Expressway, Lagos. The hotel is worth over N2b. Set on over a hectare of land, and comprising of state-of-the-art conferencing and leisure facilities, the Protea Hotel, Oakwood Park is a 5-star hotel and no doubt among the best Proteas in Nigeria. Mo is also the Founder of Vic Lawrence & Associates, now one of Nigeria's leading Outsourcing firms and media.
Her special TV program "Moment with Mo," over the past years of its existence, has hosted an impressive list of guests. The TV program has hosted presidents, Nobel Laureates, celebrities governors, and even the US Secretary of State, Mrs. Hilary Rodham-Clinton, when she visited Nigeria.
The TV show is Africa's first and only syndicated daily talk show. It airs across 48 African countries and on cable TV in the United Kingdom. She developed other TV properties to include "The Debaters," a highly intellectual, but vastly motivating, innovative and entertaining reality TV show that gives the youth of Africa a voice; Naija Diamonds, an award winning documentary series, Celebrating the Unsung Heroes of Nigeria.
Charity
Mo is also a philanthropist. She has a foundation known as Inspire Africa Foundation in partnership with Moreno Construction, The Harbour, which has completed a one hundred-bed home for street children in Lagos.
Cars, dresses and perfumes
Mo Abudu is known to look stunning and out of the world on the red carpet. According to reports, she gets her dresses after it is launched on the runway abroad. Similarly, her perfumes are truly feminine and expensive. She loves beautiful expensive cars and has many of them in her garage including a black Mercedes Benz SUV priced over N20m.