Delta State Governor, Dr Emmanuel Uduaghan once again showed while Delta State has remained as the undisputed number one sports State in Nigeria. His presence at the on-going Commonwealth Games in Scotland confirmed his undying love for sports in Nigeria.
Governor Uduaghan who has set the pace with world class facilities in his state, the latest being the World Class Gym he built for Weightlifting reaped the fruits of the gym when almost all the Weightlifting athletes who lifted Nigeria with gold medals come from Delta.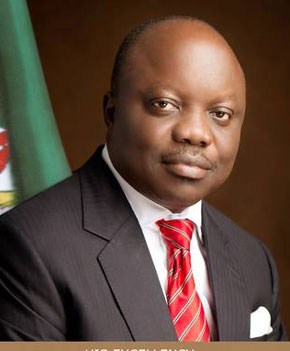 ''The important thing is that they are serving Nigeria. And I'm happy that they are from my state and all efforts in building these facilities are not in vain", the amiable Governor said at the Clyde Auditorium where he came to felicitate with Delta Athletes.
The athletes jumped for joy on citing the unassuming Governor who interacted with  them and promised to reward them at the end of the Commonwealth Games.
''In Delta, we appreciate and reward all our athletes who bring honour to the state."
You can see the marvelous job they are doing for Nigeria and Delta. It is in our character to welcome them home as heroes and heroines", the Governor said as the athletes burst into loud celebration.
The Governor's presence enlivened Team Nigeria as he went round to add his support to many Nigerian athletes who were on duty.
Thereafter, the Governor was presented with a Celtic jersey by Efe Ambrose who plies his trade with Celtic FC of Scotland. Efe is a household name in Scotland  and he said that he was honoured presenting his jersey to a Governor who has done well for humanity and for all Deltans.