By RotimiFasan
MANY months before it finally came on Sunday July 13 many celebratory events had been lined up to mark the 80th birthday ceremony of the one famously called Kongi, after one of the more memorable characters of his highly fecund imagination, Wole Soyinka.
To call 2014 Kongi's Harvest, his 80th on this side of existence, would be saying the obvious. It's no doubt been a bountiful harvest, for his has been a rich and fulfilling life in many respects. A life that has been through many triumphs, grave dangers, close shaves, perilous misses and escapes. It's been a life lived in full along life's thoroughfare. Many years hence when all adieux would have been said to a grateful and appreciative world, long would many remark on this wayfarer that his was a life fully and well LIVED.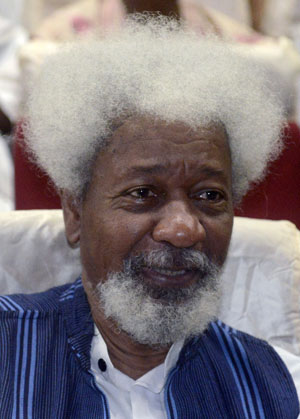 Not too many people enjoy the privilege of such life. Nor are they many who have lived for so long and in very good health whose lives are made up of such dramatic and fateful configuration of events. Wole Soyinka has been so long in the public eye that it's indeed remarkable, even confounding, how his very long career as a public figure and intellectual has remained both evergreen and fascinating.
This especially in Nigeria where public opinion turns with the frequency of the wind and where heroes are no sooner made than they are either destroyed or become victims of their own fame.
Nigeria as an amalgamated nation is only two decades older than Wole Soyinka. It is therefore not too strange that for a highly active and motivated individual like him who came into limelight quite early in life, many events in the life of Nigeria parallel events in his own life. To call him a historical figure therefore would be very much like saying Lord Lugard once exercised sovereign power over Nigeria. Right from during colonial domination when Egba women rose as one against an Alake, the paramount traditional ruler of Abeokuta, the young Soyinka who as a ten-year old served as a courier and teacher of these women, began his career in political activism.
He would be involved in the founding of the first fraternity in a Nigerian university when with six others he founded the Pirates Confraternity. As an undergraduate in England, he entertained the idea of joining the liberation war in South Africa and observed Nigeria's nationalist leaders from close quarters as they visited the Uk for one constitutional conference after another.
It was then he came to the conclusion that the first enemies of the emerging nation was within, in the persons of the venal politicians that would take over from the colonialists. Their lifestyles gave him the confidence to write off this pioneer generation of indigenous politicians and certainly led to the dark vision of his prescient independence play, "A Dance of the Forest".
On returning to Nigeria a few months before Nigeria's independence in 1960, the event for which he wrote "A Dance of the Forest", he instantly plunged into the debates and politics of that era as both an intellectual and fast rising cultural figure. He went on to write Nigeria's first television script.
It was not long after that the Western Nigeria crisis in which he played an active role as an opposition element following the incarceration of the first premier would claim him. More events followed fast: the radio house hold-up, his arrest and acquittal; the pogrom in the North, his involvement in the creation of a neutral peace force, visits to the north and east, and his eventual arrest and incarceration for nearly three years in solitary confinement in Kaduna.
Then followed the years of exile in Ghana and later England. The late 1970s would see him establishing the first road safety organisation in the country. That has since been transformed into the Federal Road Safety Corps of which he was made the pioneer chair in 1988. Before this his literary genius would be recognised with the award of the Nobel Prize in Literature in 1986.
After a few spats with the Shagari and the Buhari/idiagbon regimes, his next major battle would be with the Babangida and, especially, the Sani Abacha regimes. This would see him embarking on his second major exile only to return in triumph following the sudden death of Abacha and the return to civil rule in 1999. He has since then continued in his usual role as public figure, intellectual and moral force.
At the lecture organised in his honour at the NIIA on July 13 by the Wole Soyinka Centre for Investigative Journalism, the various speakers following the lead of the keynote speaker, Prof. Abiola Irele, captured the major highlight of Soyinka's career. Many, including his own children, friends, family, former students and associates went down memory lane speaking on his art, politics and humanity.
I was a little disappointed that the celebrant was not present. But a reminder from his first son Dr. Olaokun Soyinka, that 80 years is 'big', implying Soyinka is by any definition a senior citizen whose body feels the strains of the public demands placed on him, brought home this fact many easily forget. My disappointment was for no other reason than my hope to take a personal photograph of him and with him on this very special occasion, something I have not done on previous public meetings.
Like many I have my own personal experiences of Soyinka not the least was the letter he wrote in response to the one I had written to him on some matter of literary concern way back in February 1991.
He had pleaded his inadequacy and lack of keenness to engage such issue through a letter. But his response to my letter more than answered the question my undergraduate mind wanted settled. In fact, his response came even as I couldn't be sure he would respond. But then I had read that he responded to his mails diligently. More than any other writer he has most shaped my literary and artistic bent.
I treasure his letter like I do those from other iconoclast from a bygone era: Tai Solarin. Most of our encounters have been through his many books but a few have been at public forums. The last was just about three months ago when during a symposium organised by the Osun State government on religious tolerance he, as the chair of the event, walked in as I was rounding up my presentation. It was gratifying to have him listen for the few minutes he did.
Nearly three decades after the Nobel, Wole Soyinka is untiring. Nor does he look ready to retire. Hardly a year passes without a new offering. He seems, still is, at the very height of his creative powers.