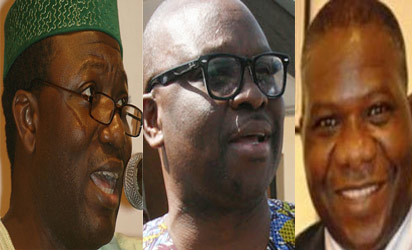 BY DAPO AKINREFON
WITH the June 21, governorship elections in Ekiti State finally here, the three frontline candidates of the All Progressives Congress, APC, Peoples Democratic Party, PDP and Labour Party, LP, have traversed the state in an attempt to sell their plans for Ekiti people.
Kayode Fayemi
Dr Kayode Fayemi's manifesto for his second term is tagged "Roadmap to Rapid Economic Growth and Development" otherwise known as the Ekiti Agenda.
The agenda, according to him, is made up of policy thrusts of his administration from 2014 to 2018 and beyond.
He was quick to stress that having kept faith with Ekiti values, the people of the state have kept faith with him. He expressed optimism that Ekiti is moving forward under his administration with the future of the state already assured.
Opeyemi Bamidele
For the Labour Party Governorship candidate, Mr. Opeyemi Bamidele, his manifesto marks a turning point in the history of the state.
Bamidele pledged to engender unprecedented economic growth and development in all facets if elected governor of the state.
He promised to improve on the lives of the people through Integrated and Commercial Agriculture, robust Infrastructure that would provide jobs for over 400,000 unemployed youths, regular water supply, low cost housing units, Human capital Development and other pivotal areas of the economy.
His words: "I call this manifesto a blueprint for Ekiti Growth and Development because I know that this is a contract with Ekiti people and we will do our best to wipe away poverty and raise the bar of governance to the admiration of all".
Ayo Fayose
Mr. Ayodele Fayose has dubbed his mission as a journey to rescue Ekiti people from poverty.
He believes in welfarism of the masses.
Among other things, his vision is to help the Ekiti State University College of Medicine get an accreditation, an all inclusive government, deepen-democracy and also, to improve welfare of teachers if voted into office.
Hear him, "When I come back, I will give you jobs and do local content. I left N10.4bn but they have sold all these properties. They have taken away our wealth all in the name of being progressives. They are only retrogressing."