By Johnbosco Agbarakwu
Senators and former senators, yesterday, poured commendations on Governor Kayode Fayemi for conceding defeat in last weekend's governorship election and also joining in the outflow of encomiums on Fayemi.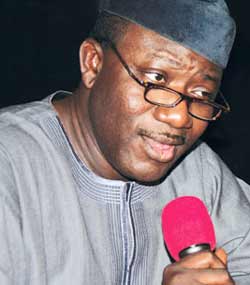 Senate Leader, Chief Victor Ndoma-Egba (SAN), led the praise among his colleagues in commending Governor Fayemi's disposition, describing him as a rare breed that had introduced a new dimension into the nation's politics by being a sitting governor that immediately conceded defeat after election.
Senator Ndoma-Egba, who also congratulated the governor-elect, Ayo Fayose on his victory, commended Independent National Electoral Commission, INEC, for a successful conduct of the Ekiti polls, which he said "is a test-run for the 2015 elections because this is a prelude to what we expect next year."
According to him, Fayemi has brought "a new dimension" into Nigerian politics by conceding victory to Fayose when it became clear that "the people have spoken.
"I particularly commend Governor Fayemi for his uncommon sportsmanship and statesmanship. I congratulate Fayose for his resilience and fortitude and also, the Ekiti people for their enthusiasm by coming out to speak clearly through the ballot."
He urged the Governor-elect to forget past rancour and work with all stakeholders to uplift Ekiti State.
In congratulating Fayose, Owie said: "I congratulate your dear wife for her sacrifices and support, especially when the power of evil organised your ouster from government in your first coming as governor.
"As St. Stephen said, do not hold their guilt against them but leave them to God. Vengeance belongs to God. I also congratulate my brother Governor Fayemi for his reaction to the result of the elections. Fayemi has showed that he is a child of God and has a good wife, Lady Fayemi.
"Above all, I congratulate the leadership of Peoples Democratic Party, PDP, by not imposing any candidate at the primaries in Ekiti.
"I urge President Goodluck Jonathan and our National Chairman, Muazu, to ensure that internal democracy that took place during Ekiti primaries is entrenched at all levels of the party primaries for 2015 general elections."
Former Senator representing Anambra North, Senator Emma Anosike said that the action of Governor Fayemi was an indication that he loved his people and respected their wishes.
Senator Anosike, who was Chairman, Senate Committee on Senate Services, in an interview with Vanguard said: "I want to in good time commend Fayemi for being a good sportsman, and this has shown the kind of person he is and that he has love for his state.
"For some people, they will go ahead and fight and by the time you are fighting, the grass will suffer and the grass in this case is the state. He has said if it is your wish that Fayose be your governor, so be it.
"He has called Fayose and congratulated him. He has told everybody in Ekiti State to go ahead and support his brother."
Chairman, Senate Committee on Rules and Business, Senator Ita Enang said what Governor Fayemi did was an indication that the country was moving forward and that the stability in the nation's election process was catching up with everybody.
Senator Enang said the election was won by INEC and PDP, noting that the result of the Ekiti election showed a complete departure from the election conducted in Anambra State.
Senator Kabiru Marafa, representing Zamfara Central Senatorial District, said that the action of the governor was an indication that he was the people's servant.
Senator Marafa who is an APC Senator said: "It is a good thing. It shows that he is an educated person and that he is into politics to provide leadership. Nigerians need to learn from Fayemi.
"By conceding victory, he showed that he is the peoples' servant and that election is not a do-or-die affair."
On his part, a chieftain of PDP in Ekiti State, Senator Ayo Arise, commended the governor's gesture, saying "I salute him. I salute his courage."