By BEN AGANDE
Abuja—Governor Adams Oshiomole of Edo State has implored politicians to unite and tackle the security challenges facing the country.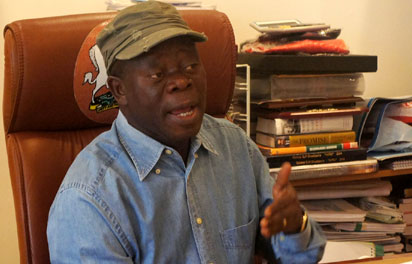 Speaking with State House correspondents after a meeting with President Goodluck Jonathan, yesterday at the Presidential Villa, Abuja, Governor Oshiomhole, said that rather than trade blames over the challenges facing the country, it was high time political leaders realised that terrorism should be confronted frontally.
He said: "Nigerians have to wake up to the reality that terrorists are here. May be a few years back, many of us didn't think it was possible. I thought we enjoyed living so much that no one would wire himself with explosives to take his life just because he wants to take the life of another innocent person.
"On this issue, we must speak as a nation, united in a common voice to denounce terrorism and to work together with the Federal Government to fight terrorism decisively. A terrorist doesn't consider your age, region or religion.
"As a governor operating in one region of the country that you don't decree security, there is a time lag between the measures you put in place and when they begin to come to fruition."
He advised the media to avoid sensationalism in their reports, saying: "We must not be seen to celebrate criminality because at the end of the day, this is the only country we have. Even in reporting, national interest must be paramount.
"I think on the issue of security, there is no party or commercial interest, but national interest. When we win and secure the country, then we can practise politics."
On the mass defection of members of All Progressives Congress, APC, in Edo State to Peoples Democratic Party, PDP, Oshiomhole said what was happening in the state was a mere disagreement by some members of the party on some issues in APC.
"The beauty of democracy is that people can move forward or backward, right or left. Some people have joined us from PDP in the past months, a member of the House left PDP to join us. Don't forget that some people also left to join us.
"But for me, those persons you are referring to know they have not moved to another party, they have only said they have issues with APC and in a democracy, there are bound to be issues from time to time. What is important is to resolve those issues and I believe we will resolve the issues using