By Vincent Ujumadu Awka
The Onitsha Federal Prisons which was originally meant to accommodate 326 inmates now has 793 inmates or 467 more inmates. Out of this number, 708 or 89.3 per cent are awaiting trials, ATM, inmates.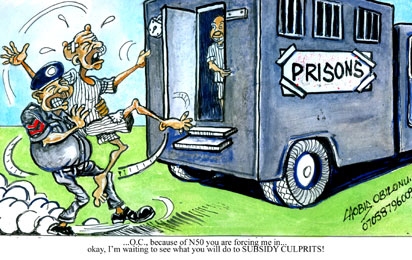 The Senator representing Anambra Central, Dr. Chris Ngige made this known when he visited the inmates of the prison to celebrate the New Year with them.
He, however, said that plans were in the offing by the National Assembly to legislate on the possible ways of de-congesting overcrowded prisons across the country.
He also said that the Senate had earlier, through its Committee on the Judiciary, already made a recommendation on ways of de-congesting the prisons.
According to him, part of the recommendations included possible appointment of more Judges for the Federal and State High courts for speedy dispensation of justice.
He said that the National Assembly was also working on another recommendation to be made to the National Judicial Commission, NJC, for appointment of more judges for quick dispensation of justice, arguing that a situation whereby trial of inmates was delayed because of inadequate number of judges was not proper.
Ngige lamented the number of inmates in the Onitsha Prisons, recalling that the prison which was originally meant to accommodate 326 inmates currently has 793 inmates.
He said: "I am here to celebrate the New Year with the inmates who unfortunately found themselves in this place. We have gone round and discovered that the prison that was meant to accommodate just 326 now contains 793 inmates out of which 708 are awaiting trial while only 85 inmates have been convicted.
"Part of recommendation which the Senate Committee on Judiciary had submitted is for the Federal Government to increase the number of judges and for the prisons to be decongested. We also have plans for the State Committee on clemency to be more proactive."
Speaking earlier, the Comptroller of Prisons in Onitsha, Mr. Ndupu Azuka commended Senator Ngige for finding time to come and celebrate with the inmates, describing it as a mark of love and benevolence on his side and assured him that the management of the prison would always do their best to take proper care of the inmates, adding that 89.3  percent of Onitsha prison inmates are awaiting trials.