BY NKIRUKA NNOROM]
Uncertainty around monetary policy following the appointment of a new Central Bank of Nigeria, CBN Governor and Policy Committee (MPC) will pose challenges to the performance of the capital market in 2014, says the Chief Executive Officer of the Nigerian Stock Exchange, NSE, Mr. Oscar Onyema.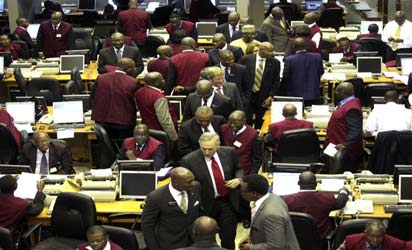 Making the remark at the NSE yearly review of activities in the market in 2013 and prognosis into 2014, Oscar said that ahead of the 2015 elections, government spending is expected to rise, thereby affecting liquidity in the system.
However, he stated that inflation is expected to remain in the single-digits, while the full effects of government and CBN-led reforms in the real sector should make a positive impact in 2014.
"Nonetheless, there is further need to push for reforms that target education, poverty, financial inclusion, capital market development and diversification, if growth is to be realised and sustained," he stressed.
Speaking further, he said, "Projections for the Nigerian capital market are largely positive for the coming year in spite of our concerns about Nigeria's political, currency and interest rate risks. We expect Nigeria to be a key beneficiary of the MSCI 2013 annual market classification review, which will see Qatar and UAE (together accounting for 30%), transition from the MSCI Frontier Markets Index to the MSCI Emerging Markets Index.
"Cautiously, we will watch for the effects as Nigeria's weight in the MSCI Frontier Markets Index shifts from the current 13.8 percent to 19.7 percent, making it the second largest market in the index."
"On the flipside, emerging markets are more vulnerable to market sentiment than they were five-10 years ago, and Nigeria is not immune to the negative implications of higher yields, globally. The decision by the US Federal Reserve to start cutting its monthly bond purchases, initially to $75 billion from $85 billion, is expected to have a residual effect on the Nigerian equity, bond and currency markets later in 2014, affecting foreign portfolio investment (FPI) and the strength of the naira against the dollar," the NSE boss added.