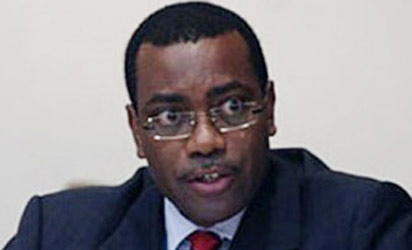 -Adesina
Akinwumi Adesina
Nigeria has been a major consumer and importer of rice in Africa. Minister of Agriculture and Rural Development, Dr. Akinwumi Adesina recently revealed that the country spends over N356 billion on yearly importation of rice, out of which about N1 billion is used per day.
The country today is a net importer of rice, which had also adversely affected local production tantamount to the cabal involved in rice importation.
Akinwumi also stated in an interview with a media organisation that, "Nigeria, as I said, is running a prodigal consumption pattern in the sense that we are spending billions of Naira everyday importing rice from Thailand and India when we can grow that rice here.
"If you go to Sokoto or to Kebbi , Kano, Katsina, Niger, Kogi, Ofada rice in Ogun State, down to Abakaliki and  to the Niger-Delta, we have up-land rice, low-land rice, Fadama rice, all types of rice that can be grown here, yet we are buying rice."
Challenges in Nigeria's rice production
Some of the issues include high input costs like cost of credit, and imported equipment, agrochemicals due to taxes (legal and illegal), tariffs and duties. There is also the problem of policy instability (ban, unban, tariffs) that makes decision-making and planning highly uncertain and put investments at great risk.
Other unattractive conditions include low technology base (mechanization), decaying infrastructure, high interest rates, weak institutions (such as poorly-funded research institutes, public extension system, and seeds certification), and corruption-ridden fertilizer distribution system and low public sector investments in agriculture.
The rice farmers have been frustrated with the scarcity and high input costs. This has led to farmers not using inputs such as fertilizers and other agrochemicals and those who use them use sub – optimal proportions of the inputs resulting in low and poor quality yields.
Rice Farmers Association of Nigeria, RIFAN, has the objectives of supporting their members on production, processing and marketing of rice as well as the possibility of supplying inputs at low prices, but these objectives have not seen the light of the day.
Access to markets for patronage is at the low side, capacity underutilization of existing small-scale mills. Obsolete and inefficient processing technology have remained a serious challenge in rice production, therefore no value is added to the rice as it has a kind of smell and unappealing. The rice contains pebbles and other hard objects.
Poor road network has made it difficult for the conveyance of paddy to the mills or markets. All these combine with on-farm constraints to make rice production in Nigeria uncompetitive.
Government's efforts to stop rice importation
There has been stupendous rice consumption in Nigeria since the 1970s and creating a substantial surge in rice imports since then, making rice a political commodity in the country.
On one side rice became a critical component of the Nigerian diet and the other side, a major consumer of the country's foreign exchange. The federal government in 1985 imposed a ban on rice imports in order to facilitate and increase local production of the precious grain and to meet the high demand for the product.
However, in 1995 the import ban was lifted as the local supplies, although showing improvement, could not to meet the demand for the commodity. Therefore lifting of the ban resulted in incessant importations, and not being affected by duty hikes by the government.
Nigeria has continued to be an attractive market as compared to other West African markets as it imports parboiled rice which of relatively higher value unlike other regional countries.
It is indeed lamentable for a country such as Nigeria with huge human and natural resources (land and water), including capital has continued to bear the burden of unbearable pain of rice importation for many decades following huge capital flight and increasing unemployment.
The industry has turned out to be a shadow of itself as some government officials had virtually grounded the production of rice in the country and had connived with some international businessmen who have continued to milk away the resources that would have been used to develop and boost rice production.
The current spate of rice importation gives serious concern as the nation celebrates 53 rd anniversary of its independence.
It is disheartening to see rice importers from India, like the owners of Stallion Group, the Vasawani Brothers, who won the coveted national award of Thailand, as 'Thailand Best Friend' in 2009, which was handed over by the Prime Minister, Mr. Abhisit Vejjajiva to the Group's Managing Director, Mr. Mahesh Vaswani, as a mark of recognition for importing Thai rice to Nigeria and other import-dependent African countries.
The over 40-year-old Stallion Group, were amongst the eminent international rice traders, and was instrumental in promoting Thailand rice through their extensive sales and distribution infrastructure penetrating into African markets.
Past administrations had failed to sustain rice production in the country following the poor implementation of different agricultural policies such as Operation Feed the Nation, Green Revolution, School to Farm, and others.
Ordeal of rice farmers
The painful part is rice farmers have been in crisis since the late 1970's till date as the policies of government do not protect them from the hostile competition they have been facing from rice importing merchants.
A report has it that rice farmers in Lagos were passing through hard times as narrated by President, Badagry Rice Farmers Association, Ibrahim Iroko, who said after harvesting and processing the rice, everything produced is bought off immediately by bulk buyers. Iroko who spoke on behalf of all other farmers at the rice farm explains the business.
He says, "We plant different varieties of rice such as Ofada, Nerica 8 and Faro 44. The rice we produce is more nutritious than the imported ones where most of the nutrients have been washed off during processing.
"Once we harvest and process, people buy off immediately. The demand is high even for local rice but the quantity we are able to produce is not much.
The Lagos State Government has been very helpful but we appeal to the Federal Government to offer help to rice farmers so we can plant larger quantities by making available tractors, harvesters, boom sprayers which is needed to spray the farm and kill weeds at the early stage.
"With mechanisation, farming would become more attractive to youths as opposed to this growing trend of 'okada' business.
"Rice farming without mechanisation is tedious and not so profitable.
For instance, when rice is planted today, the following day, the boom sprayer has to be used to spray herbicides to prevent weeds. If done, weeds would not come up until about two months later by which time the rice would have fully grown.
"We plant upland and lowland rice here in Itoga. We have about 51 varieties of rice, but we choose Nerica 8 which matures in 72 days because the stalk is not so strong to support the weight of birds perching on it and sucking the milk.
"We normally start planting in March, but due to climate change we would need irrigation so that when the rain does not come when it is supposed to, we would not lose our crops.
We are so thankful to the Lagos state government that has started constructing irrigation facilities, so that rain or no rain, we can plant rice at least twice a year. We have been planting only once a year.
"Another major challenge is working capital. With the exception of some, many of the farmers have just one or two hectares under cultivation. But one farmer can more easily manage five to 15 hectares.
"In one hectare, if there is no delay in rain and all goes well, about have 2. 5 tonnes of rice can be got from one hectare, that is about 100 or 50 bags.
We use 25 or 50 kilo bags. We sell 25 kilo at N3, 500 and 50 kilo for N7, 000. So about N350, 000 can be realised as gross profit on one hectare but so many factors can reduce the profit on that.
"Before the rice is harvested, the farm has to be weeded so as not to harvest weeds with it. About 10 people are needed to weed one hectare and they get N1, 500 per day. It takes about five days to weed one hectare. That is about N75,000 on weeding per hectare alone and there are many other expenses that are incurred.
"So farmers need working capital to cover such expenses. So we keep imploring the government to provide access to finance so as to have mass production of food."
This has been the common experience of rice farmers for many decades in this country, which is as a result of poor political will to ensure self-sufficiency in the production, consumption and importation of rice by Nigerians.
Jonathan's administration's policy on rice project
According to the assertion of the Minister of Agriculture and Rural Development, Dr. Akinwumi Adesina in a media report, that the Jonathan's administration was working hard to reverse the negative trend of importation by putting in place mechanisms that will discourage importation of rice and boost local production of the commodity .
He said, "That is why the President decided that we should have a self-sufficiency food plan, such as the rice transformation strategy to make Nigeria self sufficient in rice by 2015.
"There are three things we have to do. First is to produce more paddy rice, second is to be able to mill that rice at an industrial quality grade to ably substitute the rice we are importing and thirdly, we must be able to protect our investors.
"So what we did as soon as I started this job was to scout for investors for rice. We brought in Dominion Farms, the largest American rice farm in Kenya. Today, they are investing $40 million on a 30,000 hectare area with the T.Y Danjuma Group in Taraba state.
"In 18 months, that rice farm will produce 15 per cent of all the rice we are importing into Nigeria and will be the largest rice farm in Africa. We have also sent 50 young graduates from Taraba state to Kenya to be trained in commercial rice farming.
"We distributed last year, 11,000 metric tonnes of high quality rice seeds before the flood and we had produced about 690,000 metric tonnes of rice paddy in the wet season last year before the flood.
"We also raised the tariff on brown rice and polished rice because of the need to block corruption. The brown rice attracted five per cent tariff and polished rice had 35 per cent but people were bringing in polished rice disguised as brown rice and make 30 per cent profit before leaving the ports, thereby milking the economy dry. So we had to raise both tariffs to the same level.
"We want to protect those that are investing in rice production in the country; we have every natural endowment to be a major exporter of rice. And within 12 months of launching that policy by the President, 14 large scale integrated rice mills sprang up with total capacity of 240,000 metric tonnes.
"We have well branded and packaged rice such as Ebony rice from Ebonyi state, Umza rice from Kano, Miba rice from Benue and several other long grained parboiled rice which beats any rice from India or Thailand. At the least, we should be exporting rice to all of West Africa after we have met our own self sufficiency requirement.
"In November last year, when we started the dry season rice production in Sokoto, Kebbi, Zamfara, Bauchi,Jigawa, Niger, Kano, Kaduna, we have unleashed a revolution in rice in the northern Nigeria. Yet, some people are making noise about getting waivers to bring in more rice. Farmers planted 264,000 hectares of rice in the dry season; we reached 267,000 farmers all by phone getting their fertilizers and seeds support.
"In just one dry season farming, we had a total production of 1.1mmt of rice while the total demand of the 20 rice mills in the country is 1.2mmt paddy in a year. For the country to be self-sufficient in rice, all the additional rice we need to produce is 3.2mmt of paddy."
Some State governments have been making concerted efforts in the production of rice, one of such states is Kogi State. According the News Agency of Nigeria, NAN, the government of that state was able to disbursed N10 million to 300 rice farmers' cooperatives under its accelerated rice production project.
The beneficiaries were among the first batch of 1,500 farmers engaged by the government during the take off of the project on 15 December 2012.
The farmers participated in the cultivation of 3,000 hectares of rice farms in Galile, Sarki Noma and Okumi in the Lokoja Local Government Area, and Koton-Karfe area of the state.
These rice farmers have so far harvested over 2, 000 metric tones of paddy rice.
Speaking on the occasion, Gov. Idris Wada, expressed delight that the accelerated rice production scheme had been a success, adding that the money disbursed to farmers was their own share from the sales.
He said that the payment of the money to the farmers was in fulfilment of the promise earlier made by the government that the proceeds would be shared at 60-40 per cent ration between the government and the farmers.
In a way of encouraging and motivating the farmers, Wada, however, said that government had decided to buy back the harvested rice at the current market price from the farmers to ensure food security, saying that money realised from the sale would be re-invested in the project.
The governor thanked the Federal Government for providing N100 million, 60 water pumps, 350 bags of rice seeds and 750 bags of fertilisers at subsidised rates to support the project.
The Project Consultant, Anselem Mohammed, said that those issued cheques had completed harvesting, promising that others would receive their money after harvest.
The Managing Director of the Kogi State Agricultural Development Programme (ADP), Dr Ameh Onoja, said that the success had encouraged the ADP to extend the project to Ajaokuta, Omala, Idah, Bassa and Ibaji Local Government Areas, where hectares of land had been cleared and planted.
Onoja, however, identified lack of irrigation, attack by quela birds and inadequate capacity of farmers as major challenges confronting the project.
He suggested the training of farmers on dry season farming, design and construction of canals and channels, establishment of a farm management system and training of farmer on rice farming to overcome the challenges and make the project sustainable.
The Chairman of the Rice Harvesting Committee, Hajiya Bilikisu Onusagba, said that more than 1 300 bags of rice had so far been harvested from the rice farms, commending the government for being transparent and sincere in dealings with farmers.
She appealed to the government to sustain the sharing ration of 60-40 per cent to further encourage the farmers.
Onusagba urged the government to address insecurity on the farms and inadequate farming implements.
2015 Ban on Rice Importation
According to the government, the country must become self -sufficient in rice in a manner that grows the agricultural sector and creates jobs. Therefore it was going ahead to ensure the ban on rice imports as from 2015, at which time the nation would have attained self- sufficiency in rice production in line with the Rice Implementation Action Plan.
In implementing the Rice Implementation Action Plan, the government said it will be on Public Private Partnership bases, which will the thrust of the sustainability and success of the policy.
Already a private firm, Dominion Farm from Kenya, were currently investing $40 million in a large scale rice farm in Taraba State, and according to it, in 18 months 300,000 MT of rice, which is about 15 per cent of all the milled rice currently imported into Nigeria.
Another  step in actualising self-sufficiency in rice production and consumption sending 50 young Nigerian graduates from Taraba State, who were in Kenya training on Dominion Farms Rice operation, as  part of private to learn how to do commercial rice farming.
While 17 integrated rice mills are being used through Public Private Partnership arrangement to effect the Rice Implementation Action Plan.
Some of the mills which are already in operation include the Ebonyi mills in Ebonyi State, the Labana mills in Birnin Kebbi and the Deanschanger mill in Badegi, Niger State.
Now, the government of President Good luck Jonathan has come up to tell the world that Nigeria does not need rice from any part of the world as it will put to an end to importation of rice by 2015, by enforcing a ban, the question is what are the infrastructure put in to actualise it, the availability of funds, the enabling environment for investors in rice production, and how prepared are rice farmers to key into this lofty dream with just two years from now to enforce the ban with the cabals in the sector? Only time will tell.