By Soni Daniel, Regional Editor, North
The controversial letter by former President, Olusegun Obasanjo, to President Goodluck Jonathan is causing a sharp division in the House of Representatives.
Vanguard learnt that while lawmakers sympathetic to Jonathan wanted the letter to be formally tabled and discussed in plenary and to caution Obasanjo for disparaging the President, legislators opposed to Jonathan do not want the matter brought up.
Findings showed that the letter by Obasanjo had rekindled the bitter feud between loyalists of Jonathan and those opposed to him in the House.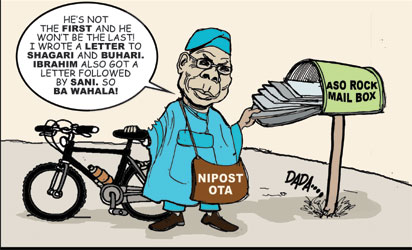 A source told Vanguard that when the anti-Jonathan lawmakers heard that the letter might be discussed at plenary, they quickly mobilised to forestall the move, arguing that since the missive was from a former president to an incumbent, there was no need to dissipate energy on it since it was not officially addressed to them.
The anti-Jonathan lawmakers, however, drew the attention of the leadership to what they termed 'germane issues' raised by Obasanjo in his communication to Jonathan and the need for him to address them in the interest of the nation.
A lawmaker's words
One of the lawmakers said: "What Obasanjo wrote to Jonathan clearly vindicates the position of the House of Representatives that Jonathan needs to wake up and tackle the myriad of challenges facing the nation, particularly corruption and insecurity.
"We must tell the President the bitter truth and enable him to take steps to move the nation forward instead of playing to the gallery."
Pro-Jonathan meet
It was, however, learnt that pro-Jonathan lawmakers, who had been strategising on how to humiliate the former president for writing what they considered 'an offensive and uncouth letter' to an incumbent President, met on Sunday and decided on how to effectively tackle him for his 'indiscretion'.
A crucial meeting of some pro-Jonathan lawmakers took place, yesterday, in Asokoro, Abuja, during which they discussed the Obasanjo letter in detail and decided on what step to take.
A lawmaker, who is close to Jonathan, however described Obasanjo's letter to Jonathan as an insult and an attempt by him to distract the President from focusing on his mandate to Nigerians.
"We will insist that the matter be tabled and action taken, at least to caution the former president against his wanton vituperations against the President of Nigeria," one lawmaker threatened, last night.
House Media C'ttee
However, Chairman, House Committee on Media and Public Affairs, Mr. Zakari Mohammed, said that the members were not considering discussing the controversial letter, since it was not addressed to the House.
Mohammed said that the matter could not be listed for consideration since Obasanjo did not direct the missive to the lawmakers in the first place.
Subscribe for latest Videos