By Paul Bassey
Last Tuesday, I was in my car, when I happened on a discussion on Brila FM. The topic had to do with the evaluation of the reported trip of Kelechi Ihenacho to ManCity for trials.
As I listened to contributions bordering on praise and good wishes, I was compelled to phone in and express my personal opinion, that of disappointment, that I believed and strongly too that Ihenacho for going to ManCity was making a big mistake.
By the time I finished my submission, nearly all the listeners agreed that I was majorly right. We will come back to this.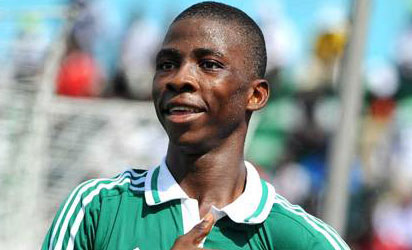 The story has it that the young man, the best U-17 player in the world, invited to fight for a place in the CHAN squad woke up one day in camp in Abuja to see an "agent" come to take him to England for trials.
Eagles chief coach Stephen Keshi, rightly, walked out the agent, but had to succumb when Ihenacho's father called in to authorize the release of the young man to the agent.
For me, that was a bye bye to a possibility of him making the CHAN squad to South Africa. There was no way he could leave camp at that time and comeback to make the CHAN team, a golden opportunity to launch himself onto another pedestal of glory at the highest level.
I told the popular sports station that as far as I was concerned, Manchester City has no defined youth policy and there was no way Ihenacho will be expected to go through the ranks, not to talk of breaking into a team whose trade mark is the acquisition of finished products, superstars, for the sole purpose of winning trophies.
I made reference to that popular satire I published on this page on Monday November 25 where I drew the attention of the country to the possibility of parents of the U-17 squad leading their wards astray if not well counseled and directed.
Permit me to quote the portion where I wrote that "…..I give you the classic case of Mikel Obi and how two great clubs Man U and Chelsea were fighting for him. On paper, Man U was the better choice, but a lot of other factors were taken into consideration in counseling him, including the possibility of playing regularly and the presence of Africans in the team that will help him settle down faster, and today Mikel is one of the world's greatest footballers whose profile rises daily…"
The argument is that if Mikel had gone to Man U, he would not have broken in as fast as he did in Chelsea. The argument is that perhaps he would not have survived in England due to culture shocks and would have run back home, a luxury that he achieved in Chelsea through the presence of African players who adopted him and nursed him to stardom.
The ManchesterCity misadventure may be worth millions, only in the short-term, to the detriment of a famous footballing future and life.
Less than four days after the celebrated Man City move, I read in the Vanguard that Man City was planning to send the lad to Ghana, where he is expected to mature etc……what a laugh….
I look back at Pele, Owen, Ronaldo, Rooney, Messi and those superstars who donned their countries colours when they were yet 18. Ihenacho is in that mold. The current example is Neymar whose guardians were not too keen to release him to European wolves until he was ready…….See him now……..
In the plane conveying us back from Abu Dhabi I had the opportunity of sharing with the Honourable Sports Minister, who proposed the idea of making sure that everything will be done to guarantee the future of the first ever nationally accepted U-17 team in a country where the media has been at daggers drawn with authorities over age cheating that only guarantees ephemeral glories.
You can then imagine my utmost disappointment when a retreat aimed at tutoring those players and their parents was postponed.
Here was a unique opportunity to talk directly to those players especially their parents and guardians on how best to direct their wards for a sustainable and guaranteed football future and that this was likely to be better achieved through a liaison and collaboration with the National Sports Commission through the Nigeria Football Federation, who have the wherewithal and the capacity to galvanise experts for the purpose..
I remember the sports minister saying then that if need be, the retreat will be held in the three major Nigerian languages for effect.
The Ihenacho misadventure is a testimony, a manifestation of the need, strong need for us to get that retreat going.
Black out for other sports
Two weeks ago, I pleaded for increased publicity for other sports, that it was only when I got to Kenya that I read and learnt about two of our basketball teams participating in a continental competition.
A colleague, Patrick Omorodion responded and had this to text : "Hello Paulo, just read your column and felt that I needed to react again. Yes you got to know of the Nigerian basketball teams participation in that competition in Nairobi cos they prefer it that way. Every team is supposed to have a media officer on a trip but they will prefer to take somebody else. As the media man on the NBBF Board, they never informed me of their trip or even take my tel number or e.mail to send me info on their performance. Or they could have given me their Morocco telephone number, so I could call and get the info and pass to our colleagues.
"This has been the practice with our teams, football clubs inclusive. They feel they can do without the media, but once they fail,they look for the same media they ignored to help them tell Nigerians that they were robbed.
"So please don't have pity on them"
This is experience speaking. I rest my case.
See you next week.