By Kingsley Omonobi & CHRIS OCHAYI
ABUJA — The Defence Headquarters said, yesterday, that it lost 15 soldiers when Boko Haram terrorists carried out pre-dawn attacks on Mohammed Kur Barracks, Bama in Borno State, last Friday, which claimed five civilians.
Director of Defence Information, Major-General Chris Olukolade, who disclosed this in a statement, said the military operations to track the insurgents that carried out the attacks led to the destruction of over 20 vehicles conveying the terrorists.
According to the statement, "the vehicles were the ones used during the attack on the barracks and were sited through air surveillance as the terrorists were making efforts to cross the borders back to their haven in Cameroon.
"Although a good number of the insurgents escaped with bullet wounds, some have been arrested.
"Over 50 of them died in the course of exchange of fire with ground troops in the ongoing operations to apprehend fleeing terrorists.
"The military has lost 15 soldiers mostly from the attack while some died during the pursuit. Five civilians also died during the attack.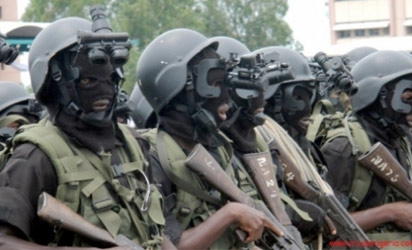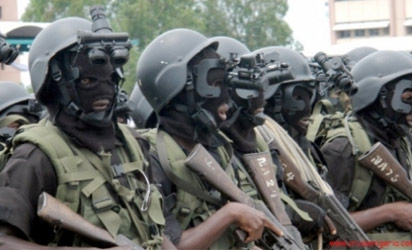 "Intensive cordon-and-search operation is still ongoing to fish out the insurgents that might be lurking around area."
The statement added that the families affected by the attacks have been relocated to other military locations.
Kidnap
Meanwhile, operatives of Department of State Services, SSS, yesterday paraded a Lance Corporal with the Nigerian Air Force, Sulaiman Mohammed, and six others over alleged kidnapping of Sokoto State-based businessman, Alhaji Abu Dankure, who later died 11 days after his release.
Others paraded with Mohammed are; Mustapha Isah, gang coordinator, Mohammed Abubakar, Farouk Waziri, Mohammed Bukar, Usman Idah and Abdullahi Musa.
Speaking on behalf of DSS in his office in Abuja, an Assistant Director, Mr. Doyin Adetuberu, said the men were caught after the mastermind of the criminal act, Isah, was arrested and confessed to the crime.
Adetuberu said: "On November 6, Alhaji Abu Dankure, a prominent Sokoto-based businessman and philanthropist was kidnapped at his construction site, located in Kofar, Kwari area, along Western by-pass, Sokoto.
"Dankure was released by his captors on November 11 and died 11 days later."
Confesions
Olatuberu said Mustapha Isah, a 31-year-old indigene of Bagudo Local Government Area of Kebbi State, residing in Sabongeri, Kano State, confessed that in September he rented a 3-bedroom apartment at Mabera area of Sokoto, where he used for the operation.
He also confessed to have collected $290,000 ransom in Kwali, Kwali Area Council of Federal Capital Territory, FCT, after which he ordered the release of the victim, who was in their custody for five days.
While other confessed to have been part of the kidnap, Lance Corporal Suleiman Mohammed denied any involvement and insisted that he only sold a Samsung Galaxy Note 2 to Abdullahi Musa.
The 24-year-old officer, attached to Ministry of Defence and residing at NAF base Airport Road, Abuja, however admitted to have told one of the gang members that his uncle could assist them in procuring arms.
He denied he ever have the knowledge or participated in the said kidnap operation.
Olatuberu reiterated DSS' commitment  to combating insecurity in the country.