By Emmanuel Edukugho
For about six months now, public universities, the most vital segment of the country's tertiary education system had been closed down due to strike by members of the Academic Staff Union of Universities (ASUU) over sundry issues including infrastructure which seemed a major one.
The academic personnel of polytechnics and colleges of education were at varying period, at war with government over matters also relating to infrastructural development, welfare, salaries and conditions of service.
The relative peace in Academic Staff Union of Polytechnics (ASUP) and Colleges of Education Academic Staff Union (COEASU) could be likened to the "peace in the grave yard" because they also disgruntled and dissatisfied over aborted agreement reached with government.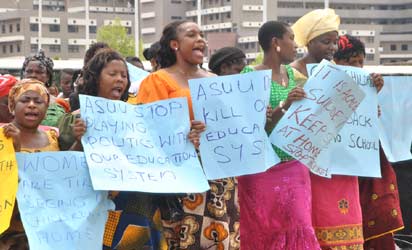 But the most devastating is the industrial action embarked upon by university teachers which brought the pubic university system to its knees over alleged non-implementation of the 2009 ASUU/Federal Government Agreement.
The nation was not taken by surprise by ASUU strike which had become a recurring decimal in the academic calendar in the struggle to restore lost glory of the system and match up in quality and excellent academic performance with other universities of the world.
It is absolutely clear that the rot in tertiary education infrastructure cutting across polytechnics, colleges of education and public universities had become monumental, threatening the very existence of those institutions. Poor infrastructure is one of the major problems facing tertiary education in Nigeria.
There are about 130 universities owned by federal and state governments, and over 300 polytechnics and colleges of education spread across the nation belonging to governments of the federation.
That education is the bedrock of development cannot be doubted even to the most cynical. A renowned scholar once said, "it is the ignorant who despises education" whether formal or informal.
According top William Shakespeare, one of the greatest writers of all time, "the common curse of mankind is folly and ignorance."
The bane of our national development is due mainly to the low priority accorded to education and the failure of our schools, colleges, polytechnics and universities lacking conducive environment to teach and transmit applied knowledge which is fundamental to success, development and progress in life.
Components of the controversial 2009 pact between ASUU and Federal Government include that a minimum of 26 per cent of the annual budget be allocated to education in accordance with UNESCO recommendations, that government will spend N1.5 trillion for federal universities between 2009 and 2011, that education will be on first line charge, agreed that in 2009, N500 billion will be paid, in 2010 N500 billion will be paid and in 2011, an amount slightly above N500 billion will b e paid.
Conditions of service that are non-salary will include clinical load, car refurbishing, research leave, housing loan, sabbatical leave, injury pension, office accommodation and facilities. Others are review of university laws, membership of governing councils and so on.
Up till now, the Federal Government has not denied reaching such agreement nor signing it with ASUU. Then why foot-dragging all these years despite several letters and even some warning strikes by the union to remind government on the need to implement the deal.
All to no avail, hence the long strike or struggle which has now taken the life of Professor Festus Iyayi, a former President of ASUU killed by the convoy of Kogi State Governor on the way to a meeting to resolve the lingering dispute.
However, the bone of contention remains the issue of infrastructure which the Federal Government said it has deposited N200 billion with the Central Bank of Nigeria (CBN) which can be accessed for this purpose.
An educationist, Dr. Cecelia Paul, in hr reaction, said with this deposit, it is no longer mere pronouncement as government can not be trusted. "ASUU wants concrete evidence because once bitten, twice shy. The lecturers know where the shoe pains and so won't want to take chances again. They don't want to go in vain and can therefore build on this foundation."
Although the Federal Government said it has met all the conditions by ASUU, they should now call off the strike with President Goodluck Jonathan expressing dismay after discussing for 13 hours with ASUU and the strike not suspended. She hoped by Monday December 9, 2013 when the deadline by government for lecturers to go back to work expires, ASUU should have called off the strike and universities re-opened for academic activities.
A glossary of the infrastructural decay is alarming as Saturday Vanguard investigation showed. A 10-man Needs Assessment Committee headed by Prof. Mahmood Yakubu and which include former ASUU President, Prof. Awuzie discovered some disgusting state of infrastructure in the Nigerian public university system.
The committee found that physical facilities for teaching and learning were grossly inadequate, over-stretched, improvised and dilapidated due to pressure on existing facilities and unplanned expansion of academic programmes.
Many of the laboratories and workshops were old, obsolete, with inappropriate furnishing. They suffered from overcrowding, scanty and broken furniture, lacking equipment and vital consumables. Kerosene stoves were being used as Bunsen burners especially in the universities of Jos and Uyo.
Power and water supply problems are the order of the day. Several engineering workshops were under zinc sheds and trees, while many faculties of science discipline were running what can be termed as dry lab as they don't have reagents and tools for carrying out proper experiments.
More than 50 per cent of the universities do not use public address systems in their lecture rooms or theatres, none had fully automated libraries, less than 35 per cent partially automated, many with outdated books, while less than 20 per cent use interactive boards and less than 10 per cent of the universities have video conferencing facility.
There were a total of 701 physical development projects across all the public universities according to the Needs report, out of which 163 or 23.3 per cent are abandoned. While about 538 or 76.7 per cent are on-going, some of them are fifteen years old, 60 per cent of them funded by the Tertiary Education Trust Fund (TETFund).
The University of Nigeria, Nsukka, (UNN) has the highest number of abandoned projects which are 22. About 84 per cent of students' hostels which made up the bulk of projects across universities in Niger Delta sates handled by the Niger Delta Development Commission (NDCC) have been abandoned.
On hostel accommodation, the report noted: The provision of decent hostel accommodation to at least 50 per cent of the student population in any residential university is proving to be an uphill task for Nigerian universities. University managers have been over the years, unable to diversify their means of providing hostel accommodation and associated facilities to students.
There has been over the last two decades an upsurge of students' population in almost all Nigerian universities, but there was no commensurate improvement of accommodation and other student services."
It added: As a result, there is rapid deteriorating of hostel facilities, overcrowding and undue congestion in rooms, over-stretched lavatory, laundry facilities and poor sanitation. These conditions, coupled with general condition of the universities, produce graduates that lack confidence and sometimes even self-worth."
It was found that there are about 109,509 (about 10.3 per cent of total population) on-campus hostels' bed spaces across all public universities in Nigeria. No university in the country can accommodate more than 35 per cent of its students. Less than 1 per cent of the hostels are provided via public Public Private Partnership (PPP). All federal universities charge N90 per bed space per session, plus hostel maintenance fee that varies between N5,000 and N20,000. Many universities charge higher than this.
In respect of toilets or lavatories, these are inadequate and unfit for human use in most of hostels of Nigerian universities. The average ratio of toilet to users is 1:20, forcing some students to use the bush or surrounding compounds of the hostels as open toilets.
Invariably this poses serious health hazard. At Michael Okpara University of Agriculture, Umudike, female students take their bath in the open, because the bathrooms are in bad condition. Hostel are infested with rodents.
Basic municipal facilities like water, electricity, transportation, market are either lacking or inadequate. Most of the universities depend on water tankers and boreholes. Healthcare facilities are grossly inadequate. There is no university that has functional integrated water supply and distribution system.
Laundries and common rooms have been converted into rooms where students are living, and so no limit to the number of occupants.
Subscribe for latest Videos