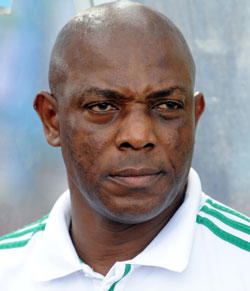 Stephen Keshi
Coach Stephen Keshi has tasked Victor Moses to deliver his best performance at the 2014 World Cup in Brazil.
He also said that he was proud of the achievements of  John Mikel Obi and  Moses, who were named Sports Person of the Year and Footballer of the Year at the Nigerian Sports Media Awards held in Lagos.
"Moses is a talented youngster and has been giving his total commitment when he comes to play for Nigeria, but I believe that he has only given us 80 per cent, we hope he will give 100 per cent at the World Cup.
He is still young but he can do better for the Super Eagles.
"For Mikel, I am happy that gradually the world is recognising his talents which he has been showing anytime he plays in the national team.
I salute him and I am proud of his achievement but must also say it's just the beginning of greater things to come for all the players in the national team."
"