By Vincent Ujumadu
In spite of  the immunity enjoyed by Gov. Peter Obi and his being the Chief Security Officer of the State,  he was Saturday prevented from moving freely around the State because of the governorship election.
When newsmen visited the Government Lodge, Gov. Obi was busy treating his files. When he was asked while he was not moving around, he disclosed that security men asked him not to as a result of the curfew imposed on the State for peaceful election.
Obi who however left the Lodge at 11:50  for accreditation at his house in Agulu had to do so with Police clearance. None of his security followed him as police men on election duty escorted him to the place and back to the lodge.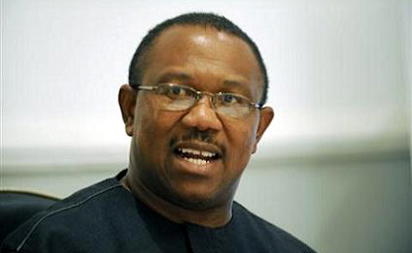 Obi who said he had no problem with the arrangement, said he would support any measure taken to guarantee free and fair election at all times. He said though he had no idea while the restriction should affect him as the Chief Security Officer, but that it was part of the sacrifice for the sanctity of the electoral process.
Commenting on the restriction of  Mallam El Rufai, Obi who confessed to hearing about that for the first time wondered why he left Katsina for Anambra State. He said though the restriction affected everybody and should be understood as part of measures to ensure free and fair election, he wondered why some Nigerians enjoy putting up reckless behaviour that would only led to lawlessness.