THE fourth edition of the Milo Football Clinic ended on Saturday at the Abuja Old Parade Ground, Sports Complex in the Garki area of the city.
And it was surely a win for the over 2,000 pupils that participated as each had branded gifts to take home apart from the knowledge imparted on them on and off the football pitch.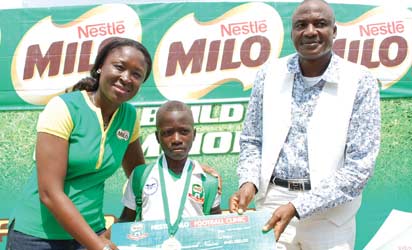 But it was more than just a simple win for the 32 kids that made the final selection of the programme anchored by one of Africa's most celebrated goalkeepers Peter Rufai.
Each member of the winning team called Team White went home with N40,000 cash as part of a scholarship scheme initiated by Nestle Milo to build up in the pupils on and off the field of play. Team Green members who lost the final 5-3 via penalty shootout got N20,000 each.
The  Category Business Manager, Beverages, Nestle Nigeria Plc, Doja Ekeruche, said the clinic is a grassroots programme, aimed at developing the champion spirit in children across the country.
She said, "Through the clinic, the children develop the technical skills of the football games while also imbibing the lifelong social values learnt from sports (Determination, Discipline, Respect, Honesty and team work). This makes them champions not only in sports but also in life."
The Director of Grassroots Sports Development in the Ministry of Sports Alhassan Yakmuk said the National Sports Commission was impressed by the Milo initiative. He also represented the sports minister and the Director General of the NSC.
The programme will run through six states with Benin City, EdoState the next point of call. It will continue through Port Harcourt, Enugu, Akure, Abeokuta and Lagos hosting the finals of the event which is open to boys and girls between the ages of nine and 13.
The Lagos leg will hold on November 16 with the theme 'Let's Build Champions', which is in line with Nestlé Milo's tagline of being the energy food drink of future champions.
In all about 14,000 are expected to participate in the 2013 programme.