BY JACOB AJOM
Olympic gold medalist, Chioma Ajunwa-Opara has told pupils from Makoko community, a slum in Lagos to be determined and resolute in their bid to become successful in life.
Speaking at an event marking the 2013 International Day of the Girl Child, the first Nigerian Olympic gold medalist said, "I was like every one of you, from a very poor background and less privileged, but with determination and with God behind me I achieved what I least imagined."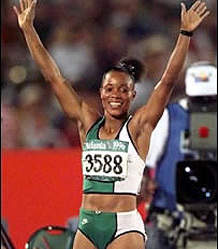 She said her successes in sports were as a result of her will to go to school.
Chioma was a versatile athlete. She excelled in track and field and also played good soccer.
"You can combine education and sports. You don't put all your eggs in one basket. If you do sports and read hard you can always complement one with the other, she told the kids who were joined by students of SOS, Isolo.
The event which was put together by a media personality and head of sports, Radio Nigeria, Nneka Anibeze, was aimed at encouraging the female pupils and students to take to education, possibly using sports as a platform. It was generally to make them aware of the opportunities education and sports could create for them to achieve life time ambitions.
Earlier, former President of the Nigeria Tennis Federation, Chuka Moma delivered a lecture on the benefits of resilience and hard work. "The significance of today's event is that it teaches us to know that the sky is everybody's horizon. I want the girls to seize the day and realise that they have no excuse to fail.
"Serena Williams, Martina Navratilova, Steffi Graf all were girls who grew up richer than their fathers,"Momah said, adding that they were all from humble backgrounds.
Initiator of the event, Nneka Anibeze said she went to Makoko to bring out the kids as a way of exposing them and making them believe in themselves.
"Ï see a lot of talents in Makoko and I felt that if I lured them into sports, they would come out and express themselves."
The kids from Makoko, the SOSVillage and five other schools were treated to swimming and basketball clinics and some potentials were identified by the instructors.