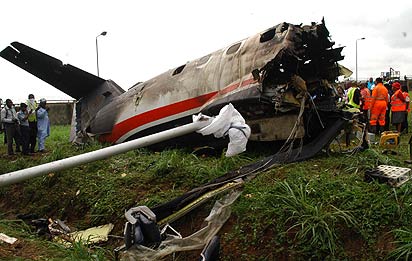 Scene of the crash
BY LAWANI MIKAIRU
The Minister of Aviation, Princess Stella Oduah, Thursday, assured the public that investigation into the cause of crash of the Associated Airline plane conveying the remains of former Ondo State governor, Chief Olusegun Agagu for burial in Akure will be thorough.
In a statement Thursday, Oduah said " while it is too early to determine the cause of the accident, we urge the public to be patient while the investigation progresses. I assure the public that the investigation will be thorough and that our airspace remains safe and secure. "
The Embraer 120 aircraft, with registration number 5N-BIT operated by Associated Airlines on a private charter flight from Lagos to Akure, crashed shortly after take-off from the Domestic Wing of the Murtala Mohammed International Airport.
At departure, the crew of the chartered operation reported 20 persons on board, including crew.
The statement further said " The Control Tower immediately activated the Crash Alarm of the airport as the first step of the Emergency Response Procedure. The First Responders immediately proceeded to the crash site. The FAAN Fire Service Department, ambulances and other relevant emergency apparatus successfully extinguished the fire within 2 minutes despite the surging crowd."
" The rescue effort secured 6 survivors and 14 fatalities. The 6 survivors were promptly transported to the hospital and are receiving appropriate medical care. "
Oduah said " Rescue Coordination and Trauma Centers have been set up at the Annex of the Nigerian Civil Aviation Authority to provide necessary information and support."
" The Authorities are contacting families of the victims of this unfortunate incident, and upon completion, will make information about the identities of the victims public."
"The Federal Ministry of Aviation deeply commiserates with the families of the victims. Our thoughts and prayers are with them at this difficult time. "
"The Black Box of the aircraft has been located and is in the custody of the Accident Investigation and Prevention Bureau who, with the cooperation of the Nigerian Civil Aviation Authority and other relevant agencies have commenced full investigation into the cause of the accident."