By Josef Omorotionmwan
THIS column today is dedicated to two Nigerians – Master Daniel Ohikhena, that wizkid who flew from Benin City to Lagos without paying a kobo; and Alhaji Danbaba Suntai, the Executive Governor of Taraba State, who travelled to hell and back.
The blames game has always been with us. We blame everybody and everything for our failures. Until recently, there was no natural death. Every death was attributed to witchcraft. Meanwhile, these people have never seen a stethoscope and no matter how ill they were, as long as they still had some breath in them, they still struggled to the cassava farm, sometimes after swallowing two tablets of expired panadol.
Yet, when we come face to face with actual wizardry, we throw away all its advantages. The penultimate weekend, 13-year-old Daniel Ohikhena hid inside the wheel of an Arik airplane from Benin City to Lagos. This is a great feat for which that wiz-kid deserves an award.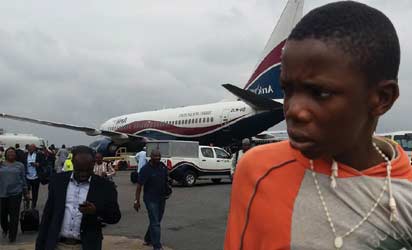 Were he an American, the following day, he would have been in the White House, early enough to have lunch with the President. From there, he would have been dispatched to the best school around where he would have been carefully nurtured to greatness. But here we are, the little boy is at the very centre of the blames game and his mother is being hunted all over the place. The mother has given enough lead on him to enable us discover his latent qualities. He tries his hands on everything electrical. This JSS I student started his early education in a private school, but because of lack of funds, he has found himself in the public school system. Under a good system, the boy would have been whisked off to the Federal Government Academy for gifted children or even the Defence Academy, for further development.
But here, he must be punished for attempting to expose the porous nature of our security network. The blames machine is now on him and his mother. Meanwhile, no one is talking about the Nigerian Airports Authority and its security lapses. It is possible that rather than face the task of providing security at the airport, the security officers were elsewhere looking for small-small paje.
Why are we challenging God? As it were, Governor Danbaba Suntai of Taraba State fell from the sky. Others who fell like that died but Suntai did not die. Is it not clear that God has a purpose for sparing his life?
Even in his illness, Suntai has kept clearly within the letters and spirit of the Nigerian Constitution. A combined reading of Sections 189 and 190 which deal with the incapacitation and subsequent absence of the Governor, will show that Suntai has fulfilled every aspect of the Constitution. Section 190 requires that: "Whenever the Governor transmits to the Speaker of the House of Assembly a written declaration that he is proceeding on vacation or that he is otherwise unable to discharge the functions of his office, until he transmits to the Speaker of the House of Assembly a written declaration to the contrary such functions shall be discharged by the Deputy Governor as Acting Governor".
Clearly, anything that is amended is patched. All those who expect Suntai to still be as strong as he was before the accident, as the Taraba State House of Assembly is doing, is ungrateful to God. That is why the Assembly is now going outside the Constitution to make the extra demand that he must come and address them as a precondition for his resuming duty.
We expected the Deputy Governor, Umar Garba, to welcome his boss wholeheartedly and assist him to serve out the remaining part of his tenure, but rather, having tasted the office, Garba started nurturing private ambition on how to unseat the man.
It is undermining of faith in our system for a man to be kind enough to bring you on board to serve as his deputy and as soon as he has an accident you begin to wish him dead.
In sharp contrast, this is where we have a profound admiration for President Goodluck Jonathan. While the Abuja-induced war raged in Bayelsa State, he remained calm and calculated and did not move near the door to the office of Governor Diepreye Alamieyeseigha until he was finally evicted.
When the late President Umaru Yar'Adua became critically ill, Jonathan remained a reliable ally, even when the man was virtually vegetable. We are sure that if Yar'Adua had returned to Nigeria half as healthy as Suntai is now, Jonathan would have faithfully assisted him to serve out his tenure. Like Shakespeare, Jonathan believes that: "If fortune would have me king, let fortune crown me without my stir". And it is paying off, isn't it?
Why is the Taraba State House of Assembly becoming over-bearing to the extent of standing the Constitution on its head? They certainly cannot feign total ignorance of the provisions of Section 189(1) (a), (2), (3), (4) and (5) of the Constitution, which set out the full procedure for declaring a Governor incapacitated. Why are they jumping the gun? Is it not clear that the antics of the House of Assembly, notwithstanding, Suntai remains the duly elected Governor of Taraba State? Garba must wait for his turn. And the back door is locked.
The Suntai case has parallels elsewhere: As President of the US, Woodrow Wilson became incapacitated by partial paralysis and was unable to cope with the responsibilities of his office, his wife took over effectively and the country was able to survive the simmering crisis.
Again, President Dwight Eisenhower was twice disabled between 1955 and 1957 by a heart attack and a stroke. A Presidential Assistant, Sherman Adams, took over his responsibilities. However, in 1967, the 25th Amendment was ratified and this gave the Vice-President definite roles, including the assumption of the President's office in the event of incapacitation.
Suntai is on course and we wish him well.