Former Secretary General of the Nigeria Football Association (NFA) Chief Taiwo Ogunjobi has decried allegation of swindling a Flying Eagles player, Kayode Olanrewaju saying it is an attempt to persecute and malign him before the 2014 election into the Nigeria Football Federation board.
The Osun State FA boss is miffed that football issues could be taken to such a ridiculous level of instigating a player to lie against an individual.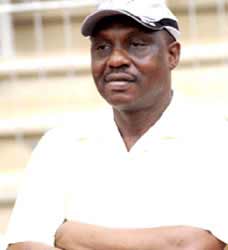 The NFF set up an investigative panel headed by Chris Green on Monday to look into allegation against the Prime FC of Osogbo boss after Kayode was reported to have allegedly accused him of an offence the NFF did not disclose in its press release on Monday.
"This is strange," Chief Ogunjobi snapped. "It is ridiculous. How and why will NFF investigate me? I am not a FIFA licensed agent; I am just an individual."
This investigation smacks witch-hunting. They are just chasing shadow. I want Nigerians to know that I am being persecuted because of the 2014 election into the NFF board. Nothing more!"
Ogunjobi disclosed that his relationship with the said player has the backing of the parents stressing that he has never acted as his manager or agent.
He said: "I am like a guardian to Kayode. I have been guardian to players like John Obi Mikel, Edith Agoye, Duke Udi and even Ike Shorunmu. Whatever Mikel is today has my hand in it and I was not persecuted. In fact, the parents of the players willingly hand them over to me to guide them. I have never told anybody I am their manager."
Ogunjobi believes that he has done so much for Nigerian players and will not allow anybody to drag his name in the mud saying: "I am waiting for their invitation. When we get to the bridge we will talk of how to cross it. But I can assure Nigerians that this is an exercise in futility."