…Targets one million phone users
By Princewill Ekwujuru
Group Managing Director (GMD)of Access Bank Plc, Mr. Aigboje Aig-Imoukhuede has said that the bank will be shifting its focus to the SME sector as it targets about one million mobile phone customers in the next 12 months.
Imoukhuede disclosed this at an interactive session with newsmen where he said the bank will be focusing on the SME sector through a series of initiatives and activities that will activate development across key sectors of the economy.
This, he stated is aimed at highlighting the bank's commitment to economic empowerment of individuals and growing entrepreneurs.
Aig-imokhuede  pointed out that the bank has identified 13 critical segments of the economy which are already benefiting from its empowerment programme, adding that the bank has  created a full division (Business Banking) to support the needs of  the SME sector in Nigeria.
He noted that the bas ic driver of industry defining initiatives has also been identified and is set for implementation of about 200 different initiatives that would change the face of banking in Nigeria.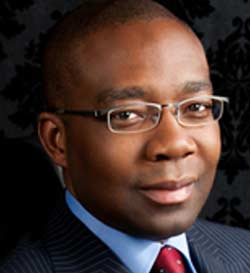 He said that the initiatives will be rolled out one-after-the other from this week, which amongst them is the bank's planned multi-channel banking platform initiative and a host of others.
He said that the bank will also be laying emphasises on pioneering role in sustainability and public advocacy with the adoption of sustainable banking principles in Nigeria and beyond.
Aig-Imokhuede, while speaking with reporters said the bank led the adoption of  International Finance Reporting Standard, IFRS in Nigeria.
"We are leading the drive for lending to Nigeria's real sector. The bank is in  pursuit of health-focused Millennium  Development Goals, MDGs, and also building capacity in public sector for effective public policy outcomes."
He went further to point out that the bank is also leading Nigeria corporate banking with significant retail growth potential of 87 per cent profit in Nigeria and 13 percent in other branches in parts of Africa.
"We want Access Bank to be seen as a tier 1, customer focused Bank which is already the 2nd largest Customer base with 6.5million customer base. The second with Automated  Teller  Machine, ATMs/POS," he retorted.
In related development, the GMD said that in three months time: "We are going to launch a solution  that  will allow youths to have a company, if say for example,  you want to link all the balances with all your accounts, say ten bank accounts, in those banks people are paying money for say sale of newspaper and everyday you want to leave a balance of only N1 million in those bank accounts,  you can move any amount over N1million to your major account."
Continuing, he  said, "You can do that, because the bank is going to launch a solution that will allow you in 60 days time,  from your computer take money out of all your bank account and consolidate in one without paying an extra fee." You will have to give the instruction from day one, that is how this thing is done in the world today, but this is a major achievement from the bank, this is another first from the bank."
"What our plan says is that by 2015 ,we are going to be the world's most respected African bank, a multi channel bank.We want to move from being Nigeria's corporate bank leader and by 2015 target being a high performing Nigerian diversified bank" he assured.