Engr. Adegboyega Adekunle Osideinde  (FNSE, MIEEE) is the General Manager, Marketing and Commercial Services at Power Holding Company of Nigeria. A Fellow of the Nigerian Society of Engineers, a member of International Institute of Electrical and Electronic Engineers, a  Chartered Engineer with the British council of Engineers.
He has an  MBA, marketing  and M.sc in Environmental Resources Management  from  Lagos state University and  a bachelor's degree in Electronics and Electrical Engineering from the  University of Ife. He is a member of the prestigious Ikoyi club, married to Maureen with children, a P.hd candidate in Environmental Resources Management with the Lagos State University.
You have been in the Power Sector for about 30years, how has that been?
I joined the employ of N.E.P.A in 1984.When we joined, the system was very vibrant, with very few Districts and manageable load demand.Things were indeed better. There was the organised training program, called "Pupillage''.Engineers were given the much needed exposure in various departments then.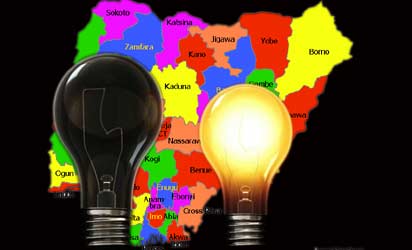 All of us came from different educational backgrounds. Some studied abroad and some studied in Nigeria.In all, one should have expected a higher level of performance in the Power Sector. But unfortunately it is not so. The system has experienced so many challenges.
What do you mean, challenges?
Well, most of the time we are talking of generation being up to 4,000MW.
This has been so for the past 12years. The load demand increase do not wait for the accomplishment of the slogan on intended power genera-tion.Secondly, a very big challenge is that of not getting good services in terms of the relationship between the customers and the personnel in N.E.P.A/PHCN.What is on ground now shows a big performance gap between what is expected and what has been obtained so far.
What do you think are the problems?
Objectively, I think it's a system problem.This is because at the commencement of the interview, I told you that the staff are from different educational backgrounds and are well-trained.We have so many brilliant and sound engineers in the system. For instance, if you look at the Nigerian engineers in Diaspora, they are doing very well.Most of them are in the forefront in different countries they work or practise.We all write the same certification examination, so I can categorically say that  Nigerian engineers are one of the best in the world. The only thing that is different is the system.It therefore means that the problem is with the system.
What solution will you proffer or what do you think the government should do?
I think it's a fairly difficult question to answer. This is because the government is doing something now. (Though with questionable speed).But if I may take it from the pre-privatisation stage. It was obvious that there were no major network development in the Power Sector. There was also no sufficient maintenance of existing equipment. Funding was said to be the major issue.Also, we have the issue of neglect of training of staff.
Overtime, issues such as nepotism, ethnicity, victimisation and celebration of mediocrity crept in.The decay is apparent. I want to tell you that a lot of cosmetics are presently being applied.I shall not discuss other issues on certificates now.
Talking about the solution, let us do things differently from what I just mentioned.
Look at postings for example, if somebody was not well schooled on customer relation and he was posted to that bit because of whom he/she knew he would always have problems with the custo-mers. The image of the organisation would remain poor. I had heard of cases when the customer would report that when they complained some officers would tell them to go to hell. An industry as sensitive as ours, having services needed by over 150 million Nigerians, we deserve better deals from the front-desk officers. By way of summary, the cardinal problems we had was that of network neglect over the years because of poor funding.No plans for network growth and the consequences have caught up with us.I want to see the commissioning and utilisation of the projects that the federal government is currently embarking upon.People are naturally tired of this 4,000MW syndrome.
How many books have you written, and what inspires your writings?
This is my third book. When I was in Eko Electricity Distribution Company, as the Assistant General Manager Marketing (now customer service), I realised that people were sometimes re-designated from other section to marketing. At middle level, I believed they needed a document they could rely on to fast-track knowledge. Also, it was common to have officers repeating themselves at Revenue Collection meetings.I therefore decided to write the book titled "Narratives on Electricity Marketing in Nigeria – A personal experience".
The encouragement I got from the comments and rewards on the first book was the incentive to my writing the second book titled"Strategic Electricity Marketing Activities in Distribution Companies of Nigeria".
On what inspires my writing,I have a passion for writing and secondly I like sharing knowledge and experience. I try to share all I know that I feel will help humanity.
What is the focus of your Present book "Domestic Electricity Utilisation in Nigeria?
The book, "Domestic Electricity Utilisation in Nigeria" was primarily written to guide and educate readers on strict adherence to safety in respect of domestic installations.The highpoint is the explanation of the components of a typical electricity bill. It also explains the Rights and Obligations of Customers and Operators.The demand side management was extensively discussed in Energy Efficiency and Conservation.