BY Morenike Taire
*Says subsidy is double evil *'Capitalism has failed'
It is difficult to speak about the Manufacturers' Association of Nigeria without mentioning Chief Romeo Baberopoulous, the organization's earstwhile Exports Group chairman. Yet, since his falling in love with Nigeria 50 years ago when he relocated from his home Greece, it is safe to say that Baberopoulos has had more hands-on participation in the manufacturing sector of the country than any other industrialist still producing. One would be hard pressed to find, either, a Nigerian manufacturer more interested in the development of industry in the social sector as this immigrant.
As he entered his octogenarian years, he was more anxious than ever that the manufacturing sector lives up to its billing as job creator. In the offices of his metal fabrication companies, he spoke to Sunday Vanguard in what was to be his last press interview, as an individual and not a representative of the Manufacturing Association, on the global economy, the effect of deregulation of the downstream sector of the petroleum industry and his waning faith in the ability of capitalism to create sustainable wealth in the world.
As a manufacturer who has practised in the environment where subsequent governments have removed fuel subsidies, what are the implications of such removal?
Subsidy is evil because we know the abuses which are suffered. It is wrong and it  should not be. On the other hand, it is also evil to remove it because it will bring a lot of suffering to  Nigerians who are made poorer because they spend more. In many ECOWAS countries, per liter cost of petrol is about 170 Naira. However, cost of transportation per mile is much cheaper than Nigeria. If they can manage that, why can Nigeria not manage. There is something  wrong somewhere.
For a country to say its GDP is increasing and last year it went very well, it makes no sense because the fact is that the growth should trickle down to the average man. That is the essence of the wealth. There are disputes about if there is any subsidy. The cost of producing petrol is much lower than what was sold before. Dubai has brought about a new kind of sense into Nigeria. Doctors have gone out, lawyers have gone out and all Nigerians.
The Minister of Finance  admits that the recurrent expenditure is high and that it was cut down by 2% this year and that, next year  and the year after, it will be cut down further. It is still extremely high and if we all remember that CBN Governor Sanusi accused the Senate of receiving about 25% of the national budget. When they told him to withdraw his words, he proved it. They invited him and made a promise to reduce it. Another thing is, a few years back when Professor Soludo was in and  they were amassing foreign reserves, I criticized it, that Nigeria does not need reserves. It needs to spend on productive projects.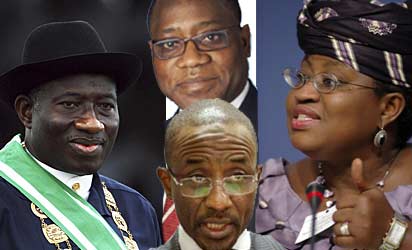 At what stage do we need foreign reserves?
At the stage when it has fulfilled its infrastructural responsibility to the nation. If you have reserves, you give them to banks to make money by lending to other people. If you have shortages, you borrow money and again help the banks. So it is a vicious cycle. Ideally, the country should spend its money in Nigeria. China has a lot of reserves because even growth has its own limitations. You cannot grow more than you should. Growth needs certain skills. Nigeria's growth should be gradual and sustainable; otherwise there will be a lot of waste. It seems I was proved right eventually because nothing happened in terms of productivity. Our reserves were ploughed back because of the oil drop and we are still at point zero.
But Mrs Okonjo Iwealla  was expressing the fear that we do not end up as Greece. Are those fears founded?
It seems to me that they may have pointed to Greece but the whole thing started from the United States. It has become an international issue and nobody  can say that a country of nine million people created a global crisis . All these things about Greece, correct as they are, could not have created a global crisis.
The claim is  that they were trying to avoid a Greece situation where there were riots… what could have been the alternative?
The alternative would be to first put things right. There are big question marks. Why should crude oil be taken overseas, be refined and brought back? This in itself has its cost. The figures for oil are known internationally. If you go to the internet, you will see them and they are undisputed; so the problems of Nigeria in terms of infrastructure, corruption, are known to everybody. We know what we should do and yet … hungry people is a social evil and creates big problems.
How is the increase in fuel price itself affecting industry?
Cost of transportation. Now there is increase in electricity tarrif. I am not sure eventually manufacturers can close their eyes to the suffering of their employees and they will have to give something in terms of compensation. That means we will increase the cost of production and it's an avalanche that will bring inflation.
What of the direct impact on your costs of production?  I am talking not socially now…
It is indirect in the sense that when you reduce the money in the hands of the people, the buying power is less. When they buy less goods, automatically production drops and, if production drops, it means that costs increase because of the relationship between breaking even and volume of sales. All these things have an effect. Could it be true that Greece was the cause of the problem being such a small country to have an effect that reflected on China because trillions of dollars in export has dropped?
Greece was never buying from China. These are excuses and eventually Europe realized that the experiment of the union is a trial that needs to be reconsidered. I believe in the European Union. I am sure it will overcome in a few years. Right now, people  have started talking about capitalism and putting question marks. Is capitalism the right politico-economic system for the world? If you see those demonstrators in Davos Switzerland, you can understand that people are hungry all over the world
Did you say angry or hungry?
They say hungry and hunger means anger as well; isn't it. Those girls were half naked and demonstrating. They said: 'hungry because of you!'; that was the slogan. You are responsible that we are deprived of the good things we used to have. That is why even Madame Lagarde (IMF President) has warned Nigeria and other African countries to be careful. Even though we sell our raw materials in commodities, Europe and China and other countries will need less, therefore they will buy less. Our income from non-oil will be reduced; even from oil. In spite of what is happening in Iran now, under different situations, there wasn't a world crisis i can tell you the price of oil would skyrocket but it didn't.
It seems to me now in Nigeria that there is a tussle between infrastructure and industry because, clearly, when you raise fuel price, it affects industry; so the claim of government that it wants to build infrastructure with whatever is recovered from subsidy removal, how  does that balance up?  Must we sacrifice industry for infrastructure?
There was a time when there was plenty of money and this excess in reserve and they could have done it then. The problem of infrastructure was prominent at that time. Now it's a sound excuse.
As a capitalist yourself, what is your own view of people putting a question mark on capitalism?
When I was young, I was a communist. I was a socialist but I thought that was not working and even capitalism. It's not the economic theory that makes it bad. It is human beings that spoilt the economic systems, ruined communism and socialism. Look at what's happening with banks and bankers who now are called banksters from the word gangsters.
I have not heard that one…
It's a new word. They are called banksters because this man from the Royal Bank of Scotland increased his salary when the bank was going down. He knew what was happening but avarice and greed are, to a large extent if not absolutely, the reason for the suffering in the whole world. Look at the imbalance. You see it here in Nigeria, Europe, America, all over the world. Even those who say they believe in God- Christians or Moslems- they don't keep to the principles of doing good, etcetera. They try to grab and grab and grab. I have not seen many countries where leaders of churches- five of them – having so much. In a country that is so poor and yet you have leaders of churches who are selling hope to the poor… there is something wrong somewhere.
I thought the whole idea of capitalism was to drive production and people can see other people who have a lot and want to aspire to that…
In theory, yes. It is freedom of working hard and creating wealth but let us not forget that we are not equal in terms of physical ability and if someone wants to have a peaceful life, to be a teacher… I wanted to be a teacher because I felt that teaching is a creative job but look at what is happening to teachers. They are suffering. It's not worse than other workers. Coming back to what communism used to believe, you should have what you need not what you wish but today greed is so prominent. People make money for generations to come. We all come and die and we don't even know when we are going to die. It's a sickness, an intellectual sickness.