Super Eagles midfielder Sunday Mba said that the settlement of his worrisome transfer to Rangers from Warri Wolves has made him up his game.
Mba, a home-based player had a fantastic 2013 Nations Cup, scoring the winning goals for the Eagles in the semi-final against Cote d'Ivoire and final against Burkina Faso. But when his value in the transfer market skyrocketed, Nigeria Premier League sides Rangers of Enugu and Warri Wolves rowed over his club status. However, Warri Wolves established true ownership of the player who they claimed to have been loaned to Rangers.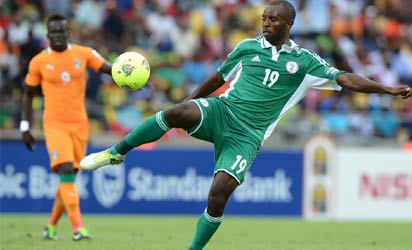 Recently the transfer saga was laid to rest with Mba remaining on loan to Rangers till the end of the season, while Wolves are expecting a big pay day on the likely transfer of Mba to a Eurpean club.
"I must thank Warri Wolves led by Pinnick Amaju and the consultant, Emmanuel Ibru for thinking about me to allow me play for Rangers without any inhibitions," Mba said.
"The fact that they sat down to think of my career is something good. And I must also thank my lawyer and agent, Barrister Chike Onyeacho for the way he worked out the new deal with the Warri Wolves management.
"When I received the call that the Warri side and Barrister Onyeacho had worked out something for me to play regularly, I was happy and I jumped up for joy. It shows that Warri Wolves and my lawyer meant well for me and want the best for me.
This is the time for me to improve on my game and I know that they are also working out something good for me to join a European club in no distant time. When you look at the way I played against Cote d'Ivoire in the CHAN qualifier, you will realise that I am back to my best," Mba sounded off.