By Donu Koghara
The Action Congress of Nigeria, ACN, has always tried to position itself as a highly credible opposition party that is capable of appealing to voters in every geopolitical zone and can take on the ruling Peoples Democratic Party, PDP.
I once had enormous respect for the ACN but have gradually concluded that it lacks the integrity to challenge the rotten-to-the-core PDP.
Why have I lost faith in ACN?
Because it has consistently betrayed its supporters in Rivers State.
This betrayal started when ACN stalwarts like Bola Tinubu went out of their way to to form cosy relationships with the (PDP) Governor of Rivers State, Rotimi Amaechi, thereby totally ignoring the feelings of Rivers natives such as Dr Abiye Sekibo (an ex-Minister of Transport), who had joined ACN because they were at loggerheads with Amaechi or simply wanted an alternative to the PDP.
The ACN then spectacularly failed to provide its Rivers candidates with adequate financial or moral support during the run-up to the 2011 elections. And so many of these candidates felt so stranded and humiliated that they fled from the ACN, swearing that they would never again trust "Yorubas".
And, by the way, having anointed the former EFCC Chief Executive, Mallam Nuhu Ribadu, as its presidential hopeful, the ACN leadership then left Ribadu in the lurch and threw its weight behind his main rival, Dr Goodluck Jonathan.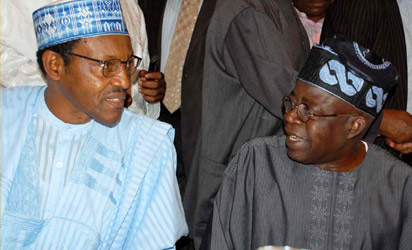 Now, the ACN mandarins are tired of Dr Jonathan, so they're trying to merge with other opposition parties to form a brave new entity called APC. But they've – weirdly, if you ask me – only nominated Muslims for key APC positions:-
1) Party Leader – North, Gen Muhammadu Buhari (Muslim).
2] Party Leader – South, Bola Ahmed Tinubu (Muslim).
3] National Chairman: Abdulkareem Bisi Akande (Muslim)
4] Deputy National Chairman: Aminu Bello Masari (Muslim)
5] National Secretary: Tijjani Musa Tumsah (Muslim)
6] Deputy National Secretary: Nasir El-Rufai (Muslim)
7] National Publicity Secretary.: Lai Muhammed (Muslim)
8] National Treasurer: Sadiya Umar Faruq (Muslim)
9] National Financial Secretary: Alhaji Shaibu Musa (Muslim)
10] National Youth Leader: Abubakar Lado (Muslim)
11] National Legal Adviser: Muiz Banire (Muslim)
12] National Deputy Auditor: Bala Jibrin (Muslim)
13] National Women Leader: Sharon Ikeazor (allegedly a Muslim convert)
14] Ex-Officio Member: Muniru Muse (Muslim)
15] Ex-Officio Member: Alhaji Yemi Sanusi (Muslim)
My cousin, Kenneth Kobani – the ACN's National Treasurer for quite a while – regarded this religious insensitivity as "the last straw" and recently resigned. Dr Sekibo, my former boss, has also just told the ACN to count him out.
I am close to lots of people who happen to belong to different groups and factions. And you can call me a cowardly fence-sitter, if you so wish, but I like to see myself as a journalist who should be as objective as possible; and I don't regard any of my friends or relatives as total sinners or saints.
To cut a long story short, my genuine fondness for Amaechi does not prevent me from also loving Kenneth, Sekibo and other Amaechi opponents.
Nor does my disappointment about the ACN's unprincipled tendencies and pathetic failure to inspire confidence in its main Rivers State supporters prevent me from being a no-shaking member of the Kayode Fayemi (brilliant and compassionate ACN Governor of Ekiti) fan club…or from liking and respecting Lai Mohammed, the ACN's charming and immensely articulate media guru.
Bottom line?
The ACN/APC alliance contains several quality people. But ACN personnel do not appear to know how to maximize their party's impact outside its core South-West heartland; and, in the interests of democracy (ruling parties generally perform better when they have strong critics), one can only pray that the ACN crowd will eliminate this weakness before the election campaign kicks in.
Condolences to a dear friend
Abiye Membere, a Group Executive Director (Exploration & Production) of NNPC, recently lost his beloved father…who will be buried this weekend in Abonemma, the Kalabari Kingdom village from which the Membere clan hails.
I got to know Membere long before he became a major VIP; and I think it is fair to say that his behavior has not changed at all since he was elevated to high office and ceased to be a regular professional. He continues to be humble and down-to-earth. He also happens to be one of the nicest and most intelligent people I have ever met in any of the many countries that I have visited.
I know that Vanguard readers will share my view that his Dad, Pa Henderson Membere, deserves endless kudos for producing such an impressive son…and join me in praying that Pa's sweet soul rests in eternal and perfect peace.