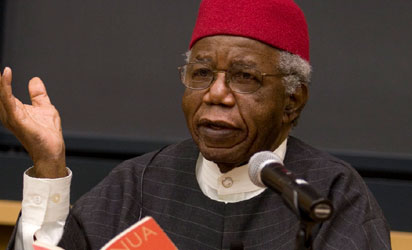 Eulogies and tributes have continued to trail the death and burial of literary icon, Prof. Chinua Achebe. Eminent personalities, heads of governments, his literary community, the academia, socio-cultural groups, to mention a few, have had glowing things to say about this popular author at different fora and in the media.
Vanguard beliefs that majority of the people who  have read Achebe's book and influenced by his writings may not have the opportunity to public space to pay tribute to the Iroko, as he is popularly called.
As the body of Prof. Chinua Achebe is being lowered to mother earth at his hometown Ogigi, we hereby urge our numerous readers and people across the globe who have come in contact with his works to write their tributes on this section titled:
My tribute to Chinua Achebe.