Nigeria Football Federation Technical Committee chairman, Chris Green has said that the federation is concerned about  complaints from senior members of the Super Eagles and members will try to mediate and bring unity to the team but maintained that they will always back Keshi.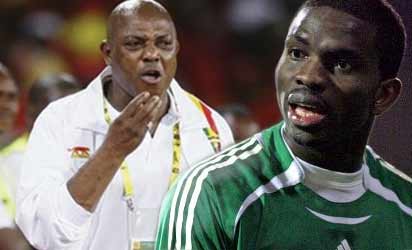 This is coming on the heels of tirades by team captain Joseph Yobo after he was dropped by coach Stephen Keshi from the World Cup qualifiers. Goalkeeper, Vincent Enyeama and striker Emmanuel Emenike also raised some reservations on the treatment of senior players by the coaches.
"We are going to look at the issues objectively. A coach is a coach and is in charge of the team and can decide the players who could best play a game for him."
"However, when players begin to complain and senior players for that matter, there is need for us to mediate because the team can only achieve more when they are united.
"Our concern is not to fan the ego of anyone, but for peace to reign in the Eagles. We appointed Keshi to do this job and we believe in his ability, therefore we must do everything to make sure his job is easy and void of whatever distraction," said Barrister Green.
And after their meeting yesterday, the NFF Technical Committee added voice to the peace initiative and pleaded with the media to report the Eagles with caution.
He added that the NFF will support Keshi in his effort to build on the Africa Cup of Nations success.
"We appointed Keshi for the Super Eagles job and we have resolved to give him a free hand to pick the players he deems fit to prosecute matches and thus far his selections have produced results."