By Moses Nosike, Anozie Egole & Olayinka Ajayi
Let's be patient and see what comes out of this pardon — Austin Nweze
Dr. Austin Nweze is a lecturer in Lagos Business School. On the state pardon granted to former Bayelsa state Governor, Chief Diepreye Alamieyeseigha, Dr. Nweze has this to say:
I have always said that politics is irrational. In fact, politics is as irrational as a young girl in love for the very first time. The Presidential pardon granted Alamieyeseigha might seem irrational, but some good can still come out of it. We all know the relationship between the President and his former boss. To the ordinary eye, this is a pay back period for the man who picked Mr President out of nowhere to become what and who he is today.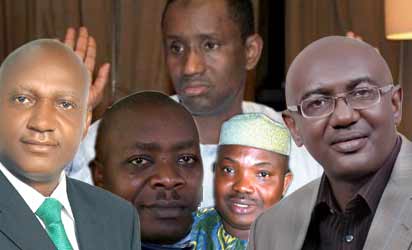 This is beside the point. What if this man actually has repented of his former sins and turned a new leaf? What if God has forgiven him, who are we to still hold him bound? If he has truly repented of his sins, is he required to make restitution? And to whom? We have to understand that Alamieyeseigha has clandestinely been working for Mr President in the political front.
I don't want to join issues with the American government concerning the pardon. The issue is whether the pardon will do Nigeria, Bayelsa state, and the President good. I choose to look at the positive side of the implication of the pardon. The President did not take the decision alone without wide consultations with the council of state which comprised of the former heads of state. Why didn't these statesmen advice him otherwise. If they did, they should speak up now and let Nigerians know the role they played in the pardon.
It is also possible that Mr President has found that his former boss is still relevant and the only way to make him useful to the nation is to first remove the yoke on his neck. Though the case of Obasanjo was not the same, but when the military wanted to use Obasanjo they had to first grant him state pardon. The question is, if the President did not grant Alamieyeseigha presidential pardon who will? Somebody has to do it so that the man can contribute positively to rebuilding Nigeria he helped to destroy in the past. Alamieyeseigha could turn out to be a tragic hero in a way. We should never write anybody off, especially when God  has not written him or her off.
Obasanjo was presumed to have been jailed illegally by the former military junta, Abacha and his cohorts, and he was granted state pardon. If that was the case with Alamieyeseigha, then this President has the right to do like wise. But I don't think that is really the issue here. Let us also not forget the prerogative of mercy. Afterall we have heard cases of former armed robbers who turned away from life of crime and today are Pastors and serving God.
If we must crucify Alamieyeseigha, he should not be crucified alone. There are so many Alamieyeseighas still in the government today and outside the government doing worse things than he is being accused of doing and being celebrated by his kith and kin. The hocus pocus of the matter is that Nigerians should be patient and watch what comes out of this pardon. Time will tell if the pardon is the right thing or not. My advice to Alamieyeseigha is that he should not take lightly the criticisms trailing this presidential pardon granted him and prove doubters wrong by being a good citizen from now on, and do whatever is within his power to right the wrong. If he misuses this opportunity, then let posterity judge him and punish him accordingly.
President Jonathan didn't commit offence for pardoning Alams —Barr. Okoye
Barrister Chike Okoye is experienced and versatile in the law profession. On the pardon granted to former Bayelsa state Governor, Alams, which is raising dust in the country and outside, Okoye in his reaction said, "I fail to see anything wrong with President Jonathan's exercise of his Constitutionally-provided prerogative of mercy in view of the express wordings of section 175(1)(a) of the 1999 Constitution (as amended).Since he exercised that power after consultation with the Council of State, he has acted within the ambits of his lawful powers and even the courts of law are not competent to question the wisdom of that choice. After all, the Constitution did not prescribe further conditions for the exercise of that right beyond the consultation.
The legal implication of Mr. Diepreye S.P. Alamieyeseigha's pardon is that his conviction still stands notwithstanding that the presidential pardon is an act of grace. He's still an ex-convict except that from the date he is pardoned, his erstwhile forfeited rights and privileges are restored. He is just like a born-again Christian who cannot claim original sinlessness.
As for whether it augurs well for Nigeria, I will say that it is a moral burden which President Jonathan alone bears. I believe the pardon is deserving considering the man's contrite posture since his fall from grace which sharply contrasts with Chief Bode George who wears his own badge of conviction proudly and nearly ubiquitously. Alams remained contrite and out of public view.
USA's meddlesomeness is a masked attack on Nigeria's sovereignty and is unfortunate. If DSP Alamieyeseigha thought that his impeachment as the Governor of Bayelsa was illegal, he should initially have exercised Rasheed Ladoja's option of reversing it with the help of the law courts. I think he was rightly convicted of sundry criminal offences.  Was Obasanjo not pardoned too,after all? Jonathan committed no offence.
His impeachment, sentence, against rule of law — Maduekwu, lawyer, ex-Senatorial aspirant
I have personal knowledge of the circumstances surrounding that impeachment which was procured arbitrarily because I interviewed him three days before his impeachment in the company of some journalist at the Governor's Lodge Yenagoa. There were heavily armed and fierce looking  soldiers all over the Governor's Lodge that day deployed to arrest him once he is impeached. This is an unlawful use of the military against a duly elected Governor of a State in a nation that pretends to be a federation!
That impeachment was obtained with excessive force and threat of imprisonment against the legislators who were all arrested and taken to Abuja where they were ordered to impeach the Governor or they will be sent to jail. This kind of behaviour undermines the rule of Law, due process and the doctrine of separation of powers. It will not be tolerated in some of the countries now making noise about the pardon.
A lot of noise has been made about the patent lie that Alams jumped bail in the UK and fled to Nigeria dressed like a woman. The truth is that Alams was asked to leave the UK by the appropriate authorities who did not want to get entangled in the Niger Delta conflict. When Alams was impeached, his traducers took him to immigration office at midnight to get a new Nigerian international Passport for him and thereafter whisked him to the British High Commission for a visa which was promptly refused by the High Commission. If the UK Government was interested in having the man back in the UK,  Alams would have been flown to the UK without even a passport. Nigeria had done such things with the USA when America was picking drug barons off the streets of Lagos. It is called " Extraordinary Rendition".
It is within the constitutional powers and competence of the President and Commander in Chief of the Armed forces, Dr. Goodluck Jonathan, GCFR, to grant pardon to whomsoever he desires. That is why the constitution provides for Prerogative of Mercy and Pardon. The legality of the Pardon for Alams is Unassailable. Its propriety and or morality is a different matter and morality and legality are not territorially coextensive. The President must exercise the power to grant pardon according to peculiar facts available to him and hopefully in the interest of the nation. And Mr. President had   intimate knowledge of the circumstances leading to the impeachment and is in the best position to determine whether Alams deserves pardon or not.
It must be noted that pardon is never extended to angels and innocent people but to convicted felons and persons. Also it does not help the matter to distinguish between crimes. A crime is a crime and it amounts to selective morality for anybody or country to make subjective noise about the pardon. Mercy will not be mercy if it is deserved, in fact mercy is simply extending to a person a benefit he does not deserve.
Finally I call on President Jonathan to take definite action to deal with the unacceptable level of corruption, impunity and profligacy being visited on Nigeria by people in his government.
It is an abuse of presidential discretion—Yinka odumakin
To me, it is an abuse of power and a misuse of presidential discretion. He has the power to do that but the way he is going about it is so unfortunate. The international community is not happy with that decision. The Ami Magaji he pardoned was convicted by the Supreme Court of Nigeria for sodomy and he has pardoned him. There is no doubt that he has the power but the decision is not left for only him to take.
I think there is a political undertone to that—Chinedu Oke
To me, the pardon portrays so much evil in the sense that Alamieyeseigha is a man who has stolen the country's money while he was a governor of BayelsaState. So, this simply implies that we are encouraging corruption at all levels in the country. Now you can see that if anybody assumes any position, the person would like to steal money with the hope of having a state pardon. The funny thing is that , this same former governor still have some issues to settle with the USA government and our president just gave him a state pardon. It is quite ridiculous that the government is aiding corruption in the country and has subjected the country to so much shame at the international level. I think there is a political undertone to that.
It is not the best thing to do now—Innocent Maxwell
Every right thinking person is bound to see this particular action by the president as bad. How long are we going to continue with this type of embarrassing decisions? Corruption has become a lifestyle and norm in our government. This state pardon to me, is an insult and inhuman to every Nigerian. Nigerians deserve better than this. All we get from our votes is heartbreak and pains. President Jonathan has got nothing to show to Nigerians and the rest of the world for the number of years he has been in the office. He can say that he is truly and honestly fighting corruption. He gave national honours to individuals and people who lacked integrity. The president got no plans for this country. If he could pardon a man whose crime brought national shame and disgrace to Nigerians then, we should watch out for more embarrassments.
Nothing is well done in this country—A Susan
To me nothing is well done in this country. I don't think this is worth my stress. The country is disorganized. But if you look at it from the spiritual angle, if God has forgiven him, who are we not to do same?  We should forget the issue and go on with our lives.
Alamieyeseigh's issue is the dividend of plea bargaining— Chijike Jiakponna
Plea bargaining actually is unknown to our law. It is an imported concept. What we have in our law is mitigating or aggravating sentence. Politians encourage EFFC to use it to reduce the harshness of their punishment. The proper punishment to be accorded to someone convicted as regards the law, cannot be accorded to someone who does not go through trial having pleaded guilty under a plea bargain. Some of the people who entered plea bargaining, did so because of the way judicial system is being operated as regards EFCC matters. It entitles that person to state pardon. The origin of plea bargain started from the Bible when Christ after discharging the pharisees who sought to condemn a woman for committing adultery, told her that since her persecutors could not cast a stone at her on account of their own iniquities, that neither will he condemn her. He admonished her to go and sin no more. (John 8: 1-11)
Malam Nuhu Ribadu
The former controversial Economic and Financial Crime Commission EFCC chairman in a media chat said the pardon was the final nail in the coffin for fighting corruption in the country.
Julius Agenmonmen  Is the MD/CEO of brand life a renown marketing organization in Lagos said
It completely negates the fight against corruption. It is like granting a license to all public officers to steal. Furthermore, this act could also be a source of discouragement to anti-corruption agencies like the EFCC and ICPC
The President indeed has the power to pardon. But does that mean he should use the power recklessly? Does former president Olusegun Obasanjo's pardon of former speaker of House of Representative Salisu Buhari justify this? I will say no. Alameiyeseigha is a symbol of corruption and his arrest and conviction once gave hope that it is possible to bring these thieves to accountability. To pardon such a person at a period that there is so much impunity in the country, with most of the corruption cases in the courts not making progress, and Nigerians are alarmed are the level of corruption, it is nothing less than an insult to Nigerians. There is a time for everything. Even if Alamieyeseigha deserves any pardoned, I dare say that the time is not right to grant pardon for convicts. Not with all the scandals at different levels of government.
What is his logic? Is he saying that GEJ pardoned Alamieyesigha because they come from the same Bayelsa or because he was his benefactor? Even Clinton was smart enough to pardon his brother at the end of his Presidency.
Omo Okojie is the CEO of Jewelvine limited.
It is such a shame. Ken Saro Wiwa was not post humusly pardoned, but a convicted criminal was pardoned. On what basis? How would the anti-corruption agencies have teeth to bite if such things happen in this country? What a negative example to show. Remember this man was practically indicted abroad. How will foreign nations see our country?
Barrister Bamidele Aturu
A Prominent Nigerian human rights lawyer said the government would live to regret this irresponsible decision " In my view, it is better to fling open the gates of all our prisons and ask all the inmates to walk out into the warm embrace of their relatives than pardon those who forced otherwise decent Nigerians to take to crime as a way of life,"
My worry is that this President is burning up all the goodwill he has by taking very wrong decition decisions Who is he listening to? Who is advising him? He campaigned with the slogan 'fresh air'. Is this the fresh air. Many though he will do things differently, being an educated President. But he is proving not to have his eye on history.
Mike Achandu is the MD of brand Revelation
The president did that to pave way for him to be politically relevant again. Lets not wast our energy talking about issues like this. My suggestion is to focus on how we will elect good leaders that will recognize true leadership. The problem with the country is lack of good governmence, which can only be provided by honest, trusted and commited leadership.
Femi Ajayi a civil servant
However had a contrary view. He however stated that. on July 26, 2007, Alamieyeseigha pled guilty before a Nigerian court to six count charges and was sentenced to two years in prison on each charge.
Many of his assets were ordered to be forfeited to the Bayelsa state government. Let us learn to forgive each other for national peace and unity of our country .
Subscribe for latest Videos