AS life expectancy rates in our urban areas reach an all time high, minimal government infrastructure for geriatric care has left a huge void in the healthcare market. It is this void that the clinic of Professor Olu Akinyanju seeks to fill with their quality private homecare services for the responsible in our midst who care about their aged but unfortunately do not have the time to give this care themselves.
A Physician and Haematologist, professor Akinyanju is better known as the Founder & Chairman of the Sickle Cell Foundation Nigeria. He is  also a Member  of the  World Health Organization (WHO)  Expert Advisory Panel of the Human Genetics Programme and a Medical Advisor to the American Embassy. He speaks to Morenike Taire.
HOW did you conceive the idea of providing home care services to old people?
in those days they didn't have mobile phones so you just couldn't say, Mummy, how are you today? My mother was strictly independent; she ran a little shop. My mother came here to live with us. She was in her 80s and gradually gradually we  found we had to have somebody.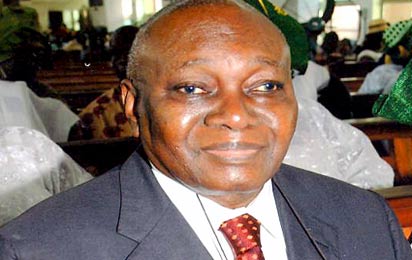 My mother in law too. She was almost 90.
Would you say now that with better telecommunications technology there is now less need for this kind of care?
I don't think so. If you had a mobile phone of course you will be able to communicate with your mother everyday but who gets up to cook? You just get to know maybe faster. Some of our clients, their children are maybe in America, they are in Lagos so they happy to have somebody to look after mother.
It's not only old people. One time a man had a baby but the mother died during pregnancy so the man didn't know what to do with it really so we had to come in. we looked after that baby in his house for two years or so. I don't know whether he found a relation or married another wife. We had a girl who couldn't walk because she had something in the spinal chord. She was lying down, she couldn't use the legs, hardly use the arms. We have situations like that when we had to look after younger people.
Do you have an old people's facility, like a Home?
No we don't. I know a fellow who has just started because that's a whole new thing. When we were looking after my mother and so on, because we were busy, nobody would have time to say oh Mama,…
What are you going to eat?
Or have you had your bath? Things that she could do before.
Giving injection
Sometimes people might need you only for the day; they will be back in the evening and then they can take over.
Does the care you render include medical care ?
Yes, up to a point. They may have their own doctor, retain him but we have to know what the doctor has prescribed so we know when to give him injection and so on and if we find any aspect we can handle we get our doctors in.
On the whole, in the cultural sense, how do people react to having nursing care  in the home?
Many people want to but may not be able to afford it because it's not a housegirl now.  Sometimes they have dementia.
Like the former British Prime Minister
Raegan in America also had it. There was a time he couldn't recognize his wife. He can just wee-wee (urinate) in that corner, forgetting that there's a toilet there. They need care, they need understanding. And they can live for very very long . There are people who have  stroke, just because of the stroke they can't move well. Some have cancer.
Towards  the end cancer may render them disabled in a way. Those ones don't live long at all- 4 weeks, 2 months… By the time they call us to look after cancer it's stretching towards the end whereas when they call us to look after a stroke  or dementia it could be there for years and years.
Do you find that you get attached to some of them?
I remember a 90 year old- she finally died at about 92 or 94and they got used to one or two of the staff . She was fond of her beer and wine. Mama was safe to drink a glass of wine a day but she was drinking like two a day, drinking two bottles of beer so there was this day I went and spoke to Mama: "your children are worried". She said they should allow her to do it."
Doing what she enjoys
What else do you want me to do? The only thing I have left is just my beer. All my friends are gone. They used to take her in the car and drive around to give her breeze.
Just a change…
She was still able to do that but she said : "if this is what will kill me, let it"  so I said okay, don't worry, leave Mama alone. Let her do what she enjoys.
I felt attached to her. When she died my staff were given aso-ebi
Do you also provide psychological care? Like in the case of dementia, for the family?
Sometimes we have to call in specialists to talk to our staff and we bring psychologists to see the family so that they will accept it that this is not a curse on you or your family but just as your heart may fail, the kidney may fail, the brain fails sometimes.
Any part of us can go. It may be your knee that is difficult but if it's your brain that  failed then you are in a  situation where you'll see somebody and say, who are you? Because you genuinely can no longer recognize people because your brain is not functioning as it should