By ANAYO OKOLI
UMUAHIA— GOVERNOR Theodore Orji of Abia State has said he would not borrow from the bond market to run affairs of the state, despite its lean resources.
He also said his decision was informed by the need not to bequeath huge debt to the state when leaving office.
The governor said his administration was comfortable with the rate it was carrying on with development of the state, based strictly on the resources coming to it..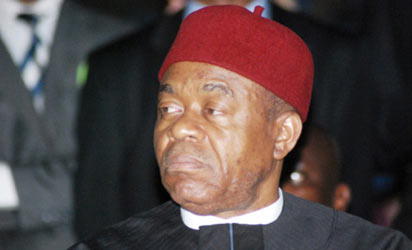 Orji, who spoke in Umuahia while interacting with journalists in the state, also disclosed that the Niger Delta Development Commission, of which the state is a member, had taken up 10 roads to rehabilitate in Aba.
This, he explained, was in addition to the 16 his administration was currently working on.
Governor Orji pointed out that when these roads were completed, Aba would wear an entirely new look.
"I am not going to Bond Market. I have been under pressure from many quarters to borrow from the Bond Market. But I said no. We have to cut our coat according to our size. I am happy the way we are going," Orji said.
He said despite the little money accruing to the state, which hovers  between N3. 2 and N3. 5 billion monthly, against a monthly wage bill of N1.7 billion, the state was still able to carry out development projects and maintain security.
"The Chief of Army was here and he said that in other states, the Army pays to maintain the soldiers but here in Abia State, the government pays to sustain the soldiers and maintain security.
"As far as I am concerned, I don't regret any amount I pay to maintain security as long as the people who elected me are happy and are enjoying adequate security in the state," the governor said.
Orji also announced that the NDDC had taken up 10 roads, in addition to the ones the state government was doing, as part of efforts to give Aba a facelift.
He said:  "NNDC has taken 10 extra roads in Aba which they promised to put in their budget. This will help in the opening up of the city.
"We are also opening up the drainage."