By McPhilips Nwachukwu
Elijah  Onyeagba, who describes himself as  an Afro-optimist,  was among the 25 African youths who participated at the 2012 Bishop Tutu Leadership Fellowship held in Cape Town, South Africa. Designed to raise a new set of African leaders who can confront some of the most disturbing problems facing the continent, the programme has been shot into a documentary entitled, Tutu's Children, that challenges Africa's narrative as a place of hope and new vision.
Presently showing at Aljazeera television, the documentary is already gaining acceptability by the viewing public. In this interview, Onyeagba, a Nigerian participant and Group Head, Real Estate, Aso Savings Loans Plc, Abuja, shares his experience.
You were a participant at the 2012 Bishop Tutut leadership program, which culminated in the documentary  presently showing on Aljazerra television as Tutu's Children. Can you tell us about the build up  to your nomination?
The Archbishop Tutu Fellowship Program is a program organised by the African Leadership Institute…a five months program. It commenced in 2006;Aljazeera decided to make a documentary of it in 2012 and luckily I was selected to participate. It is a scholarship program for future African leaders between the ages of 30 and 40. I was nominated by my CEO, Hassan Usman, who incidentally is a Tutu Fellow.
Tutu's Children is the name of the documentary and it basically captures the essence of the program which is to model an African leadership that works after a role model who has demonstrated selfless leadership at every level. The program starts from Stellenbosch in Cape Town, afterwards you are expected to commence a community development program. It further continues in Said Business School, Oxford and you conclude the program in London.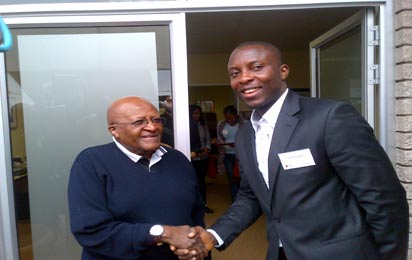 The whole idea behind the programme is to create a new set of young leaders, who can provide good leadership and direction for Africa's most troubled conditions. How did you as an individual fit into this task?
I am an Afro-optimist and I believe that Africa can change in my lifetime. The challenges span the spheres of education, health, infrastructure and corruption. We already know all of that. The issue,to me, is that a time comes when we have to draw a line and move on. Yes, we have always had bad leaders, but for how long shall we keep complaining?
I believe that the time is now and the responsibility is ours, not that of our parents, not that of our children. I preach this and I also act it. We need to stand up and take our destiny in our hands. It is amazing that we all have an idea of what should be done, but the gap I see is action and Tutu' s Fellowship Program offers that fantastic opportunity that galvanises the required momentum that will catalyse the needed change in Africa.
What was the programme all about? And how does the documentary approach intend to change the  negative African narrative?
The program is about change, it's about creating momentum, it's about strategy, it's about showing that we are dissatisfied with the status- quo and finding new ways of doing things. We, as African youths, must stand up and be counted for the sake of posterity. The documentary is to show that there are young leaders who are dissatisfied with the way things are going and are yearning for change.
It is also to show that a training program of this nature exists where young Africans can apply and be trained for free. It is also to tell the world that we are creating a platform for change. Everyone who has passed through the training program will lend his voice to the call for change. The rest of the world, when they watch the documentary, will know that Africa is not a dead continent as they thought. The youths are doing something to get the continent back on track and this we are determined to achieve.
Can you tell us about a typical day at the training centre?
It is very tasking in Cape Town, the program runs from 8am till 8pm and sometimes you have group assignments that can keep you longer. It's mentally challenging and also full of fun. The most amazing thing is that you have young Africans who are coming from different countries with similar problems, and sense of feeling makes us a family.
You can easily relate to corruption, lack of infrastructure, no healthcare and some of the other challenges facing the continent. Ultimately, the time spent is nothing to be compared with the benefit derived from the exercise and the program. A typical day challenges you to come up with solutions of tackling Africa's problems.
What fascinated you most about the whole exercise and do you think it was worth your time?
One interesting thing is the belief that Africa and, by extension, Nigeria can be better. We have a vision of a new Africa (Nigeria inclusive) where the leaders are responsible enough to take the right decision and the citizens rise up to the challenge of holding their leaders for accountability.
I will encourage any young African who have the desire to join the movement to be part of it both directly and indirectly. We have more to lose than today's leaders; therefore we cannot continue to adopt a sit-down and look approach and keep hoping for a miracle. The popular uprising in North Africa is an example. Revolution will start from ourselves before it can get to others. It can be contagious.
In one word, what is the greatest African problem and how can it be solved?
The problems are multi-faced and interwoven. Leadership is key and the importance of education cannot be over-emphasised. Look at Malaysia, Singapore, China, India….examples are everywhere. If the right leaders are in place, every other thing will fall in line.
By the nature of this training, you already have an enormous task at hand. How do you intend to domestic your experience to benefiting larger members of society?
The dissatisfaction of the status quo has to be personalised. I have started from my sphere of influence: family and work place. I chair a foundation called LEAD Foundation (www.theleadfoundation.com). We are working on educating the less privileged by offering some scholarships, empowering the women through some micro- credit scheme, involved in giving awards to university lecturers to encourage them to be of good behavior .There are lots to do, but, most importantly, starting from self is a good stating point. Otherwise, one could be overwhelmed with the magnitude of the problem that one will find it difficult to make an impact.
As one who works in the real estate sector, how do you intend to bring your experience from this programme to addressing  the housing sector for instance, knowing that housing is a major issue in Nigeria with a disturbing housing deficit confronting the nation?
The housing sector has got the capacity to catalyse economic development and job creation in Nigeria. Our responsibility is to make our voice heard until government gives it the required attention. A sector that contributes just 1.7% of the GDP and has got the potential of doing double digit cannot be over-looked by the government.
My company, ASO Savings & Loans plc, has consciously decided to play in the affordable housing segment because a huge deficit exists in that space. As people are getting their houses, they, in turn, become socially responsible, can create employment both for themselves and for other people.