By Austin Ogwuda
Asaba—TEACHERS in public primary and secondary schools in Delta State are apprehensive over an impending sack, which is expected to take place in January 2013, Vanguard's investigation has shown.
Although, the state Commissioner for Education (Basic and Secondary), Professor Patrick Muoboghare, had dismissed the move, some of the teachers who spoke on condition of anonymity for fear of victimization, insisted that a mass purge was in the offing.
Already, there is an ongoing verification exercise of teachers across the state.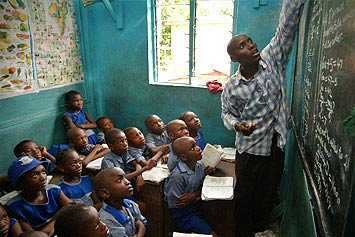 It will be recalled that Prof. Muoboghare had, in May, dropped the hint that his ministry was already sorting out the names of teachers in the state who did not meet the standards set by Teachers Registration Council of Nigeria, adding that affected teachers would be shown the way out before the end of this year.
He said: "We are professionalising teaching. We are re-positioning the profession such that any person in classroom now employed as a teacher, either by the government or the private sector, without a teaching qualification and who is not registered by the Teachers Registration Council of Nigeria, will be removed from the classroom."
He said that the state government was ready to commence the implementation of Teachers' Special Salary, TSS, but reiterated its position to weed out unqualified teachers in both public and private schools in the state, who are not registered as qualified teachers.
A female teacher at Ogbe-Afor primary school, who pleaded anonymity, told Vanguard that "we are not comfortable. We have been hearing of an imminent sack, but we put our faith in God. Where do I go if I am eventually sacked? I am a widow with eight children and there is no job in the country today."
Others in her position expressed the same apprehension.
Muoboghare, however, dismissed their fear, saying, "there is nothing like that. Delta State Government has never been associated with downsizing its workforce."