By Jide Ajani
John Ugbe, Managing Director, MultiChoice Nigeria, in this interview, speaks on his company's business activities in Nigeria and the immense possibilities for growth one year after being appointed the first Nigerian head of the South African pay-TV company. He also speaks on the digital migration deadline set for 2015 and why Nigeria is so important to the continent.
Excerpts:
It's been one year since you've been at the head of the business of MultiChoice Nigeria. How much of your set vision has been achieved?
My vision was in line with that of the company, which is to be the source of entertainment and the leader. That's what I sat down to do. In the last one year, we've pioneered, we kept ahead, we've always brought innovation first. We really do not see things launching in other places before Africa; and when you talk Africa, you talk Nigeria. So, we've stayed ahead of innovations around the world.
What would you say are the highlights of the last year, especially given that you came to be the first Nigerian head of the company?
It's been a very fast year for us. From introducing the new Walka 7 mobile hand-held TV, to the High Drifta, to the introduction of the Africa Magic Viewers' Choice Awards, and also, most importantly, to the introduction of the 10 per cent discount – which is a first for us at MultiChoice,we've always given back to the subscribers in different ways, but we went out to give our biggest yet by putting in the 10 per cent discount for our subscribers who pay their subscription on time.
It's been our biggest initiative to date. We are proud, even if it means losing some money in introducing such initiative. But it tells you what we are here to do, which is to continue to invest in growing the business, growing Nigeria, and local content out of Nigeria.
How has your background and experience in MultiChoice impacted your work during the one year of being in the saddle?
One good thing is I've been around the MultiChoice group for about 14 years. My general technology background has also been very helpful because a lot of what we do links back to technology and innovation in technology. So, my background has been quite very helpful. But also as a Nigerian, it means I understand the Nigerian environment very well and I'm able to connect with our subscribers.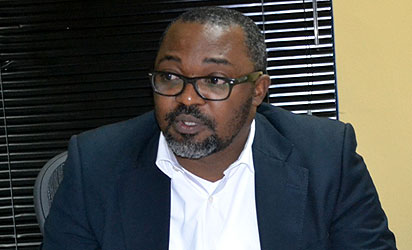 Nigeria is a huge market. A lot of people feel the level of what you company is currently doing, for instance the subscription base, is still like a drop in the ocean. How much more of the potential do you plan to tap?
We see a lot of potentials in Nigeria, and we believe there's a lot of growth still to come out. Nigeria is at the moment trying to fix a lot of infrastructure challenge, for instance the on-going power privatisation exercise. I believe when that is concluded, this economy will jump.
So, a lot of these policies that have been put in place will all encourage growth. Definitely we see a lot of growth coming from Nigeria and, as a company that has consistently invested in the country, we're happy that we are here for the long run. We never look at reaping the rewards in a short time, but we take a long time view of everything we do.
Do you have specific targets as to your growth projections?
Definitely we are looking at growth in the market. But you can't separate one product from the macro-economic realities in every economy. We believe, with the GDP growing and the non-oil part of the economy growing, we'll see our business grow with the country.
How has MultiChoice, since starting out here in 1993, impacted the Nigerian economy generally?
In the area of employment. And it's not just people who are working for us. If you look at people who have worked for us and where they are in the industry, you'll see that they are quite big players. We also have entrepreneurs we've developed as part of our Super Dealers initiative.
We have over 40 of them with over 100 offices nationwide. They employ thousands of people who have a lot more people depending on them. These are big businesses that have been set up by the instance of the encouragement and investment from us. They support large staff complement.
Also, we've paid over N15 billion in taxes and we'll continue to be a good corporate citizen. Over the years too, we've invested over $200 million in local content, which has a direct impact on the economy. We were the first to set up an uplink factory to take Nigerian stations out and put them on satellite.
If you go around Africa, there's a lot of information about Nigeria that wasn't there. Such is now freely available. The impact has been massive. Nollywood has been greatly impacted by the investment from our sister company, M-Net, and Africa Magic, which, to a large extent, you could almost call 'Nigeria Magic', given the amount of Nigerian content on it.
With regards to content, there are issues of, sometimes poor quality films and repetition of programmes. How's that being addressed?
One thing we continue to do is development. We have a scriptwriting workshop where we develop scriptwriters. Recently, we had a content masterclass at the Africast Conference, where we did a lot of training on content, production, directing, lighting, etc. So we continue to train and invest in those and that goes directly into the skills that are available in the market. We also work quite a bit with the press.
We have the yearly MultiChoice-CNN Awards, and we also run a training programme with MultiChoice and CNN, in-country, to develop skills in the media. We also invest quite well in sports. The Nigerian Premier League, we ensure those matches go live, and you can see the quality of the league is improving. There's also basketball. We sponsor the Basketball League and also ensure all the matches are seen live.
We saw that there was a decline in Nigerian basketball and we decided to do an intervention. For the last three years, we've sponsored the DSTV basketball league. There's been noticeable growth so there's a lot more emphasis on basketball, and, for the first time ever, we qualified for the Olympics basketball event.
Beaming the Premier League and the basketball league live costs us millions for every game that is played, but we think it's an investment in the future and our people. We believe there is a lot of growth potential for the future of Nigerian sports and we are ready to support and work with the administrators to ensure Nigeria is at the forefront of that growth.
Aside sports, what other areas are you investing in?
We have a programme that we sponsor. It is in collaboration with the University of Wits in South Africa and the University of Nigeria, Nsukka. The programme, being run by our sister company, Supersport, trains our administrators on sports administration. I believe that's one of the interventions needed to ensure that we become better managers of our football clubs and our national teams. There's a lot of this kind of initiative that are not known to many, but which we continue to do.
What's your investment in the community, talking of CSR?
From the community perspective, we support the Sickle Cell Foundation. We have a programme we're organising with them in the next month or so. We also support the Lagos State Government in the Adopted Schools Programme. Igbobi College is one of the schools on our programme.
Earlier in the year, when they had their 80th anniversary celebrations, we commissioned a new Science Laboratory for the school. Another project close to our heart is the MultiChoice Resource Centre, where we have resource centre in schools. We have over 200 of this running nationwide and we continuously grow that so we can give quality education to the kids at the very early age. They can get visual stimulation through watching stations like Discovery. It's a lot of education not just entertainment, things that expose them to different parts of the world.
In the area of technology transfer, how has MultiChoice helped the industry in Nigeria, transferring knowledge and technology from other climes?
If you look at one of our older programmes, New Directions, which was an investment into content and productions, some of the people that participated then own TV stations today. A lot of training, direction and mentorship went into producing that. So there's been a lot of transfer of skills. When we started with sports production in the country, we had to bring in professionals from around the world to cover football matches.
Today we've got a full Nigerian crew, in-country, who not only direct and put content from Nigeria on air but are also hot cakes around Africa for matches and other sports content. And what we have here are full HD studios. Through the building of our own full HD studios for shooting programmes like Tinsel, we have the best of equipment locally, and Nigerians have been trained to handle this equipment.
How much of technology are you employing now in your payment systems, especially the cashless policy of the Central Bank?
We were one of the companies that had full support for the cashless initiative. Right now, you can't even walk into any bank and pay cash for your DSTV subscription. But more importantly is our adoption of mobile technology, mobile payment, which now allows you to pay for your subscription from your couch while watching TV.
We recently introduced a DSTV application on Blackberry, Android and on the iPhone and iPad. These applications were developed specifically to allow subscribers pay, check highlights, reactivate your accounts if disconnected and fix any problems right on your couch. So, we believe in using technology to solve problems and we've always demonstrated that. We pioneered quite a lot of this and also support federal government initiatives.
Still talking of pioneering technology, what efforts are being made in the area of digital technology?
We always tell people that the flagship of our products, DSTV, is actually digital satellite television. With the digital migration, we started it a long time ago. We started from satellite and we are proud to be the second satellite provider in the world to migrate to digital technology. So we have a lot of experience with digital technology.
More so, we are pioneering digital terrestrial technology around Africa with our GOtv brand. You'll see that in a lot of African countries. We are providing an easier route to digital migration in Africa. We are helping to ensure that Africa doesn't miss the deadline for digital migration. It's better its adopted early because there's a lot of gains which the government will see from digital migration. And not just the government, but the subscriber who is for once assured of a clear TV signal to his home.
What informed the introduction of your newest brand, GOtv?
GOtv in Africa is a digital terrestrial product, which now offers an alternative to accessing our digital services, but without a dish. As I said earlier, it's a product that gives Africa an easier route to digital migration. It is innovative, and there's a lot of pioneering technology behind this offering. We are happy for us to ensure that the reach of digital services is expanded to a lot more people than just the DSTV product.
Recently, MultiChoice sponsored the Digital Dialogue Conference in South Africa. What informed your involvement?
We, as a company that operates around Africa, felt there was not enough discussion around digital migration. What is the impact, what are the gains? The average man on the street doesn't know what it means and hasn't shown his support for it. So, we felt by bringing the media around Africa together, it will ensure that people get involved.
We brought different issues that had to be addressed and we felt people will get a lot of information about the impact and gains of digital migration. It's purely from our altruistic point of view but we wanted the information to be out there, we wanted people to be informed. And who best could do that than the media? So we brought together the media all over the continent to build those relationships and ensure that the continent is not forgotten.
How much of effort is also made to strengthen customer service channels and treat subscriber complaints?
In the last one year, we've made some of the biggest strides in customer service. The DSTV application on Blackberry, Android, iPad and the rest, that I mentioned earlier, is a case in point. The service allows you to, without talking to any customer service agent, just sit on your couch and pay for your subscriptions, fix any error on your TV screen, and check programme details.
It's revolutionary, as you don't need to wait for any one – it's self service. Also, about three months ago, we opened a new call centre, with a bigger command of staff to handle customer complaints and resolve service issues. We also opened up new offices nationwide.
We have offices in all the geo-political zones and these outlets are even owned by entrepreneurs, who work hand-in-hand with us to provide services. So, customer service has been key in our agenda – how do we make people happy? And we've worked to introduce quite a few innovations to ensure people are happy with our services.
In the days and months ahead, what more innovations should your subscribers look forward to?
They should expect better quality of entertainment and more local content on their TV. There's lot more innovations coming, which we've lined up for next year. As we like to say here, with DSTV, nothing else matters. We'll ensure we stay true to this.