By Johnbosco Agbakwuru, Calabar
Home my home o my home, when shall I see my home, when shall I see my native land, I will never forget my home! This is the song going on now as we see Abana two pools away. We shall soon send video clips of our activities for all to see.
A lot had taken place quietly within last week and now. With the end of Ramadan on Sunday, most things will be clearer.
"Bakassi, land of our birth, we pledge to you, that neither silver nor gold shall dissuade us from taking you back. We did not choose the land of our birth neither did we choose our parents, Almighty placed us there, and we were uprooted in broad-day light, and hurrily so, by a President who was supposed to protect us.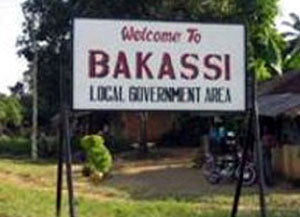 May God prolong his life and protect his children ! Land of our birth, we love thee, Nigeria refused to protect thee; we are already there and 'they' know it not, waiting for time which will soon come." These were the words of one Ekpe Ekpenyong Oku, who claims to be the warlord and Commandant General, Bakassi Self Determination Front on the agitation for a liberated displaced Bakassi people.
The atmosphere around the ceded oil-rich Bakassi Peninsula has been tensed while residents of Day Spring which is supposedly the rightful resettlement area have been leaving the place and it is now being guarded by some militant groups championing the declaration of independent Bakassi.
Already the militant group who spoke through their Commandant General, Ekpenyong Oku, had declared last Saturday, August 11, 2012 as Gen. Sani Abacha day where all Bakassi people and men and women of goodwill offered prayers in the afternoon for the repose of his soul and the souls of officers and men who lost their lives for the sake of Bakassi.
The self acclaimed 'freedom fighters' had directed their members to wear black bands while the Bakassi paramount ruler, His Majesty Etim Okon Edet was directed to appear in white wrapper and shirt and offer specific prayers to his forebears at 6am, 12noon and 6 pm.
The Commandant in a statement issued last week declared that Dayspring Radio station last week started test-run transmission on 4.2MHz and 5.2MHz shortwave band, hoisted its 'national flag' and further stated that "major declaration shall be made as we push forward. May God bless our people and renew their strength."
He also said, "As the D-Day draws near, we call on all men of goodwill, individuals, human rights organizations and the indigenous people of Bakassi to join hands in resisting and fighting the present international conspiracy.
In a maiden broadcast, the Commander-General, Ekpe Ekpenyong Oku, said, "Please for the umpteenth time, we plead with our people to leave Abana now. The fight is going to be thickest and fiercest now that our brothers from Northern Nigeria have fully arrived. Our Eastern brothers are also here. If blood would be required to set the people free, take mine. As you confronted pharaoh, do so now."
He warned all travelers on the sea to stay away from the area last Saturday, Auguast 11 and Sunday, August 12, 2012, it is not good to travel on the sea.
He said, "No sea movement so that you don't have cause to regret. There shall be no movement of boats from Ikang or Marina beach to Cameroon on these two days. Be warned." In a statement made available to newsmen in Calabar, Oku, had revealed that arrangements have been concluded with some international liberation groups to assist the Bakassi natives in the battle ahead.
He said, "Ours will be a classical story of the elephant and the ant. The elephant will be so harassed and will find no respite and will dash itself against a tree trunk, adding, "Throughout history, injured people have had to resort to arms in their self-defense where peaceful negotiations fail.
"Bakassi people are no exception. Our right to self-determination is imminent; some will die, but some will leave to reap from our labours," the Commander-general stated.
It would be recalled that on July 9, 2006 in the wake of the Green Tree Agreement, a group under the aegis of Bakasssi Freedom Fighters had threatened to seek independence if Nigeria renounced sovereignty, but a few days to handing over of Bakassi to Cameroon in the government house in Calabar, Cross River State, the leader of the militant group, Comrade Tony Ene, died in a mysterious road accident along Calabar-Itu highway.
Ene and his group of Bakasssi Freedom Fighters had even hoisted the Bakassi flag with the rising sun as its symbol in Abana, headquarters of Bakasssi but this was repelled by the Nigerian government.
Already the BSDF had claimed that it has penetrated parts of the ceded Bakassi peninsula in their bid to get the land back. A post from the group's Facebook wall by the Commandant General claimed they were already at Akpa Ukwak quite close to Akpankanya in the area.
Apart from the claim by the militant group that they have advanced towards some vital area of the ceded island, there have been no much military presence from the federal government within the disputed area. It was only few plain cloths security operatives that move around the area to monitor the unfolding events.
In an interview in Calabar, the Paramount Ruler of Bakassi His Majesty Etim Okon-Edet said "From what I have heard, the boys have entered Ekoi and have entered Akwa Ukwak and they have nearly entered Akpankaya which is near Abana.
"They have entered and no life is lost. It means that the gods are with them and I pray that the gods of the land should continue to be with them until the whole area is reclaimed quietly and silently," he said.
The Bakassi Paramount Ruler had told the House of Representatives Committee on Treaty and Agreement that visited Bakassi stakeholders at the Council of Chiefs Chambers Calabar that , "Bakassi people have not been fairly treated by this nation and what we are looking for now that you have come is to go back to our area by any means possible .
"We don't even want relocation any longer, we are going to take it by whatever means because we have been left astray for almost ten years now. Come to add to it they have taken our land, taken our resources so we now know that we are not wanted. I have just seen some people doing bomb, they have not seen bomb yet, what they are doing is a very small bomb.
"The process is one and we are going back to our area, we will take it by any means possible, in the days of old our fore-fathers use to have traditional means, we don't have any problem with Nigeria our problem is with the cameroun that they must leave our area and they are going to leave very soon. Nigeria can go and leave us .there was Bakassi before political Nigeria and there was Bakassi before political Cameroun.
"People have been dreaming and planning on how to break Nigeria and people have been predicting that in 2015 Nigeria will break up and they have been looking for avenues to achieve this and Nigeria is opening its flanks to those things and so many things are happening unabated.
"Bakassi will be one of them and when anything happens there God almighty will exonerate us. When anything happens Nigeria will bear us witness that we have waited for long. We don't have any problem with ICJ and I don't want anybody to go and appeal any case because it will be waste of time and money we want to take our area out and we will do so and Nigerians will see with their two eyes that God is still on the throne."
The prediction that the country may disintegrate in 2015 may come to fruition if the signals coming is not well handled from the federal government. However, it is still doubtful if the Bakassi Self determination Front will make use of their treat because apart from issuing press statements especially on the facebook, there is no serious sign that they mean business unlike some other groups like the MASSOB and MOSOP who seem to be visible.