EMMANUEL AZIKEN, POLITICAL EDITOR & SIMON EBEGBULEM
The Comrade Governor as Adams Oshiomhole is popularly addressed was his ebullient form last Thursday. The ambience around the Governor's office was reflective of the state's moniker, the Heart Beat of the Nation. While many aides and admirers sauntered in and out of the Governor's office that day, only few were aware of the royal blessing that was as at that morning waiting for the governor later that day in the palace of the Oba of Benin.
The royal endorsement of Governor Oshiomhole's stewardship was largely on account of the remarkable impact the Oshiomhole years have had in remaking the infrastructure, landscape and governance of the state.  Before embarking on his daily regime that day, Oshiomhole who is the candidate of the Action Congress of Nigeria, ACN in the July 14, 2012 gubernatorial election sat down with a team of Vanguard reporters in an interview session during which he discussed his achievements and aspirations in office. He was, however, unsparing of the content, complexion and character of the political opposition. Excerpts:
TO what extent do you think you have fulfilled the agenda you listed upon assumption of office?
I think Edo people are in a better position to enter judgment or evaluation. But however if you ask me I believe we have done a couple of things many believe were impossible. First we have demystified the god father. I do remember around 2006 or early 2007, our opponents argued that I was  a novice in politics and that they were ready to teach me a lesson, that there is difference between labour activism and politics. Of course they were aware that I did not have the resource and I was new in partisan politics.
So they dismissed us and regarded us as inconsequential. People told me that these guys are used to rigging that even if I win the election they will not give it to me. They drew my attention to how Lucky Imasuen and Senator Owie were allegedly rigged out and they said how can I make a difference particularly when the PDP controls the Federal Government. And that was why I said in my campaign that we needed to protect the votes and dismantle the rigging machine of the PDP.
I think three and half years on, there is no question that the politics of the state has changed. They used to argue that they have majority at the State House of Assembly and National Assembly members, but today we have 19 out of 24 members in the state House of Assembly. We have two out of the three senators and we have eight out of ten in the House of Reps.
What is also significant is that the whole of Edo South that accounts for 55 per cent of the votes in the state, we kicked the PDP out completely. In Edo North which accounts for 30-35 per cent of the votes, we cleaned out PDP completely. In Edo Central which accounts for about 15 per cent of the votes, we have gotten part of it and we have restricted the god father to his local government and one or two local governments. We have not lost any election since we came in, so the issue now is who is the master of the game?
I think the evidence on ground shows that they underestimated the power of the people. We understand what the needs of our people are and we can mobilize them. Politically we have changed a lot in the state.  Secondly, yes if you won election what have you done with it? Again, I believe we have made a very bold statement. The general argument was that there was nothing that could be done about the flooding problem of Benin.
My challenge was not to lament to what is not possible. My challenge is to make it happen. Today we are dealing with the flooding problem and the roads. We have cleaned up the streets and with the assistance of our father, the Oba we have cleaned up places. Today in Benin City, we have a number of six lane roads, street lights here and there. In the educational sector, our schools are much more attractive than any private school in this state because we make sure the jobs are done according to specification.
I remember my first meeting with Okada riders I tried to find out who and who or which class of people send their children to government schools and those who send to private schools. I was surprised that even within the poor like those bike riders, almost eighty per cent of them have their children in private schools. So public schools had virtually collapsed.
People are poor but still realized that if their children are to make it they needed education and because the schools have collapsed they moved to private schools even though some of these private schools do not have good teachers. And this happened because government schools here collapsed, no roof, no desk, no teachers, nothing. But today, go and take a look round.
Don't go with me, take a photograph of it you will see some of the schools we have rebuilt and the standard is the same both urban and rural areas. You will find that our public schools are now very attractive and the result is that people are now moving their children from private schools back to public schools. That is why people are now suggesting that we start the shift system in schools to accommodate more people.
Water had been a major challenge in many parts of the state. In Edo Central the general feeling was that water is impossible. So what we did was to procure drilling rigs (and) we have three now. The latest one we bought can drill up to 2500 meters. And there is nowhere in Edo state that you need to go that far to get water. So in places that people had given up, we have been able to provide them water.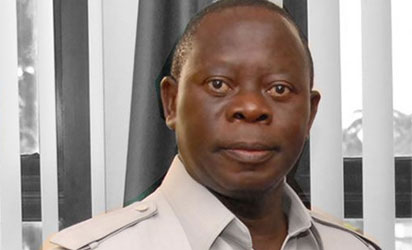 Ekpoma is a good example. They had an overhead tank that has been there for over thirty years but no water. Now they have water there. The same thing in Iruekpen. And from one Local Government to the other we have provided industrial boreholes that are working.
And under three years look at what we have done in the health sector. Look at what we have built at the Central Hospital. That hospital was built in 1903 but since then there was no major intervention. But we decided to demolish it and build a brand new one. You can go there and see for yourself. And this is across the 18 Local Governments. There is no council where we are not doing any major project.
Basic needs of the people
There are communities in Edo North that had given up because of the terrain there, but we have constructed roads in those areas and they never believed it was possible. I believe therefore that my report card is on ground. I feel fulfilled that this state has the resources to deal with the basic needs of the people. We had to cut cost by reversing what existed before and made it 40 per cent recurrent and 60 per cent capital. We cleaned up many things and in the first year we saved almost N5 billion from the recurrent expenditure.
We blocked the leakages
in government and we pursued the issue of taxation because the revenue had collapsed. So it was a matter of survival that we had to look inwards by boosting our internally generated revenue. We had to eliminate paper works and eliminate fraud in the payment of salaries by introducing ICT. In all of these there is the issue of will. You must have the will to act. And I think the day we demolished the Central Bank perimeter fence, it sent a message that we were ready to work. And people on their own started adjusting their houses properly. I also told my Commissioners no unnecessary travels. Whatever you want to do here you can do it.
But your critics say the same team which allegedly under developed the state during the PDP era is the same team working with you today?
The answer is simple. The Governor in a presidential system has so much power which decides the character of his cabinet. If he chooses to have a cabinet that is incompetent that is his problem. For example I decided from the onset that I am going to bring in people with specific skills in those areas that we have identified as our priority areas. I decided that you must be a professional to handle key ministries. Some people did not quite agree with it because of politics.
Competent government
But I believe that some of the skills you need to win election may not be the skills you need to run an efficient and competent government. There must be a way to compensate those who worked to get the votes without necessarily putting a sensitive ministry in the hands of a fellow who can't make the best out of it. That is where the will comes out.
So it is a huge challenge how you satisfy your party leaders. When the executive is clear about what it wants, the followers will read it and decide whether to join the queue or fall out of line. But basically it is the will power and when you have that others will follow and that is how we have achieved what we have achieved so far.
Talking about the coming governorship election, do you feel comfortable with the increasing ethnic dimension that is coming into play?
Well for me it is unfortunate but those people are living in the past because the ethnic thing won't work because people have sat back and looked at the history of the country and asked themselves the question, when a tribesman acquired power and abused the office, did the natives benefit? The truth is that if a government works everybody benefits, if it does not work everybody suffers. It is true my opponent due to his personal deficiency felt that the only sentiment he can take to the table is ethnic sentiment.
Even while he was still in the Army he came out with an advert in Bini language where he was describing me as a stranger, that no matter what the stranger does it cannot be compared with the native. Of course some Bini people responded to that. Right now as we speak, if you watch the news, there has been an advert which does not pretend at all, it talks about the ethnic thing.
The advert is running as we speak. But people are saying that 'you are reminding us that you are a Bini man, but in what way has your personal fortune reflected in the quality of life of the average Benin man? You were a General in the Army what did you attract to the Bini people and which Bini man or woman did you help?' 'We read newspaper report that you have deep pockets and these have never been denied, so with this deep pocket how many Bini lives have you deepened?'
How many orphanage homes have you built, which community have you touched, which community have you given water? We have seen Generals who used their resources to build boreholes in their areas.
In fact his place of birth Agbado community has disowned him saying that as a general we invited you to make some contributions to a community issue but you kicked us with a military boot and now you want our vote, no we are not going to give you and they said so in a paid advertorial in their endorsement of my candidature.
And even in the PDP politics while he was selling this ethnic thing, the Bini areas have seven local governments, he lost four, he won in only three. So the Binis even rejected him even within the PDP during the governorship primary which the god father described as free and fair, although his opponents have enough evidence to prove that it was not free and fair because delegates were changed at the last minute if they were not ready to vote according to the god father's directive.
This is why they still have problems even today. But even at that, with all the manipulations the Binis in PDP rejected him because he lost four out of the seven local governments. For me that is the good news because it shows that people are not buying into that. Bini people are very enlightened and the question they ask is, 'is Comrade working or not?'
So I think the average Edo voter is far more sophisticated than a small section of the political elite within the PDP that thinks that ethnicity is the key. You really have to sympathize with him because you don't have ideas, you are not a credible candidate, the circumstances of your deep pocket are still being investigated. You retired, you were not pulled out. When Generals retire they get pulled out from the military. So when a stranger wants to be elected and does not have a pedigree to appeal, he must invoke ethnic sentiment.
But the good news is that a lot of people including Dr. Ogbemudia have publicly acknowledged the fact of my achievements and why at old age he cannot for party reasons canvass that a performing governor be replaced by an unknown quantity. The Esogban of Benin Kingdom, in an interview in Vanguard, said that this man is a stranger to the Binis even though he can claim to be a Bini man. So I sympathize with him because unfortunately the electorate is more sophisticated than himself. And that trick is not working.
Oyegun the former governor has also spoken. When they harassed him that he was supporting me, he resigned from the ANPP. The Benin Forum in an address, said they are the official spokes body of the Bini people and the Oba of Benin, and they said in black and white that the "worst form of ingratitude is gratitude not expressed publicly. They came to express their support for my re-election.
The Benin Heritage Center, the group that was dedicated to defend Benin culture and tradition, just last week came not only to make me the patron – the Grand Patron is His Royal Majesty- they also declared their support for my re-election.
So the ethnic thing is not working and it is not going to work. So I think for me, Charles and others have my sympathy because in this 21st century they are not focusing on issues, they are focusing on place of birth. Edo is one people, we are not an artificial creation. Edo was not named after a tree or after a shrine.
Edo is an ethnic category, so we are not like an artificial creation that was not woven together. So every Edo person from Edo North to Edo Central to Edo South see our Royal Majesty as our paramount ruler and this has been our common history. So I will rather play up what unites us rather than try to create an artificial divide. Poverty in the south, poverty in the central, poverty in the north is poverty. And the tools for dealing with it are the same.
That is why right now they are playing ethnic card. We said look, we even want every Edo man to be able to speak Bini. In any event some of the words are exactly the same. Spelling the same, meaning the same, maybe some times the intonation might be slightly different. So we are working on introducing Bini language as a language for all pupils in primary and secondary schools across the three senatorial districts. So we will build bridges of unity, those who want to weaken it are free to try but they won't succeed.
Subscribe for latest Videos